---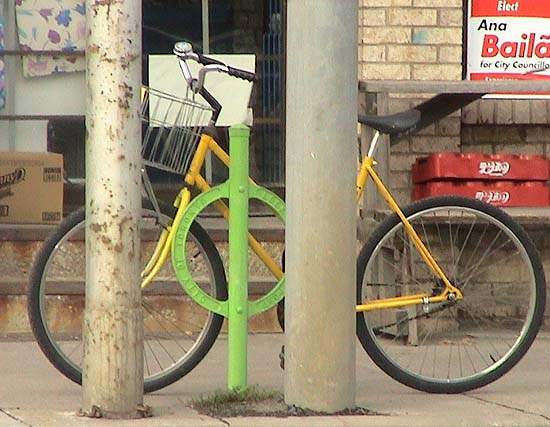 The yellow bicycle is by Bikeshare, the green bike post is by the City Beautification Ensemble. These two separate projects, one run by a non-profit community initative, the other an artists' collective, look very nice together. (Rumour has it that the two groups might collaborate soon.)




City Beautification Ensemble started colourizing urban fixtures a couple of years ago. Lately they seem to be concentrating their efforts on bike parking. I like them because they really are trying to make things look nice. At first they were pretty slap-dash, and there'd be big messy overspray around everything they did. They got some complaints and then fixed up their methods! Very responsive and responsible for a gang of lads with buckets of paint. Apparently their website is 2% complete.

I like yellow bikes because for a small annual fee you can have access to these plucky little well-oiled one-speeders whenever you like. I picked one up the other day while out on errands. The hard part is bringing them back to the hub on time, cause they are so much fun to ride.



---