---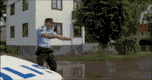 Timothy Comeau's new work "Outdoor Air Conditioning" (reproduced below) demonstrates, contra the recent humiliating announcement by PM-for-the- moment Steven Harper that Canada will not meet the Kyoto targets, that in the visual arts at least, we are doing our bit.

Comeau's work raises the bar for art within a conceptual framework, adding environmental impact awareness to create a neat tautological bundle. Not only is the work about the state of the environment (massively out of control and uncontrollable) but it is a model of environmental frugality: no materials, no crates, no shipping, no gallery, no printed matter, no mailings, no hard documentation, no archive. The work exists in the mind, and a mindful mind at that.

It leaves a child-size environmental footprint; Comeau's computer, mine and yours (heavy metals and other hazardous materials not easily disposed of yet dutifully replaced every two years), energy consumed (see David Suzuki's ad about the cost, in beer, of dedicated beer fridges), some miniscule part of the admittedly gargantuan infrastructure that supports the Internet. Proportionally, you have to think Comeau's digitally-relayed concept adds hardly at all to all that, unless it is in the way it fuels the passion for ever more powerful and energy consuming digital communications.

Is it not time that every artwork include in its specifications, an environment impact assessment?

- R. Labossiere


---
Today is June 5th and it's cold outside. I declare the local weather pattern on this day to be a readymade installation entitled:

Outdoor Air Conditioning.

a free cooling centre open to the public during this global warming heat wave
---
---
Today it's June 8th and it's hot outside. My work, entitled "F*ck the planet, Let's Air-Condition Queen Street!", is now showing, with the support of all the businesses who've generously agreed to open their doors wide and release cool, refreshing air. Won't you buy some shoes from my sponsors, please?

Ok I have a little problem here with this piece, mostly because the text I received a few days ago from Timothy Comeau contained this irritating pre-amble:

'All you need to do to be cool in an art gallery is cover cardboard with clear plastic. Nail the cardboard to the walls, cover it with clear plastic, and voila, you're an art star'. This quote appears over top clear plastic covering sheets of cardboard nailed into the walls of the art gallery. The artist is a star, and the image - with the marker-written quote, has appeared on all the local blogs. Somebody else, a young up-and-comer journalist, has written their 500 word review and seen it published in italicized print in the local newspaper, their name appended to it with the dash, like this - Timothy Comeau
I got that too. I didn't pay any attention at all toTC's email until I got this review in from RL. This might be a case in which the review is more generative than the original work.

Regarding the first part of TC's message: is he griping about a real obnoxious art-posturing scenario, or inventing an obnoxious art-posturing scenario out of thin air?

R. Labossiere asks a great question.

gargantuan as used is missing an n.

Re:

"Comeau's work raises the bar for art within a conceptual framework, adding environmental impact awareness to create a neat tautological bundle. Not only is the work about the state of the environment (massively out of control and uncontrollable) but it is a model of environmental frugality: no materials, no crates, no shipping, no gallery, no printed matter, no mailings, no hard documentation, no archive. The work exists in the mind, and a mindful mind at that."

The work might exist in TC's mindful mind. But it seems trapped under a heap of " no materials, no crates, no shipping, no gallery, no printed matter, no mailings, no hard documentation, no archive" and, despite the incredible weight of none of it - it can't get out. That email was too much.



Thanks for the "n". I changed it.

I like TC's readymade declaration. At first I thought it was just a signature at the bottom of the email...which would've freed it from the previous leaden part.

I also think RL asks a good question. I've been trying to write a post about some of the biotech artists I met at the Subtle Technology conference who are actually doing micrbiology with living cells to make their art. Some interesting ethics-of-the-artist questions coming into play there. So far I've got a pretty tedious 1200 word essay that needs work. Maybe eventually I'll be able to pull off a 200 word blog post.

I'll look forward to it, Sally. however long it turns out to be.

There's a letter in this week's Now complaining about the environmental impact of the "light show" thingy showing at Power Plant, so this is something 'in the air.'

And I recently came across this:

"He [Brian Eno] first created 77 Million Paintings to bring art to the increasing number of flat panel TV's and monitors that often sit darkened and underutilized."

oops, wrong century!


I saw that letter in NOW. Andrea Carson at VOCA asked Hemmer about environmental concerns recently - his rationale was ( I'm paraphrasing) that the amount of electricity they had to turn off to reduce light in the area for the efficacy of his work cancelled or at least mitigated his own power use offenses.

So far it is not an offense to use electric power. Is it an offense to import a monofilament exhibition? What was the carbon footprint of that thing?

is there a troll under this bridge?

Is there a test for that?

measure for measure
http://www.myfootprint.org/

I love my new car!
http://www.blogumenta.com/

angry neighbour
http://www.flickr.com/photos/58372028@N00/135893970/

a troll under the bridge test?

I am closing this thread due to spam.