---

I think tomorrow is the last day to see Sojourner Truth's installation at Katharine Mulherin. I dunno how to distinguish between the gallery's two spaces, but it's the one that's further east. I really really liked the show. The artist's statement described a dream in which animals were sucking up the colours from pieces of plastic and other detritus, and pooping them out as paints. The installation is a kind of joyful immersive mandella with flowers and medals and other bits and bobs all made out of cardboard and paper and sticks and stones painted with glitter with antlers and other animal part artifacts thrown in. Sounds like a kids craft project, and it sort of was, but pulled off with a Fastwurms-esque confidence and great attention to detail and materials. If you are in the neighbourhood, check it out before it closes. I'd love to post a picture but the images at the gallery website are awful and really don't do it justice. Maybe we'll track down the artist and get some good pics up at a later date.



---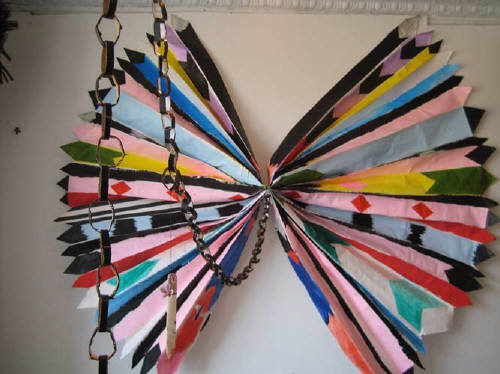 Love her Bow and Chain because years ago, Julie Voyce and I made a chain out of painted paper for an installation. People thought it was slightly sick. Sick in a nice way.

I dropped by Sojourner's opening - beautiful work!

i was driving down queen and saw it in the window, and said to the guy that i was driving with, i love now how art made from kindergarden craft projects is acceptable.

I love this too Sally, I wrote about it for the Post at the end of May and didn't know if I was just off my rocker or what. Glad to know others felt the same way! http://www.nationalpost.com/todays_paper/story.html?id=553110

Hey Leah, that's funny. I was feeling similarly and I was comforted when I saw your Post piece, but then I thought, Damn she scooped me.

Arrrrrr! The one time I will ever get the scoop my friend. Lucky break.

Hey I think you can find the artist on Facebook though... try "Sojourner Truth Parsons" or something like that. It would be great to find out more about her.

Hah funny. I was looking for her on FB...but no luck. But we can ask Katharine Mulherin for info. Wanna race? (not really...I'm-a sloooow)