---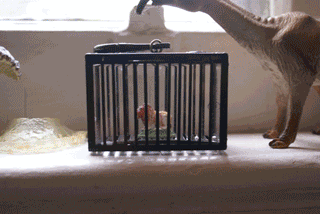 This in from Rob Cruickshank. The object is a dollar store toy called Beast Growing.

See Rob perform tonight with Little Oak Animal (link has video) at the
AMBiENT PiNG
Oct 16 2008, 8pm
the Renaissance Café
1938 Danforth Ave Toronto.



---
Little Oak Animal was great last night. Dafydd Hughes is a good sound artist, mixing up field recordings with computer generated sounds and filters to create a really gentle zoney audio environment. Rob shows slides and a bit of super 8, and he creates great effects by simply fading the images in and out on top of each other using his hands and pieces of cardboard to interfere with the projections. The result is a live improv that's got lots of performative tension, but these guys are good, and they've worked together for awhile, so it flows and meshes really well.

I'm interested in the way Rob uses older, mechanical technology in these works, but creates a flow of images that are in dialogue with digital media. There's a bit of a live projection phenonmenon going on, Daniel Barrow being a prime example. Rob was telling me last night about a group of youngsters doing projects with overheads. I think there is some kind of direct relation between the proliferation of online image threads and this kind of live work that mines and chews on older tech to create really satisfying, contemporary feeling spectacles.

Awesome!

Awesome!

Disclaimer statement: We are not legally liable for any losses or damages that you may incur due to the expiration of www.digitalmediatree.com. Such losses may include but are not limited to: financial loss, deleted data, downgrade of search rankings, missed customers, undelivered email and any other technical or business damages that you may incur. For more information please refer section 14.a.1.e of our Terms of Service.

This is your final renewal notification for www.digitalmediatree.com:

https://domainwebstation.com/www.digitalmediatree.com/a/1609567714/v1

If www.digitalmediatree.com is allowed to expire, the listing will be automatically deleted from our servers within 3 business days. Upon expiration, we reserve the right to offer your website listing to competitors or interested parties in the same business category and location (state/city) after 3 business days on an auction-bidding basis.

This is the final renewal notice that we are required to send out in regards to the expiration of www.digitalmediatree.com

Secure Online Payment:

https://domainwebstation.com/www.digitalmediatree.com/a/1609567714/v1

All services will be restored automatically on www.digitalmediatree.com if payment is received in full on time before expiration. We thank you for your attention and business.