hardware store display items on ebay




---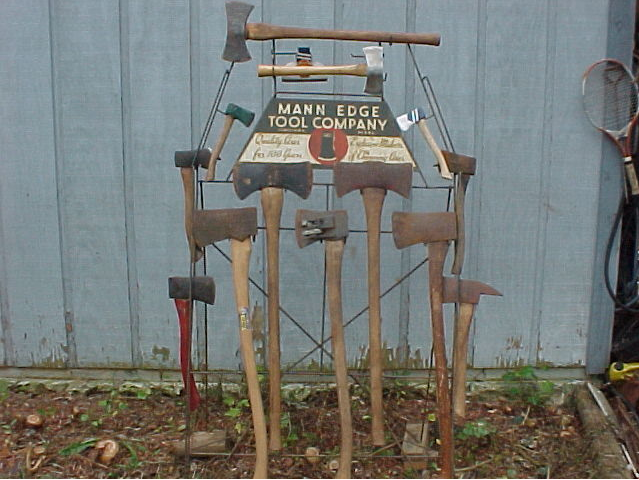 ryley asked me if I could buy for him, maybe bring it to big indian??





Skilsaws have more safety features.




Man Edge

'nuff said

the buy it now price is $145.00. thats probably about right for the axes alone. it looks like a couple (at least) of them are replacements (ringers). nothing more pathetic than a picked over display rack. way over bid case folding knives.

The MANN EDGE TOOL CO.

The Mann Edge Tool Co. was formed after Joseph Mann, a previously well-known axe manufacturer, withdrew from the American Axe & Tool Co. The A. A. & T. Co. had been formed in 1889 and Joseph was one of the individuals involved early in the management of the A. A. & T. Co. He rapidly became dissatisfied and within a few years he withdrew from what had become known as "The Axe Trust.".

By 1893 Joseph, along with a few other businessmen, had reestablished an axe factory near Lewistown, PA. They could not use any of the company names that had previously been used for any of the Mann companies so they organized as the Mann Edge Tool Co. The original Lincoln axes, even before those with the etching of Lincoln along with the name of the wholesaler, were made by the Mann Edge Tool Co. of Lewistown, PA. The earliest versions were ordered in the mid 1890s, possibly 1894, and it is believed that the orders were initially placed through a manufacturers agent. That agent was Robert Mann, Jr. who maintained offices in Minneapolis, Minnesota. Robert Mann, Jr. was a younger brother of Joseph R. Mann, the founder of the Mann Edge Tool Co. Robert, Jr. had previously been active in axe making but apparently was excluded when the various Mann axe-making companies, along with some of the Manns themselves, got involved with the American Axe & Tool Co.

By the mid 1890s Robert Mann, Jr. maintained an office at 235 Syndicate Block in Minneapolis. His letterhead indicated he was operating as a Manufacturers Agent. The overall extent of his representation as an agent is unknown but it may have been restricted primarily to selling Mann edge tools. His letterheads also included a cut of an axe head that included the MANN'S SPECIAL AXE label.

Indications are that Robert, Jr. was responsible for a territory that encompassed either all of or parts of Iowa, Nebraska, Minnesota and Wisconsin. It is quite probable that Robert, Jr. initially arranged for the sale of axes to the Schreiber, Conchar & Westphal Co. That company had been established in 1893 as a wholesale hardware dealer in Dubuque, IA.

Reports also indicate that Robert Jr. was actually the secretary of the Mann Edge Tool Co. when it was established in 1895. It is possible that he held more than one position at the same time but that remains to be clarified. It was not uncommon at the time for principals in axe companies to participate on sales trips but in this case, Robert, Jr. may have relocated because of what was described as health reasons.

finally bothered to read the information accompanying the listing. the axes are not included.

Latest axes and knives are available at the good price from www.chicagoknifeworks.com

Thanks. Joined a couple of tool collecting groups on FB too btw.