Schwarz
---
View current page
...more recent posts
Over 8,500 very cool, funny, weird and nostalgic old commercials of 240 different brands were digitized by Skip Elsheimer of AV Geeks at the request of the Duke University Library's Digital Collection. These commercials were created or collected by the ad agency Benton & Bowles or its successor, D'Arcy Masius Benton & Bowles (DMB&B).
retro keg-er-lator

via vz



Lots has changed on Elmer's Island. Nearly a year after the great oilpocalypse of 2010, this Louisiana wildlife refuge about 50 miles south of New Orleans isn't crawling with teams of cleanup workers raking big black pools of crude off the sand; there's no cleanup machinery or equipment; the only immediately visible remnants of the BP/Deepwater Horizon spill are the occasional tarballs, big as a kid's head, that wash onto the shore.

Not that I can just waltz onto this public beach to see all that—not everything has changed. Like some lame iteration of Groundhog Day, the hundredth time I try to pull onto the Elmer's Island access road from Highway 1 in southern Louisiana—some 200 days after the last time I tried it—I am, once again, stopped. Last year, it was cops blocking the road. Now it's private security hired by BP.
p e guerin bronx ny





FLicKeR

via hyperion fb



The U.S. government is keeping a tight lid on its probe into scores of unexplained dolphin deaths along the Gulf Coast, possibly connected to last year's BP oil spill, causing tension with some independent marine scientists.

Wildlife biologists contracted by the National Marine Fisheries Service to document spikes in dolphin mortality and to collect specimens and tissue samples for the agency were quietly ordered late last month to keep their findings confidential.
calder's chairs

via adman



stupid hipster in the nyt alert.





free line

via vz



Judge Batts ruled that Prince's appropriation of Cariou's work failed to meet standards of fair use on four specific grounds, which comprised a perhaps unintended esthetic critique of Prince's overall artistic practice. She noted that Prince had used Cariou's photographs in toto with minimal alterations, adding that Prince had testified that his work had no specific meaning (crucial to a narrow definition of "fair use" as commentary). The judge also charged Prince and his studio with acting in "bad faith" by requesting copies of Cariou's book from the photographer's studio without specifying the intended artistic use and never negotiating any kind of rights agreements with Cariou.

Now, anyone who knows Prince's work knows that minimal yet overall appropriation in the service of bad faith is what his work and career are all about, yet the judge rejected this meta kind of appropriation, ruling that it did not fall within the definition of fair use. Indeed, Judge Batts implied a kind of slippery slope by observing that Prince had not cut up or sectioned Cariou's pictures sufficiently, making an observer wonder whether a Mimmo Rotella standard of radical pictorial transformation would be the minimum standard for fair use.

Either way, having a judge as an interpreter of the meaning of art remains Kafkaesque: we can trot out the entire oeuvre of Andy Warhol, Robert Rauschenberg and a thousand other artists as violators of Judge Batts' standard. But what of photographer Cariou? Is he not an artist, as well? There is undeniable schadenfreude in seeing Prince suffer, notably when his "Canal Zone" show was one of his laziest (but wasn't that the point?) and a best seller at high retail price points. Indeed, Judge Batts decreed that, absent a stay for an appeal from the defendants, Prince's work from the series and the tools used to make it should be obliterated in some way in the next 10 days, with those paintings already sold forbidden from being (literally) hung on the walls. Presumably, Cariou will have
tp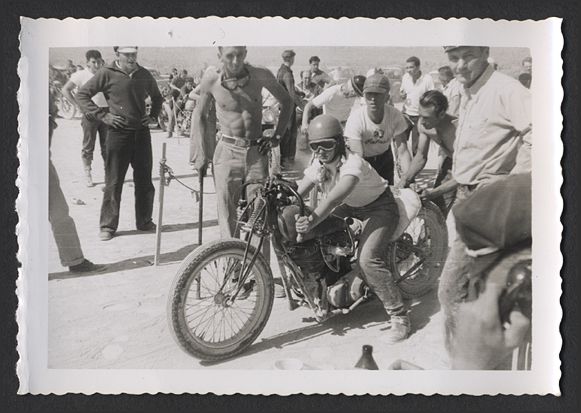 El Mirage 1948, Kelly Haynes preparing to get pushed off by Clem Murdaugh on a 64 ci Indian scout, they reach a speed of 142 while bottom blows out and unable to make a complete run.

i have other images from this series. guess i was outbid on this one.



wally parks scta





charlie harper prints

via adman



i wonder who designed the distinctive (ominous) super graphic on the fukushima reactors shells.





hoof boots

via vz



1971 Ford Ranchero GT. H code, 351 2V, automatic, Wimbledon White with Red and Black interior.





Machine in the Studio: Constructing the Postwar American Artist





Green Tunnel - A six month journey along the 2,200 mile long Appalachian Trail, condensed and reinterpreted into five minutes of stop-motion.





the new small house

home and environment