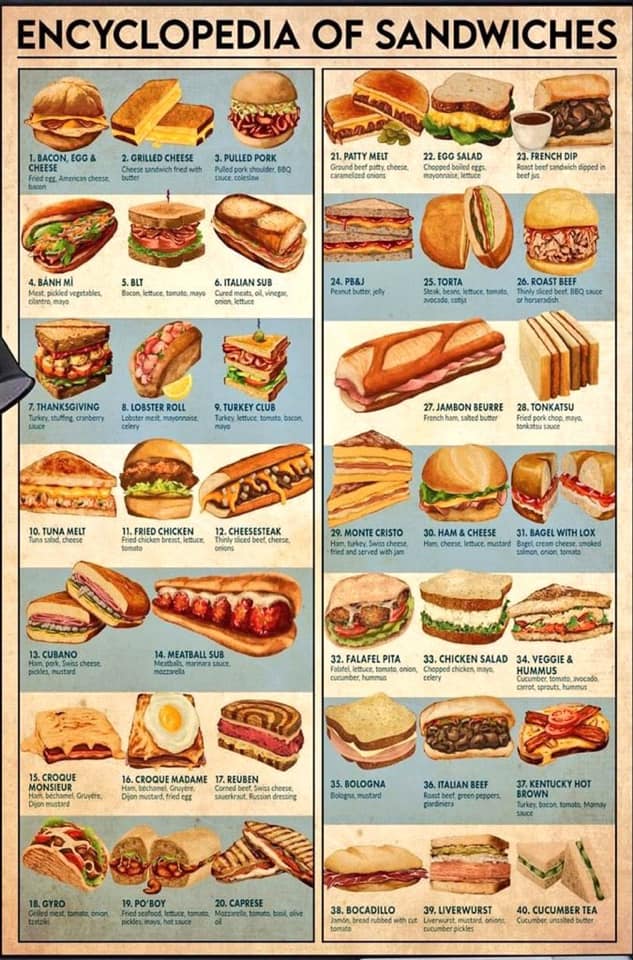 ---
Surprised to see Banh Mi at #4, or even on the list at all.
Tuna melt but not tuna salad
there might be a good version of this but the few times ive tried to make it i thought they were gross, tuna melts that is.






Not a fan of hot tuna with or without cheese






Not even with Papa John Creach?





Hold the papa john





I think i make a great fish melt.......the key thing is to butter crunch the bread, melt the cheese........BUT than serve room temp with pickles and chips





Forgot and white fish like halibut best






AgreeSkin, I love a Cuban except for the hot pickles.throw em on at the end. Home made bread and butter pickles rule. Put up






Skinny, this sounds like some incredible teaching, but I don't understand. "Butter crunch" the bread? What now? And when exactly to melt the cheese? Thanks.





Jim, I expected some support here! I made Baiting Hollow left over melts, lots of butter on high heat and the bread gets crunchy and the cheese melts......




no lettuce wrap:<(

saw this under discussion a few days ago.
Let the Ultimate Sandwich Thread begin! I will discuss the state of American sandwiches generally, then go into each of these sandwiches with my Objectively Correct positions, and then also discuss sandwiches not included. pic.twitter.com/MbR3xTJ7Gn

— Erik Loomis (@ErikLoomis) June 10, 2020
No corned beef or pastrami
there is a reuben. there is no avocado though. and when was the last time anyone ate a liverwurst sandwich? id say the same of bologna but thats probably less true. pastrami should def have the liverwurst slot.






I ate a bologna sandwich this year, it was pretty good.





like a hipster fried bologna sandwich or oscar meyer?






Probably oscar meyer. White bread, cheese, mustard. My nephew made it for me.




No turkey, Swiss, Russian
im suspect that this is contemporary art realized in a retro look. Too much of a now sensibility. Good list though. Story of my life as a sandwich eater.
it is definitely contemporary with a retro look. i dont know if turkey, swiss and russian is as distinctive as youd like it to be though sounds tasty.





Not a fan of Tuna melt either. I do like some hot fish sandwiches - catfish po boy, fried halibut on a bun. I guess oyster doesn't count as fish but I love a good fried oyster po boy.
Oyster po boy. Yum. Catfish, yum

I will eat any and all sandwiches. I went through a phase in (I think) 7th grade where I brown bagged a liverwurst sandwich (with nuthin' but mayo) and 3 Fig Newton's. What's that? No, I wasn't very popular.

Also thinking about Byggyz. Man I could go for like every one of those sandwiches right now..

Never heard of the Kentucky Hot Brown but it looks like melted cheese with bacon and tomato, which I have had, but grilled instead of open face melted.
Spicy meatball Banh Mi is a favorite of mine. With a coconut juice and shrimp chips on the side.