View current page
...more recent posts
Shake Shack burger reverse engineered.
- jim 10-20-2009 9:25 pm [link] [1 comment]


The Ketchup Conundrum Mustard now comes in dozens of varieties. Why has ketchup stayed the same? malcolm gladwell for the new yorker


- bill 10-20-2009 6:22 pm [link] [1 comment]


ydrivela


- bill 10-20-2009 1:22 pm [link] [add a comment]


Bonny Doon Vineyard Cellar Door Café of Santa Cruz in Santa Cruz County ... by the Sea
- mark 10-19-2009 10:14 pm [link] [1 comment]


judith jones


- bill 10-19-2009 6:55 pm [link] [add a comment]


portland's first community supported kitchen
- Erin Boberg 10-14-2009 11:47 pm [link] [2 comments]


ss on dbgb


- bill 10-14-2009 5:29 pm [link] [add a comment]


tea drinkers, what are your favorite morning teas? decaffeinateds need not reply. i'm looking for black and strong.
- linda 10-13-2009 6:04 pm [link] [7 comments]


Still, by noon every Saturday, he's sold out of the 400 loaves he loaded into his muddy pickup in rural Blue Mounds. That's because Ford's bread is different. His tangy, crusty loaves, baked in a wood-burning oven built by the legendary mason Alan Scott, are made using obscure organic grains that he sources locally and grinds himself, and leavened using natural fermentation rather than industrial yeast. Ford's customers, some with medically diagnosed wheat allergies, have found that they have no problem digesting Cress Spring's Kamut, spelt and all-rye breads, even the French white loaf, which — Ford is aware of the paradox — is one of his best sellers. (He sneaks up to 35 percent whole-wheat and rye flours into it, explaining: "White bread is just a mystery to me. Everything tastes better with rye.") Even a Manhattan nutritionist could probably polish off a Cress Spring loaf without bloating.
My neighbor spent Sunday chasing Yellow Fin (Ahi) between San Diego and Catalina. They were running near the surface with dolphins. He landed a 30 lb one. I scored a nice hunk of sushi grade ahi. I cut it into two 2" thick steaks. Pan seared for 6 minutes in canola oil with just sea salt. With a side of sliced tomatoes with salt, pepper, extra virgin olive oil, and balsamic. Local pinot noir to wash it down.



bowrey growlers baby!





linden hill farm diner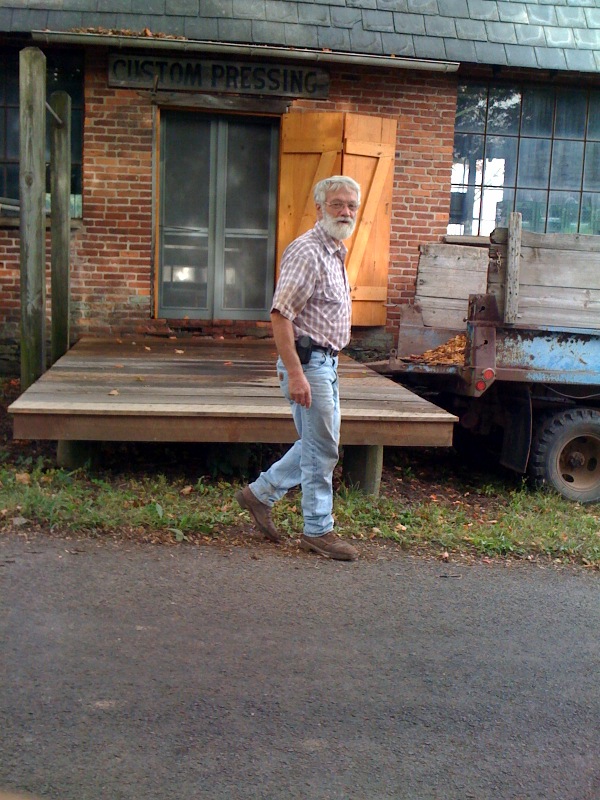 the cider is flowing in bucks co as of today. thats the mash in the truck heading to some lucky pigs for diner.



closing: gourmet magazine





had the full DBGB experience, 4 courses of food in the back, it was all great.....i stuck to the seafood-pork-bird-veggie zone but our 4 top went all over.....rich and needed a few vegan days to flex back, but not too buttery and well worth the prices and great beer and wine

krug 375ml's are $60, not cheap but they are $60 retail



i suppose there is an on the go market for single serving instant coffees but i still find it ironic that starbucks which road the wave of quality whole bean coffee would in a search for greater revenue head back in the other direction. just drinking it now (they gave me a free sample). not terrible. they did a great job of replicating their burnt flavor.



Chanterelle has closed. I'm guessing our wedding kept them open a few months extra. Sad to see them go.