View current page
...more recent posts
boullets larder


- bill 2-04-2014 6:44 pm [link] [1 comment]


this is the ugliest dish ever.....but it was tasty.....black truffle/black trumpet muschroom eggies on top of garlic/leek/beans....UGLY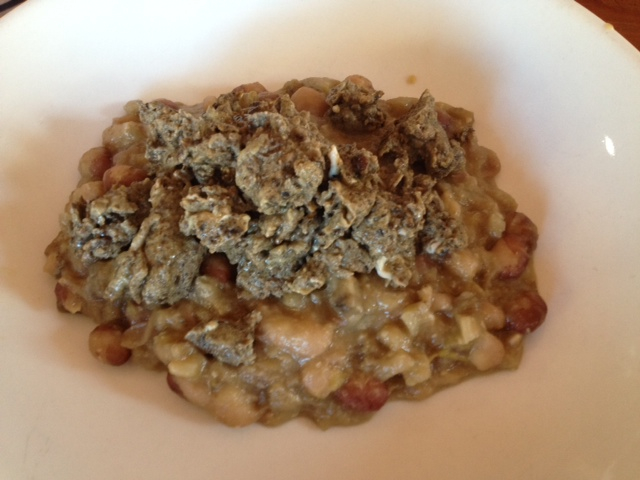 So many restaurants I have not heard of like Benu is SF, Manresa in Los Gatos, Saison in SF, and Coi in SF....
All look exciting and in need of rolls of cash to eat there....
Maybe I'll save up for my 60th birthday SF extravaganza, though these might be closed, no longer good, or spun off a legion of new Michelin 3* joints...
remember those simpler times when you could ogle scarlett johansson and drink your bubbly water in peace?
So had yet another great Alder din last nite w bunch of people....This time got pretty deep w wines....Trebbiano, great...The Riffault Sancerre completely bizzarre, weirdo semi oxidized..pachyderm urine thing going on?? Grolleau Anjou red also crazy, good...and had the Sicilian Frappato...beauty, clear headed, but earthy....All really amazing for price as well, I think....
Food great, never had shrimp thing before....all great....etc
Siobhan over there is amazing as well btw....
sdb
At the Drawing Center:
Ferran Adrià: Notes on Creativity
Main Gallery, The Lab
Opening Reception: Friday, January 24, 6-8pm
No RSVP needed

New York - Join us on Friday, January 24 from 6-8pm for the opening reception of Ferran Adrià: Notes on Creativityand Deborah Grant: Christ You Know it Ain't Easy!!. No RSVP is required.

In the Main Gallery and The Lab, Ferran Adrià: Notes on Creativity is the first major museum exhibition to focus on the visualization and drawing practices of master chef Ferran Adrià. The exhibition will emphasize the role of drawing in Adrià's quest to understand creativity. His complex body of work positions the medium as both a philosophical tool—used to organize and convey knowledge, meaning, and signification-—as well as a physical object—used to synthesize over twenty years of innovation in the kitchen.
RIP Grays Papaya 6th ave / 8th St





A twelve table restaurant with a five year waiting list in upstate New York that I've never heard of: Damon Baehrel
Formerly known as the Basement Bistro and now simply called Damon Baehrel, the 12-table restaurant has a five-year waiting list. Patrons have come from 48 countries, and celebrities such as Jerry Seinfeld and Martha Stewart regularly visit. The Obamas reportedly requested a table in 2011, but Baehrel, who prefers to keep his guest list private, won't confirm or deny this. He doesn't have to worry about loudmouthed waiters, either: "You've probably realized I work completely alone here," Baehrel says each night before service begins. "I'm the chef, the waiter, the grower, the forager, the gardener, the cheesemaker, the cured-meat maker, and, as I will explain, everything comes from this 12-acre property."
more for the incredible shrinking bag files. the pint of pesto salad i bought from fresh direct felt smaller than usual in my manly mitts last time i bought it. thats cuz a pint now is officially 13 oz! that extra handful of shells must be killing their bottom line. and then just now the bag of pita chips i bought seemed a wee bit petite. shrunk from a size 8 to a size 7.3. i must assume they are just looking out for my figure.