---
View current page
...more recent posts
---
"History does not offer lessons; its unique constellations of contingencies never repeat. But life does offer the same points, over and over again. A lesson is many-edged; a point has only one, but that one sharp. And the point we might still take from the First World War is the old one that wars are always, in Lincoln's perfectly chosen word, astounding. They produce results that we can hardly imagine when they start. It is not that wars are always wrong. It is that wars are always wars, good for destroying things that must be destroyed, as in 1864 or 1944, but useless for doing anything more, and no good at all for doing cultural work: saving the national honor, proving that we're not a second-rate power, avenging old humiliations, demonstrating resolve, or any of the rest of the empty vocabulary of self-improvement through mutual slaughter."
From a 2004 New Yorker article
THE BIG ONE: Historians rethink the war to end all wars
by Adam Gopnik (a writer, who makes me fucking crazy with irritation whenever he wastes time and ink on twee little articles about how precious Parisians are.)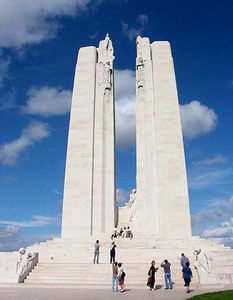 Also, read
"Vimy"
by
Pierre Berton
because it's an electrifying piece of history writing.
And next year don't get smug on the new white peace poppy pin because it actually hurts those old darlings still standing (or sitting in their wheel chairs) in shopping malls selling the red ones. (they aren't geriatric war-mongers, they have just remained astounded for over 60 years)