---

Andrew Harwood's Top Ten List and 4 Gross Items for 2008

1) Katie Bethune-Leaman Mushroom Studio at the Toronto Sculpture Garden. What can I say? - Monumental, funny, sweet, smart and one hell of a lot of work!! And cozy too! By far the best sculpture to inhabit this space, in like forever! Great job girl!!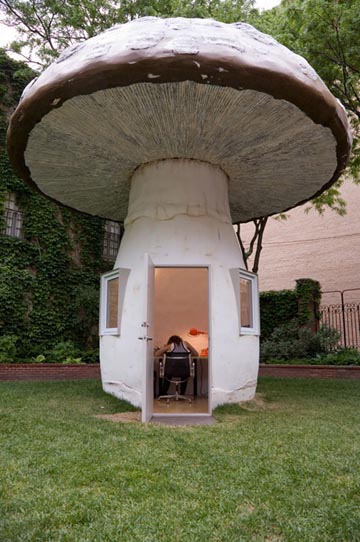 2) Dyed Roots: the new emergence of culture, Museum of Contemporary Canadian Art, curated by Camilla Singh. Who says identity and works about Diaspora have to be boring and prescriptive? Well Singh says, "No" with her own installation piece and performance. Singh worked in her role as curator inside a giant cage with three canaries just inside the gallery entrance, critiquing everything from ethnography, zoos and working in art institutions. Emily Chhangur also rocked this group show with her bloody, salty, rusty installation. Gritty, grizzly and gutsy.

3) Kent Monkman, Dance to the Berdashe, Urban Shaman Gallery, Winnipeg. I just so happened to be in Winnipeg with the fabulous Fastwurms when this exhibition was on! I loved the bearskin-shaped video screens that were delicately edged with beads, the dancers and Ms. Monkman's coral ensemble. There were amazing dances by various artists and gorgeous choreography by Michael Greyeyes! I am not sure why the Berdashe (Monkman as aboriginal drag queen goddess) kills, or does she just "finish off", all the hot native dancers with her glamour/psychic energy at the end? Perhaps her beauty is too much or that there can only be one gorgeous First Nations artist in the country?? Hmm? Glamour can create, but it can also destroy!!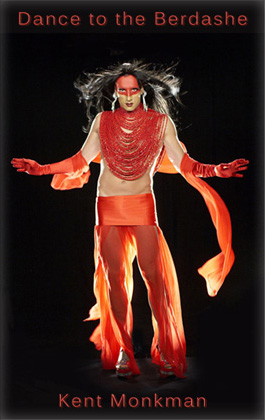 4) Suzy Lake and Bill Jones at Paul Petro Contemporary Art- OMG do I love terrorist drag!! In their work Suzy Lake as Patty Hearst there are so many questions about power relationships captor vs. the kidnapped, wealth vs. radical politics and exploitation, not only by Hearst's SLA kidnappers, but also by the media at the time. Heroine or enemy?




Bill Jones - The Bedroom 1979

5) Hunting, at Stephen Bulger Gallery, curated by Stephen Bulger. Wow wee, this show has it all from historical photos of Inuit hunting by Richard Harrington, sepia-coloured photos of 1970's dads and their kids with deer on the roofs of their station wagons to Terrence Koh's male nude in the woods with twigs as antlers. Tina Clark adds a wicked slice of critique and humour to this show with her installation of wishbones from a variety of poultry collected and mounted on wooden plaques as if they were big game. Perhaps the most poignant piece in the show is the forlorn Platform 5A by Vid Ingelvics, a colour photo which portrays an abandoned hunting platform in a lonely tree, suggesting that hunting itself is a thing of the past. Ingelevics' photo also has the feel of a neglected kids tree fort, adding to its superb solitary quality. To round the show off Bulger includes the lurid colour photo La Cabane by Benoit Aquin, a hunting lodge unflinchingly butch, replete with girlie pin-ups, booze lying about and general male mess. Stephen Bulger please curate more shows, you are brilliant.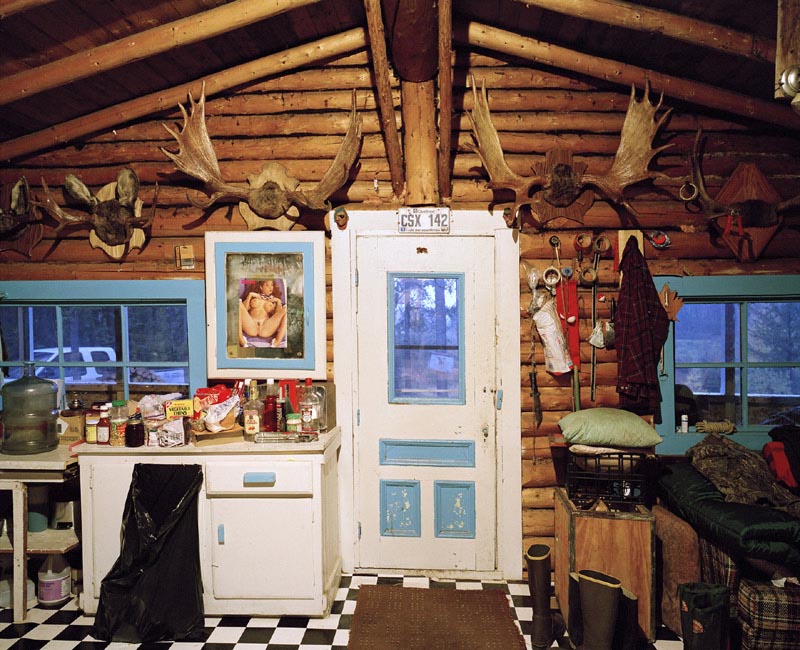 Benoit Aquin - La Cabane

6) Jean-Paul Kelly, And Fastened to a Dying Animal at Gallery TPW. Kelly's video, drawing and photo-based installation was a touching tribute to his family and also an examination of our relationships to animals and even houseplants. The artist also sweetly and intelligently queries our relationship to spirituality and morality, using pets and ghosts in his master video work entitled Goodbye, Good Act. His wonderful drawings, especially Cat(Mom) shows a reclining cat with upholstered tufts on its back and ribs depicting our relations to animals and family members and how we view/use/interact with them, especially the polarized creepy/comfort aspects!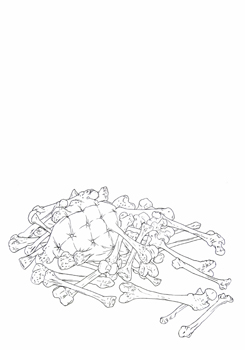 Jean-Paul Kelly - Cat(Mom) 2007 and The Spirit is a Bone 2008

7) Thrush Holmes' "gay" landscape paintings in his series NOT YET TITLED (NEW) consist of large canvases of wonderful pink hues and roughly painted landscapes that proves that he can actually paint. He's also produced delicious giant green tree-scapes with paint scrumbling across the surface with queer Fauvist abandon! (Although he is not queer.) No over-varnished, nor neon-clad trying-too-hard to please/sell work in this series, just bang-on beautiful painting here!! This work should keep Gerald Hannon intrigued, there maybe hope for you still girl!

8) Noam Gonick, Wayne Baerwaldt and Barbara Fischer's curator/artist talk at the Drake Underground. These three spun gold threads at this talk about film, video and performance that was truly inspirational. I really appreciated Gonick's candor about making films in Canada and in Winnipeg. I was most mesmerized by Fischer's romantic rant about light, projection, performance, the universe and everything. I don't remember a word of what Baerwaldt said, but he is so darned cute and bright it doesn't matter. Kudos to Mia Neilson, Drake Hotel Curator, for getting these three to speak on the same panel!

9) The Power Ball 10 Decadance was actually fun for a change. They seemed to get the right amount of artists and rich people in the same room, which made for a pleasant mélange. Jade Rude's Frames mini-installation seemed perfect for this crowd - as they could all look at themselves in Rude's beautiful assortment of mirror-like brass frames. They still won't let drag queens into the exclusive upstairs party even though we got the PP more PR than you can shake a stick at!! And God, can someone please buy Gregory Burke some new clothes (a Dale Carnegie course wouldn't hurt either) - after all he is married to that gorgeous mink of a clotheshorse Christine Davis!! I think I can safely say that we were the most Decadent people there though; it doesn't take much in Toronto!

10) Moynan King's The Beauty Salon seemed to escape any critical attention last summer and it was fucking fabulous! "Part Musical. Part Salon. Part Video Project. Come for the Art, Stay for the Manicure." This was a glam dyke salon with beauty services for men and women with songs and dance sequences and gorgeous sets in peach salon colours. The great salon attendants were dressed in aqua and pink salon outfits from the '60's and '70's. I was so happy I got eyebrows added on with fake hair and eyelash glue, a facial (real one not a dirty one) and then had great tunes sung to me right in my salon chair with a fab dance routine to boot afterwards - social relativism at its best! I felt so gorgeous thank you! Performed by Moynan King, Ange Beever, Nathalie Claude, Sherri Hay, Kirsten Johnson, Dayna McLeod, Kim Roberts and Robin Woodward (Trixie)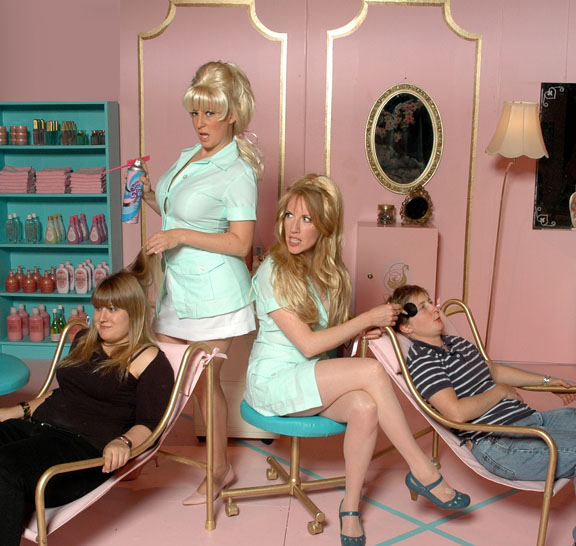 Robin Woodward and Kirsten Johnson


2008 Gross List:

Beyond Gross 2008: Jonathan Meese at Greener Pasture - WTF was that? Nazis are cool'n'stuff.

Delusions of Grandeur Gross 2008: Thrush Holmes' album, Every Million Golden Universe, please, please, please don't sing ever, you have an awful voice - you really don't need to be the king of all media! You are so great at other stuff so please stick to them! Vanity = veneer. Sadly during my fabulous and brilliant performance as Mme. Zsa Zsa, The Underwater Oracle at The Social for Nuit Blanche, I had to endure that caterwauling on loud speakers from across the street during my smoke breaks. I even went over and asked them to turn it off, twice! Anyways Holmsie ya got yur paintin's to fall back on! We loves ya even if you are slightly delusional or maybe because you are? Anyone who calls themselves a "Genius" has to be a fabulous person, this I can relate to!

Meekly Gross 2008: Nuit Blanche - the art was fine, but everyone, including the artists, was at home in their jammies and in bed by 5 am - what gives? I guess they turned the booze off at 4 am! Lame-ass Toronto art viewers.

Artist-Run Centre Gross 2008: Mercer Union's renovation debacle - LOL! God I love it! And people said I was a bad administrator!! I feel redeemed - I love young people! Good luck with that one everybody. Or should this one go to YYZ?? HMMM? Does anyone work there anymore? What happened to the publishing program? What happened? What??

In the famous words of Bette Midler as she is standing in front of thousands of screaming fans in the concert sequence at the end of the film the Rose, "Where'd everybody go?"



---
Love your commentary on Thrush (audio and optical) Andrew. Also your gross list. Very important to have worst-of as well as best-of, eh???

Adrian Stimson and Terrance Houle both do similar queer things to Monkman, and they are all pretty fucking amazing.

Andrew,

People still work at YYZ. Perhaps not people you personally know but let me introduce myself. My name is Ana Barajas and I run the gallery and in the Interim, the publishing program as well. We are scheduled to publish three books in 2009 with the possibility of a fourth. Yes, we did not receive block grant funding for two years in a row so our budget is tight but we are still very much engaged with our press. Please drop by and introduce yourself next time you are in the building. This invitation is extended to anyone who wants to get involved with YYZ or wants to know more about our activities.

Best wishes in 2009,

Ana


Thanks Ana for the updates about YYZ and I will! Good luck with everything in 2009!
Andrew