---
View current page
...more recent posts
---
---
Tonight!!!!!! Sheroes #9: Dolly Parton
Glitz & Titz!
animated GIF by
Manuel Fernández
for
Sheroes
---
Sheroes #9: Dolly Parton
at
The Beaver
, 1192 Queen Street W., Toronto. Thursday April 26, 2012. 10PM.
Featuring gifs by
The Light Crust Dough Boys & Girls
:
Emilie Gervais, Oz Melo, Emilio Gomariz, Absis Minas, Anthony Antonellis, Daniel Rehn, Giselle Zatonyl, Sarah Weis, Georges Jacotey, Chiara Passa, Andrew Benson, Yoshi Sodeoka, a bill miller, Alex McLeod, sally mckay, Isaac Hicks, Jennifer Chan, Manuel Fernández, gaby cepeda, Helen Adamidou, Haruko Hirukawa, Juan Manuel Morales, Grace McEvoy, eva papamargariti, Francoise Gamma, Rea McNamara, Lorna Mills, Rollin Leonard
and
Tony Halmos
Promo gif by
Lorna Mills
&
Rollin Leonard
(nails by
Smack of the Hand
)
---
I had the pleasure of being interviewed by the brilliant and generous
Emilio Gomariz
for
Triangulation Blog
, an art site from Spain.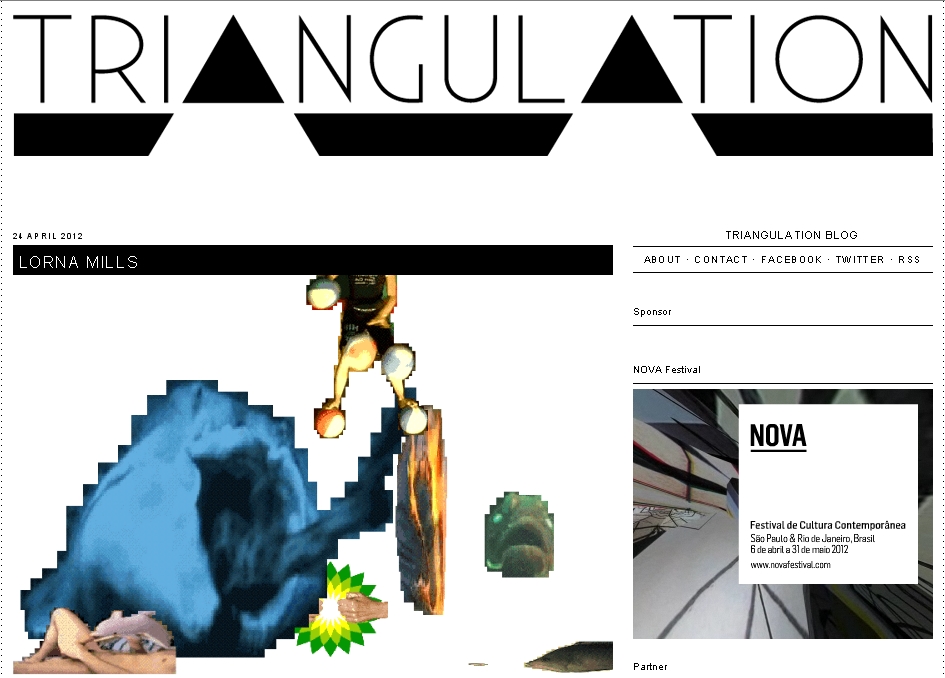 ---
SPAMM / TRANSNUMERIQUES # 4
-
SPAMM (SuPer Art Modern Museum)
with
Palle Torson / Yann Weissgerber / Jankenpopp / Jon satrom / Rosa Menkman / Eva and Franco Mattes / Miyö Van Stenis / Jennifer Chan / Evan Roth / Daniel R Leyva / Constant Dullaart / Adam Cruces / Daniel Swan / Jonathan keller keller / Travess Smalley / Sarah Weis and Arturo Cubacub / Rick Silva / Rene Abythe / Max Capacity / Emilie Gervais / Jasper Elings / Emilio Gomariz / Martin Cole / Anthony Antonellis / Samantha Harvey / Chris Collins / Lorna Mills / Sara Ludy / Françoise Gamma / Annie Abrahams
Select by
Thomas Cheneseau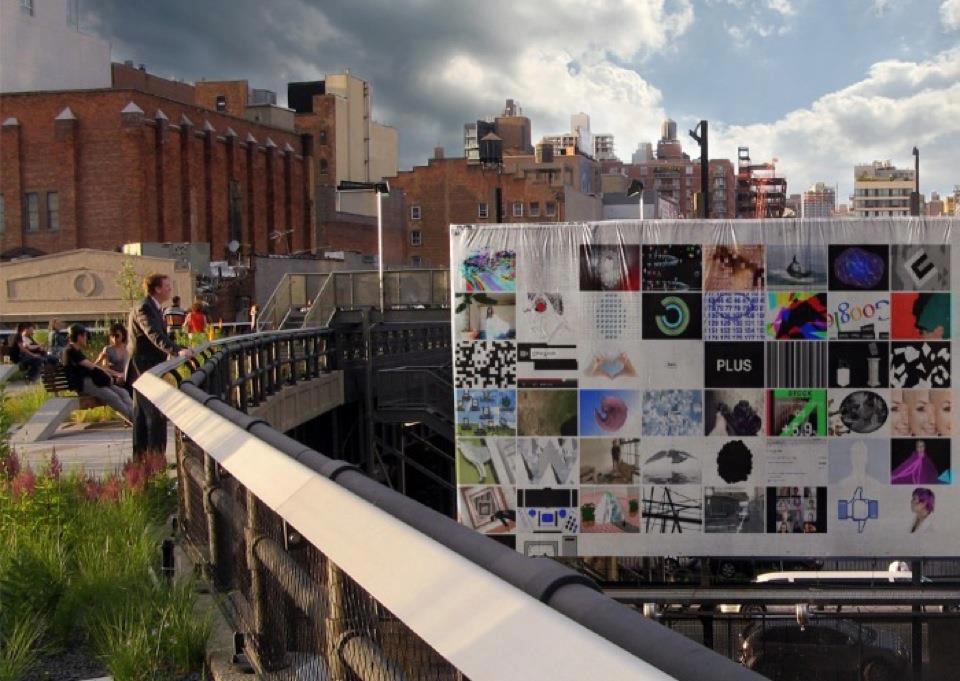 (I have a
Poodle Fight
in this arena)
And more info from
Prosthetic Knowledge
---
Sunday - Saloma
(via
Giselle Zantonyl
)
Apa Guna Berjanji
Pesta Muda Mudi
Bila Larut Malam
Bosanova
---
TONIGHT!!
Andrew Norman Wilson
-
Google User Meeting/ScanOps
Performance/Lecture: 6:30-8pm, Fri., April 20 at
Art Metropole
, 788 King St. W., Toronto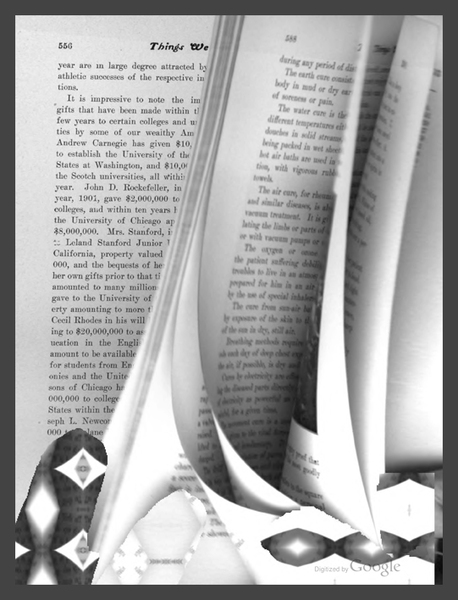 Workers Leaving the Googleplex
Film Screening: Fri., April 20, 9pm. part of
Images festival
,
Sidewalk Stories Film Program
at
Jackman Hall
,
Art Gallery of Ontario
.
---

Sally & I have invited several people to write guest posts (under their own names or pseudonyms), today we welcome
Leiflet #1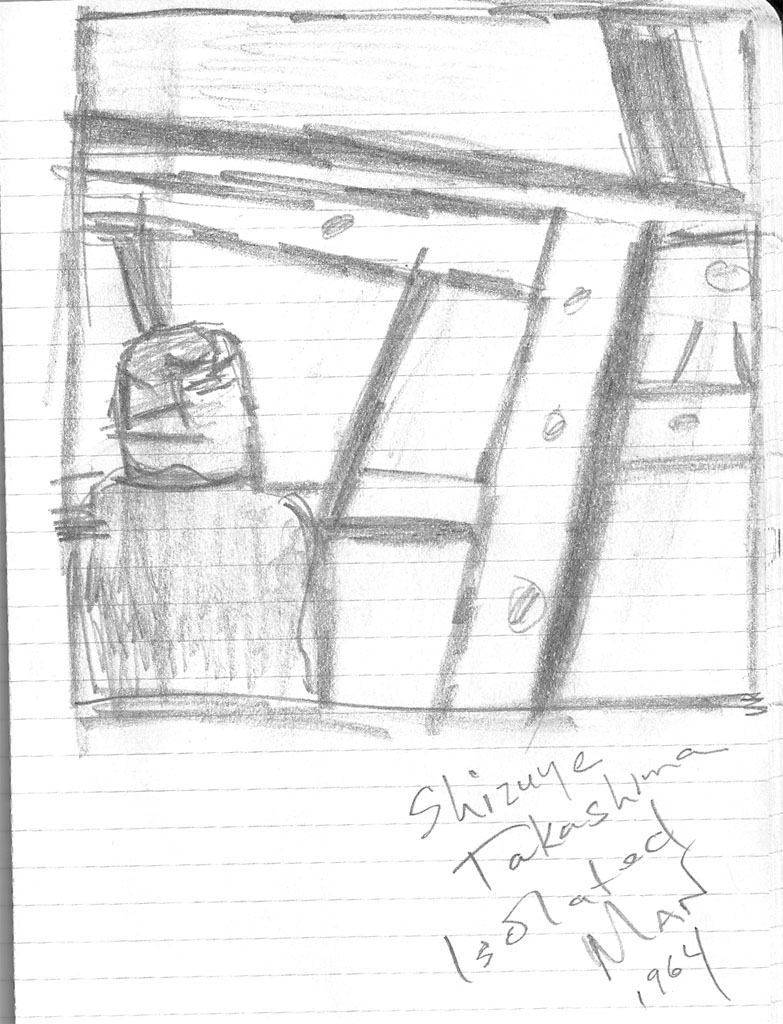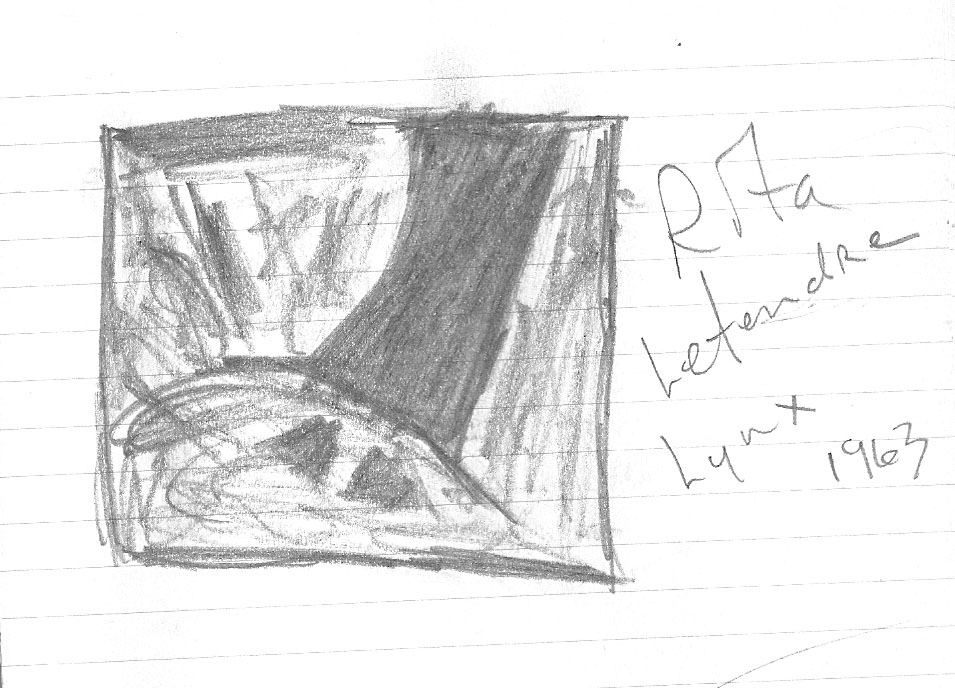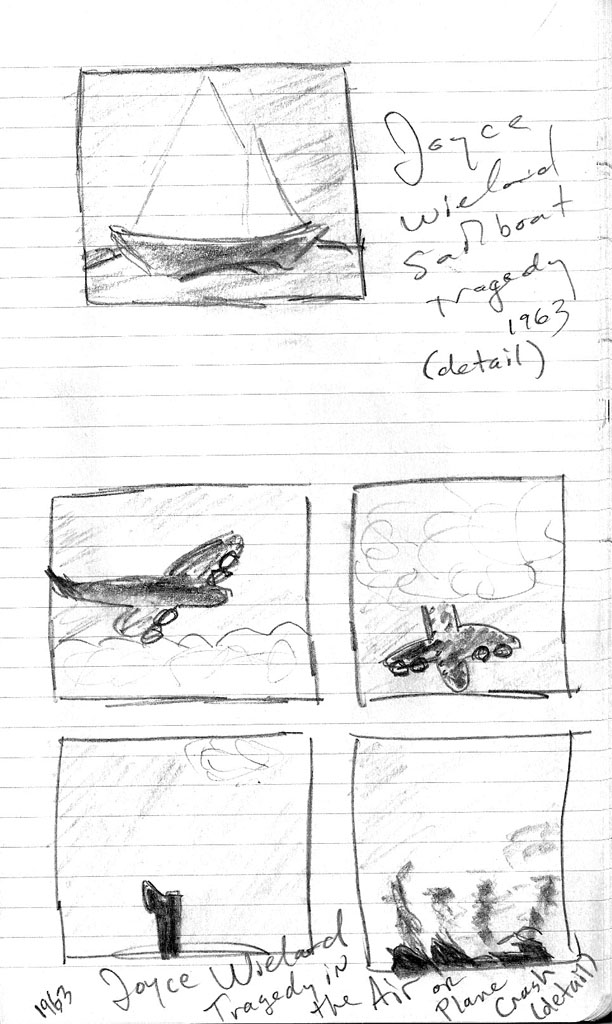 Lights Out! Canadian Paintings from the 1960s
at the
Vancouver Art Gallery
positions the show as a retrospective of a charged political and cultural moment in Canadian history. The political context is shown in textual panels, video, photographs, and literally spelled out on the walls, such as in this quote by Claude Breeze: "I was marching in Ban-The-Bomb parades. Those various social aspects were very relevant to me at the time and I had to not just paint another abstract painting but do something that reflected how I was politically active." While I enter the exhibition inspired by the historical commentary, I leave reminded that so much potential for lasting political change in the 1960s fizzled out, only to reappear a short while later in neoliberal form.
Highlights: I was drawn to four paintings, so I drew them.
Best of Show is
Isolated Man
by
Shizuye Takashima
(1963).
Lynx
by
Rita Letendre
(1963) also caught my attention but it was the didactic panel that held it with this timely reminder for "the total rejection of an ideology that placed limits on creative spontaneity." While in the context of the 1948 Manifesto Refus Global, this caution continues to have relevance today.
Finally,
Joyce Wieland
's
Sailboat Tragedy
(1963) and
Tragedy in the Air
or
Plane Crash
(1963) encapsulate the [perhaps unintended] overall tone of the show. I love these paintings and kept returning to them, thinking about what slipped away, and what crashed and burned.
Undoubtedly the show has strong works, but maybe Lights Out! is weighed down with overstated messages that don't carry through for many of them, no matter how explicitly we're told they do. Or maybe trying to package art into short, discrete time frames is problematic to begin with. What is lost when art, or politics for that matter, is segmented into the blip of a decade?
In contrast,
Beat Nation
, also showing at VAG, is an explosive exhibition that offers a thematic yet un-bracketed view into the spatial and temporal fluidity of Indigenous art, history, politics and culture, and in so doing, remains alive with possibility.
---
A charming discussion at
Art Fag City
(wade through some of the defensive drivel of people who repeat the same discredited arguments over and over, and you'll find some arguable points)