---
View current page
...more recent posts
---
L.M.'s
Top Ten List of 2007 art things.
1.
Fastwürms
,
DONKY@NINJA@WITCH @AGYU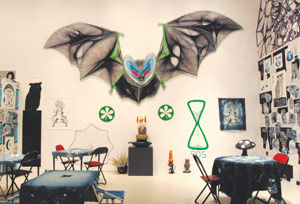 What the fuck's wrong with Harwood, he has them at number four on his list and Sandra Rechico doesn't do much better by giving them a number three spot. And what other Canadian artists can draw so many people to their opening, that you actually have to avoid half of the crowd, ...because ...well ...it's complicated, trust me ...very awkward.
I really thought enough time had passed. ...I suppose I'm expected to apologize.
2.
Rebecca Diederichs
in
Persona Volare's Granite Club
,
The Tree Museum
, Gravenhurst, Ontario.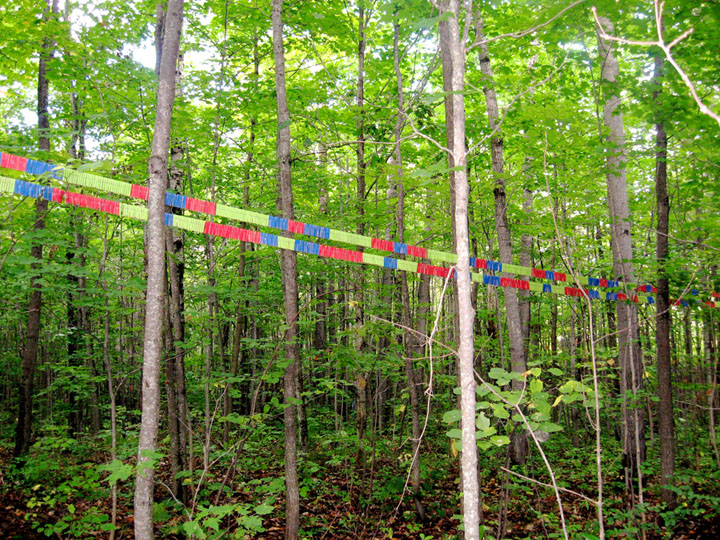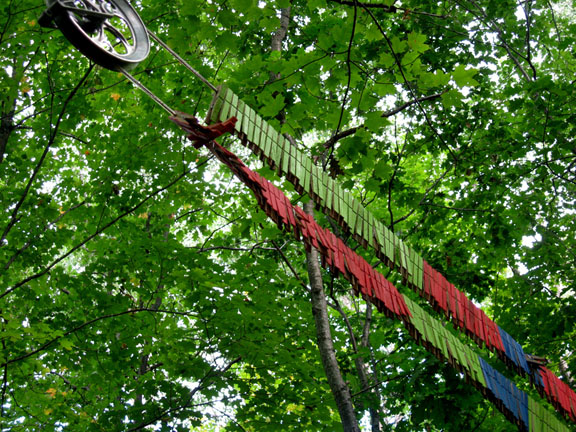 Whenever I was in her studio this past summer, she would show me a humungous amount of painted clothes pins, and yammer on about something or other to do with the painting of a humungous amount of clothes pins. I'd nod a lot, and wonder what the hell is she doing anyway. The finished installation was gorgeous. (I am not worthy to even hold her ladder steady, only
Chantal Rousseau
is.)
3.
Julie Voyce
at
Tom Thomson
in Owen Sound, Ontario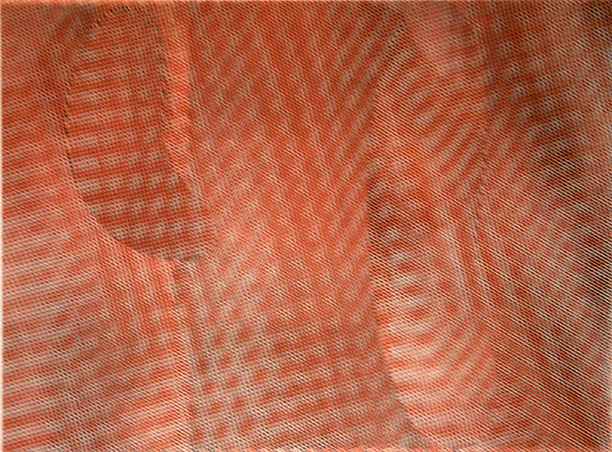 Even though she's all grown up now and no longer frames her work with mismatched dollar store materials held together with drywall screws and staples, the crazy still shines through with the rigour.
4.
Chris Ashley's
HTML Drawings.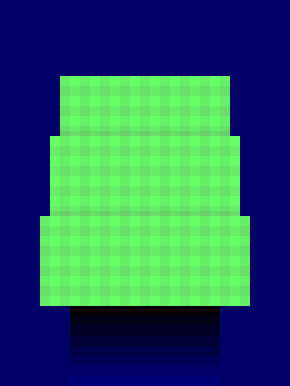 5.
Favourite jpegs
that have appeared on this site (finally side by side as they should be)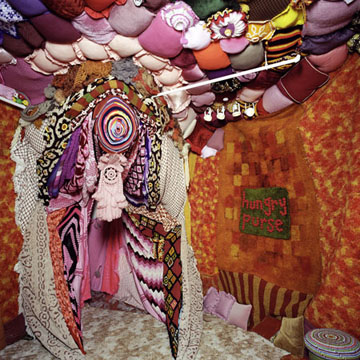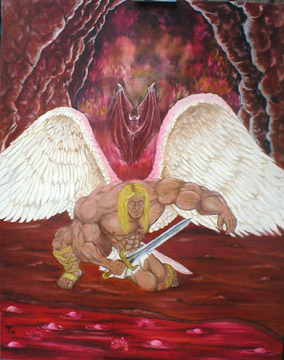 (It looks to me like
Allyson Mitchell's
Hungry Purse has totally vanquished
T
's Michael the Archangel)
6
The Walrus
for publishing and PAYING for work from amazing artists like
Kate Wilson
and
Shary Boyle
among many others, plus their recent issue on the Arctic was brilliant in every way.
7.
Artfag


Tangerines in Red Net Bag
Simpleposie

8.
The Royal Winter Fair
plus Rob Cruickshank's GIF of our sexy friends at SEMEX™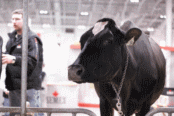 9. I continue to love
VVORK
.
10.
My Fucking Dog
, yes my fucking dog.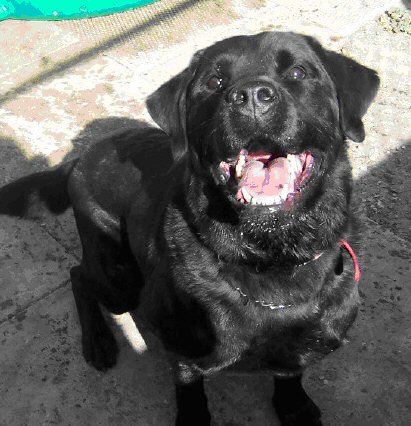 Who turned out to be even more fun than this image of him that I first saw on a Lab adoption site six months ago. Bigger too. (and his breath doesn't stink anymore)
---
Simpleposie's top eleven is here.
---
R.M. Vaughan's
*
Top Ten List:
1.
The Conrad Black Trial
Without a doubt, Lord Black of Crossharbour missed his calling. His endurance-performance of lofty moral rectitude was way, way better than Daniel Craig's chin acting in Casino Royale. Same hair, though.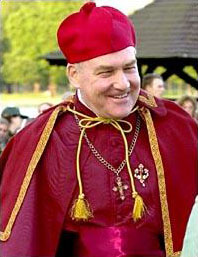 2.
Love/Hate: New Crowned Glory in the GTA
(or whatever that show was called) at MOCCA.
Crab and cluck all you want. I was in that show but you, dear reader, probably were not.
Score for me - 1. Score for you - 0.
3.
Canadian Art Toronto Issue
See above, add one score in my column.
4.
Ben Affleck's Gone, Baby, Gone
A really good crime flick made even better when one considers the fact that all those loving pans of darling, baby doll Casey Affleck were shot by his big, sexy, hairy older brother. My brother's never put me in a fucking movie, has yours?
5.
The red "Oriental" lanterns on Spadina
.
Chinoiserie is back! Next, I want the City of Toronto to issue pink parasols to all people of Asian and female persuasion, while all the men get those adorable beany caps with the tassels on top. And I want opium dens in every basement on Dundas between Bathurst and University. I have a LED ornament in mind for the Gay Village, but I'm not sure said bauble wouldn't get confused with a raspberry donut.
6.
Nuit Blanche
Because I wisely went to visit my 81 year old mother in New Brunswick instead, and spent the night watching CMT (a Toby Keith special, too!).
Score for me - 3.
7.
The Closing of SPIN Gallery
Now, don't get me wrong. It's a heart-sucking tragedy that "Stew & Ju" have gone out of biz after so many years of hard work. The reason the closure is in my Top Ten is because if anybody had any lingering doubts about the future of Queen West West, they will now have to come to terms with cruel reality - apart from a few holdouts, the "gallery strip" is finished. This is sad, of course, but knowing is better than worrying. Goddamn you to a sweltering Hell, or to an American Apparel outlet, Richard Florida.
8.
Circa Nightclub
How Toronto that our city's most glamorous celebrity spinout will be enacted by a piece of overvalued real estate.
9.
Kent Monkman's performance at the ROM
I like Kent. He is a very talented painter. He is also a very talented installation artist, and a very talented emerging filmmaker and a nice guy, and very handsome, and very smart ... but, but, but ... as a performer, he's no
Conrad Black
. I find this comforting, because otherwise that bitch has it all.
10.
That fucking carbuncle growing out of the ROM
I don't care if Dubai has a Daniel Libeskind, or Singapore has one or Las Vegas has one: archistar-fucking is not civic planning. "Crystal" my ass. With all that ass-up aluminum siding, it looks like a trailer park ravaged by a twister. I will never "get used to it". I will not "learn to love it". It will never be endearing nor ironic nor reclaimable. It even made Kent Monkman, a man who has agents just aching to turn him into an underwear model if his artist gig doesn't work out, look bad. I want my money back, and yours too.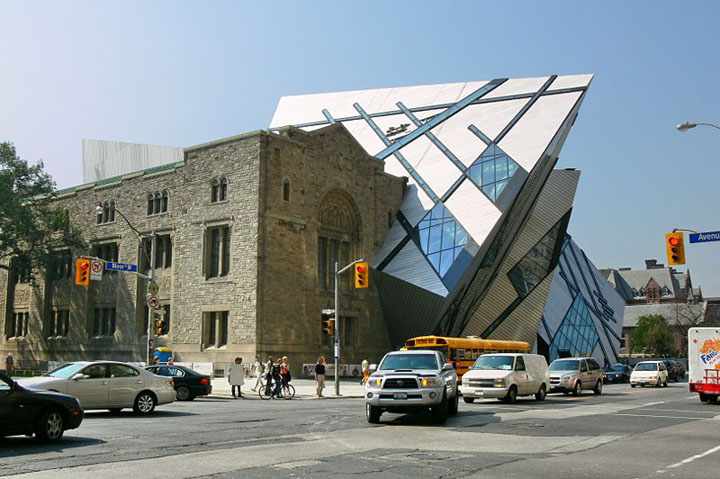 Fucking Carbunkle
by
Daniel Libeskind
* Worst Art Critic in Canada™
---
Andrew Harwood
's Best of 2007 Art'n'Stuff
1.
Wildflowers of Manitoba Noam Gonick and Luis Jacob
, video installation for
TIFF
at
MOCCA
. Ok I have wanted to do a radical faerie/hippie fag piece for years using geodesic domes and cute live models, but you beat me to it! I loved this show more than I can describe!!! I wish that it had a longer run!!!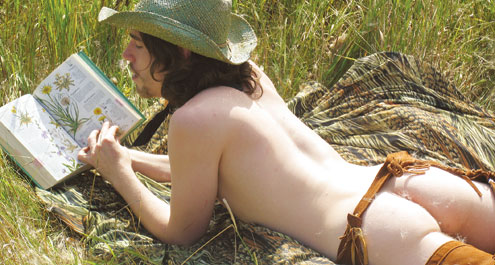 2.
Luis Jacob and Keith Cole, A Dance for those of us whose hearts have turned to ice ….
, version at
Birch Libralato
– what can I say except that
Sarah Milroy
, Glove & Snail Art critic, was afraid to laugh at this work in her review of Miami Beach/Basel Fair. She was critiquing the fair for its over-commercialization, yet when she saw Dance – the only thing not really for sale, she couldn't cope. I am sure that Luis and Keith would have been delighted to know that Milroy was able to laugh at their art. For Christ sakes, Sarah, please call a gay man, for styling, before getting your picture taken for a magazine: re: Canadian Art's "Hot Toronto" issue. I know you love Stephen Shearer's drawings, but you don't have to have hair like them!! You are one hot MILF (according to my younger straight male art friends & I can see it too!) and a really astute reviewer and I loves ya, but I know so many amazing hairdressers!!! "Quasi-portly", indeed, this what Milroy called Cole in the same review. How is that you are the Glove & Snail art critic and you don't even know who Keith Cole is? Get outta Holts (Leah McLaren's got that covered already!) and into the art scene!! Cole's work has been reviewed in McLean's, not necessarily known for its hip art coverage, and he was also on the cover of C Magazine (the most improved art mag in the country I may add)!!! I think there's a Chapters just east of Holts on Bloor for research FYI?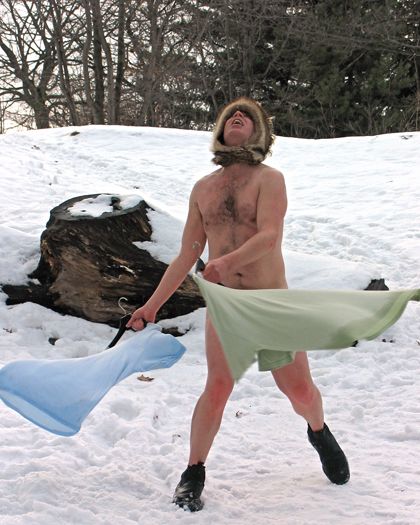 a.
Luis & Keith
thanks for such a great piece that was humourous, fascinating and represented Canadian fags at
Documenta
!!! (I think a first at Documenta for Canada – is there still homophobia at certain levels of international art events? What next: out of the closet Canadian Fags representin' at Venice ? What will the white ladies that run the art world in Toronto say about that?)
b. Sorry about the Council's lack of interest in initially helping you guys out!! (Or is there still h-phobia at certain Councils?) More questions than answers boys – keep 'em coming!!!!
3.
Auto Emotion: Autobiography, Emotion And Self-fashioning
, curated by
Helena Reckitt
and
Greg Burk
,
The Power Plant
– (yes the receptionist at PP said you were called Greg now.)
Thank the goddess they hired
Helena Reckitt
~ this was one of the best shows I have seen at the Power Plants since AA Bronson's exhibition. Auto Emotion was a powerhouse survey of contemporary art and performance.
Marina Abramovic
's works were like wonderfully odd restorative tonics and a great compliment to
Nemerofsky-Ramsay
's saccharine Madonna makeover, what a superlative range of art. Just a note to folks down there at PP , the Toronto art scene is not as cold and even conceptually-based as you have alluded to with your "Toronto Show" this year ~ get with the program. You guys kinda tend towards the conservative side!! Some artists who have shown there repeatedly need to come out of the conceptual closet so to speak ~ ya know who I mean!!
4.
Fastwürms
,
DONKY@NINJA@WITCH @AGYU
It was so great to see all of Kim and Dai's shows from
Zsa Zsa
, TAAFI and PPCA re/presented . Thanks to
Philip Monk and Emelie Chhangur
for championing their work!!! Würms you made outstandingly handsome installations at York – I know you worked all summer on Donky and it paid off!!!! Wow~!!! I gave a lot of head at that reception.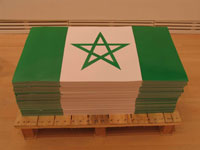 5.
Ydessa Hendeles Art Foundation, Dead!, Dead!, Dead!
, was just Gorgeous!, Gorgeous!, Gorgeous!! (I did a show at
Zsa Zsa
once called Crafts!, Crafts!, Crafts!) This exhibition was a stunner. The Puritan puppets were so charming and creepy, all at once; they were my favourites, in an already stellar show. The Foundation's installation crew also needs to be lauded as they help tp make your curation/collection practice even more beautiful! Who couldn't resist a charm bracelet that once belonged to Ms. Pepsi herself – Joan Crawford!! Hendeles is, unlike any other curator I have seen, able to present works that deal with the humourous and whimsical, but also with the darkest of human subjects in the same exhibition, maintaining clear and ever thought provoking relationships between objects and ideas. In the last several years I have left her Foundation's exhibitions thinking about them for days, sometimes weeks and sometimes longer. No web site just get the hell down there and see it in person.
6.
Michael Bartosik, Dome
, at
Nuit Blanche
– Oh my god that was brilliant Bartosik!!! Anyone who can make a dome out of florescent light tubes rocks my world!! It was so beautiful to see that fluorescing structure come out from behind the trees on the knoll on the corner of Trinity Bellwoods Park. Pure Magic against the dark night sky. I am sure Bucky Fuller would have crèmed his slacks if he was alive!! I am so sorry the drunks tried to wreck it!!
Janet Morton's Femmebomb
, was also über spectacular for Nuit Blanche!!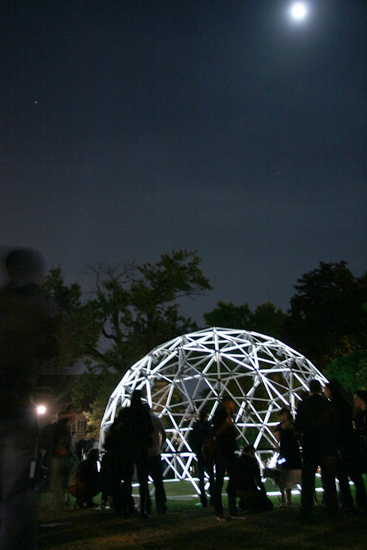 P.S. (Scotia Bank put some more god damn money into this "all night culture thang" it might even get better –
ya cheap bastards.
You should feel guilty for how much free f'n PR ya got and how little $$ ya put into this venture – you're, like a bank – pony up the dough ya cash hookers! Hire more independent curators damnit –we're starving in this town! Same with that god awful Illuminati Festival (Luminato – WTF was that?) – you're freakin' L'Oreal!!! pony up the cash too -
ya cheap corporate hoes!
)
7.
Jade Rude, The Rambler Rebel and Tristan Zimmerman, Untitled
at
The Ministry of the Interior
. Extra special props to
Jason MacIsaac
for opening a fab store/gallery, earlier this year, that blurs the lines between art, design, furniture, craft, urban decay, and interior decor!!
Jade Rude
's The Rambler Rebel was an installation used a spinning hunk of aluminum ("consumer grade" – her fave) in the front window of the space and on further inspection was a life-size unfolded origami version of a car. David Cronenberg eat your heart out!! Crash meets Jade Rude!! I know that Rude is quite a formalist – but honey the content of this one is truly profound!!
Tristan Zimmeramn
's Untitled, was an interactive sculpture of brass horn parts, that let viewers place their iPod ear pieces to portals around the edges of the piece so that they could here their own tunes amplified through a variety of tuba, trombone and trumpet flutes – old school meets new school – private becomes public – just dazzling, amazing and charming.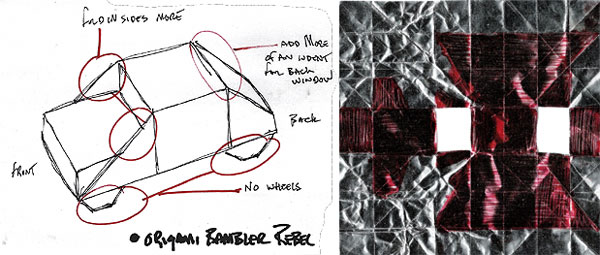 8.
Mercer Union
's Renaissance: the following shows at Mercer Union portray the gallery's comeback as a real artist-run centre in Toronto from its past overly oppressive post-conceptual stridency – thank the goddess!! -
Michael de Broin
's Shared Propulsion Car &
Anitra Hamilton
's, Beater are actual social and cultural critiques of car culture (
Jade Rude
, too). Yay!! I Love the social experiment aspects of these artists.
Janet Morton
's, overgrown was so inspiring and lovely – using recycled and textile materials – so – so homemade modern ~ I can't stand how exquisite this show was!! An exemplary statement of how an artist can look at nature and culture.
Instant Coffee
's Nooks, took
Jenifer Papararo
's Vancouver kitchen nook and turned into social spaces! I am sure her kitchen table has seen its share of snowstorms – wink, wink!! This show was tight, fun, sexy and playful – what
IC
does best and when they really work together and it really works.
Dean Baldwin
's Minibar, - he hand rolled me a mini cigarette and I got to smoke it inside the installation – great hospitality and wicked installation Baldwin, Toronto the good forget about it. KUDOS MU!!! Please keep up the great work!!
9.
Marianne Lovink, Molecular Mechanics
at
KATHARINE MULHERIN CONTEMPORARY ART PROJECTS
– Lovinks's aquatic/molecular worlds in blacks and whites were divine!! If I had access to acid in high school – I think this is how I may have viewed my biology textbooks!! Trippy and elegant. Her new works using stretched and coloured pop bottles on sculpted metal racks had a very '60's feel, but f'n fresh! Lovink is also an artist who bridges nature and culture in ways that questions our relationship to nature – on a micro-macro level. God germs and cells can be so sexy!!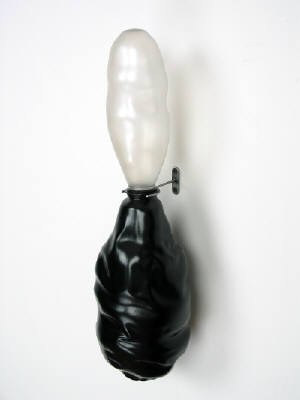 10.
Suzy Lake, Beauty at the End of the Season
,
Paul Petro Contemporary Art
- I have to admit that I hated this show the first time that I saw it. The more I visited the show, the more I loved it. There was a sense of humility to this body of work that was almost shocking. It was a gentle and loving reminder of our mortality and that we are all aging. Yet, Lake's photographs of rosebushes were stark, homely, unadorned and ultimately quite emotional. There is a great risk for the artist to talk about aging, beauty and femininity in a way that she has not explored before and especially in a Paris Hilton wanna-be cultural era. Her close-up photos of faded roses, using the peeled skin of c-prints, are such magnificent reminders that our dermas are not only aging, also that even faded beauty is still beautiful and necessary to the cycle of life!! Beauty at the End of the Season was thoughtful, subtle and had resonant meaning way beyond its exhibition. Congrats too, on the fabulous reviews on Lake's work in the feminist retrospective in L.A., too. Well-deserved recognition girl!!!

Honourable Mentions:
RIP SPIN Gallery
– Thanks for the great shows and always, always interesting parties – I wish you the best of luck in the future!! Hip Hip Hooray for
Juno Youn and Stewart Pollock
!
11.
18 Illuminations
@ McLaren art Centre, Barrie -
Carla Garnet & Corinna Ghaznavi
, curators
12.
Kent Monkman
@ MOCCA
13.
Andy Fabo
@ SPIN
14.
EAT THE FOOD
@ MOCCA -
Camilla Singh & David Liss
curators
15.
Stephen Andrews
@ Paul Petro Small Works + Multiples
16.
Heather Goodchild
@ Kmart
---
Ivan Jurakic's Top 10 List
(In No Particular Order...)
1.
Modest Mouse
"We Were Dead Before The Ship Even Sank"
Isaac Brock's sprawling epic alternates between cranky and tender. Alongside The Shins "Wincing the Night Away", it was great to hear punk finally growing up.
http://www.modestmousemusic.com/
2.
Kent Monkman "The Triumph of Mischief"
Monkman's bookend installations at the Art Gallery of Hamilton and MOCCA are a transgressive triumph masquerading as a sumptuous turn of the century salon. Smart, subversive and sexy.
http://www.mocca.toronto.on.ca/
3.
Isaac Julien "Western Union"
One of the most beautifully filmed and choreographed multi-channel videos I've ever experienced. During an overstimulating trip to NYC, this ambitious cinematic installation at Metro Pictures mesmerized me.
http://www.isaacjulien.com/home/
4.
Jens Hoffman's "To Curate or Not to Curate"
I've been keen on Hoffman's critique of big biennials since "The Next Documenta Should Be Curated By An Artist", and sure enough his recent article in Can Art didn't fail to provoke my thinking.
http://www.canadianart.ca/art/features/2007/09/15/to_curate/
5.
Leslie Feist
Not only did "The Reminder" garner four Grammy nods, but "1234" is in heavy rotation in an iPod ad. Damn the haters. It's great to see a Canadian performer that doesn't suck (that would be you Celine and Avril) reap the rewards.
http://www.listentofeist.com/
6.
Kara Walker "My Complement, My Enemy, My Oppressor, My Love"
A disturbing exploration of race, segregation, slavery and American folklore. Alternately frightening, infuriating and spellbinding.
http://www.whitney.org/www/exhibition/kara_walker/index.html/
7.
Millie Chen's "Watcher" 6, 35, 39 and 91 D'Arcy Street
With all the hype surrounding nuit blanche, Chen's subtle intervention of projected silhouettes in the windows of several homes along D'Arcy Street could have been easy to miss. The fact that she lived in some of the same homes while growing up cemented how great this piece was.
http://www.milliechen.com/
8.
John Massier's "Hallwalls and Elsewhere" blogspot
I'm not that into blogs (sorry kids), but Massier's is one I look forward to every week. Nicely put together, easy to navigate, opinionated, and always linked to all sorts of art news and great music. Where does he find the time?
http://jmassier.blogspot.com/
9.
No Country For Old Men
The Coen Brother's adaptation of Cormac McCarthy's hard-boiled southern thriller is a dark gem. Capturing the moral ambiguities of the novel without losing any of its terse energy. Add a superb cast, and you've got their best movie since Miller's Crossing.
http://www.nocountryforoldmen.com/
10.
Metalocalypse
Screw Gorillaz. Here's the ultimate cartoon band. Dethklok is not only the most popular heavy metal band in the world but also its 12th largest economy. Turn your amp all the way up to 12 and prepare for mayhem.
http://www.adultswim.com/williams/music/dethklok/index.html/
note: Ivan is in an interesting show opening soon at
Gallery 44
.
---
Tino's Top Ten 2007
1.
Quick Lobotomy
- by Faux Reel (Nuit Blanche)
http://www.youtube.com/watch?v=b7Pa-YxPHQk
http://torontoist.com/2007/10/lobotomies_for.php
The Joy of the Humour.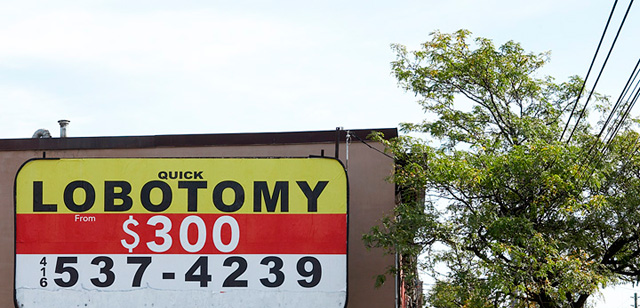 2.
Andre Kertesz
- Polaroids/Stephen Bulger Gallery
http://www.bulgergallery.com/dynamic/fr_exhibit_invitations.asp?ExhibitID=145
The Joy before the Object.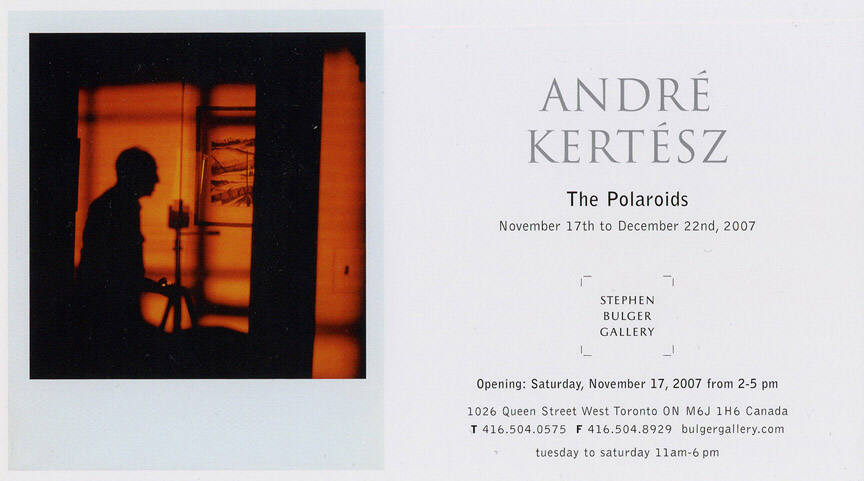 3.
Maura Doyle
- Birch Libralato Gallery
http://www.eye.net/arts/galleries/article/678
The Joy of the Imagination
4.
Jenny Holzer
- Projections/Luminato Festival
The Joy of Poetry (see photo)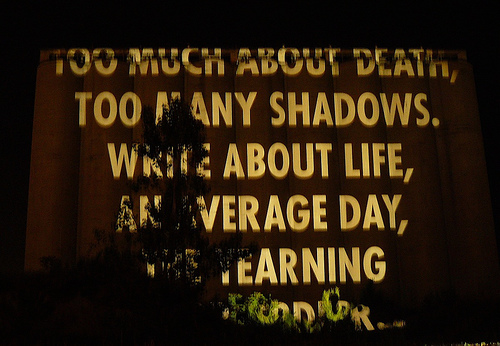 5.
Darren Stehr
Toronto Critical Mass Photos
Pure Joy #1
http://www.lulu.com/content/1528476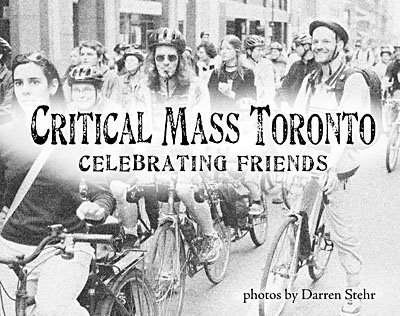 6.
The Tall Bike Ride
-- Benny Zenga/Winking Circle
http://thewinkingcircle.blogspot.com/2007/07/tall-tall-bike-takes-to.html
Pure Joy #2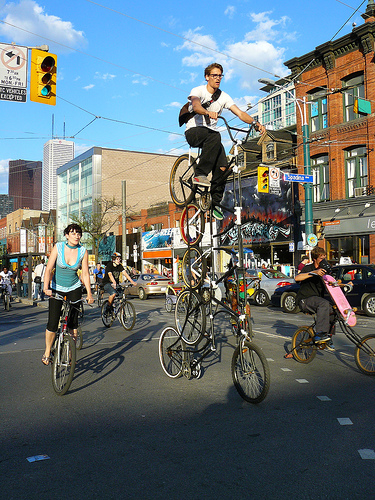 7.
Michel de Broin
- Bike Car Thingy (Mercer Union)
The Joy of Art.
http://www.micheldebroin.org/projects/spc/3.html
http://www.mercerunion.org/show.asp?show_id=563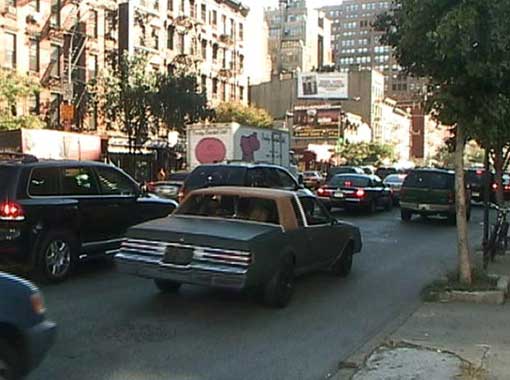 8.
Vanessa Renwick
- Portrait #2: Trojan (USA 2006 video 5 min) ...
Images Festival
http://www.odoka.org/filmography/portrait_2_trojan/
The Joy of Hope.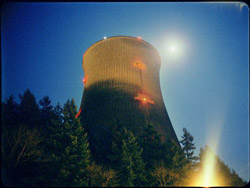 9.
Shannon Gerard & Stef Lenk
- Playing Doctor - AGYU
The Joy of the Body.
http://www.shannongerard.org/tinars.htm

10.
Moods by Matias
(Music) -
http://www.liberation-musicale.com/
The Joy of Sound. Design Art by Sandy Plotnikoff.
Vol. 1 - Sleepy
Vol. 2 - Summer