Schwarz
---
View current page
...more recent posts
paint it black you devil


[link] [2 comments]


on yelling freebird


[link] [add a comment]


the library of congress american memory





via zeke
[link] [add a comment]


im reposting that guy who ripped all his 70's albums and put them up on his site.
[link] [6 comments]


hey sally,

can you recommend anything special from here ?
Selected recordings in the National Library of Canada's collection of 78s, chosen for their Canadian content, were digitally reproduced for this site.
via
record brother
(my newest favorite site)
botero's abu ghraib





reel radio





via dave





In his more recent book, Internet Art: The Online Clash of Culture and Commerce (Tate, 2003), one of the first scholarly studies of web art, Stallabrass made a point of championing unconventional art made outside the gallery system. For Stallabrass, the internet is an ideal environment, a place where artists and thinkers can produce and share "immaterial works that can be viewed as art, and which can be free of dealers and the agendas of state institutions and corporations."

[...]

In his newest book, Art Incorporated: The Story of Contemporary Art (Oxford, 2004), Stallabrass continues his attack on the avant-garde affectations of the international art market. In popular myth, artists can act "like heroes in the movies, [able] to endow work and life with their own meanings," Stallabrass writes, while in truth "the economy of art closely resembles the economy of free capital" -- and consequently the artist is subservient to market pressures, rather than subverting them.
A trove of free historic artists films by Kenneth Anger, Luis Bunuel, John Cage, Guy Debord, Marcel Duchamp, Laszlo Moholy-Nagy, Robert Morris & Stan VanDerBeek, Isidore Isou, Man Ray, Robert Rauschenberg, 37 short Fluxus films, Hans Richter, Harry Smith and Jack Smith.
via kenn
y g
Less known to the public than his contemporaries Charles Eames and Marcel Breuer, Jean Prouvé has only recently been acknowledged as one of the most influential European designers of the 20th century. Prouvé's output, ranging from household furnishings to industrial buildings and residential homes, is notable for his signature use of industrial metals like sheet steel and aluminum.


The exhibition is organized around a building Prouvé constructed in 1951 as a prototype of inexpensive, readily assembled housing that could be easily transported to France's African colonies. Fabricated in Prouvé's French workshops, the Tropical House—as it is known—was carried in the cargo hold of an Air France plane to Africa. It was erected in the town of Brazzaville and remained there for 50 years. In 1999, retired commodities trader, rare car collector and Yale alumnus Robert M. Rubin had the Tropical House disassembled, packed up and shipped to France, where it was painstakingly restored.


This is the first public display of the house outside France. A 400-square-foot end section of the house – approximately one-fourth of the entire structure — will be erected inside the gallery of the A&A building. The open end of the displayed section will face into the main exhibition space. The exhibition will include photographs by Mark Lyon, plans, artifacts and a short film documenting the Tropical House from its return to France and the completion of its restoration near Paris last summer. Related Prouvé objects, such as furniture made for export to the tropics, will also be included.

continue...
y
ale show
per gary lucas
more on p
rouve from newsline columbia
gsapp
via vz
inflatable pub

via zoller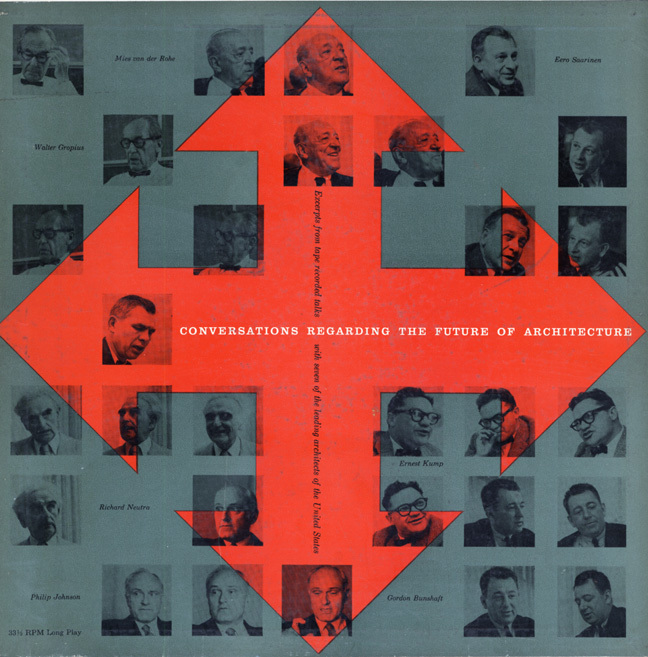 conversations regarding the future of architecture

from record brother



kensington jc







A soap bubble just floating over the ground" is young Italian engineer Lucio Blandini's description for his potentially revolutionary design for an entirely frameless glass structure. Blandini designed the project while a doctoral student at the University of Stuttgart's Institute of Lightweight Structures, founded in 1964 by Frei Otto. Since 1995, the institute has been under the direction of Werner Sobek, the noted German engineer who has done pioneering research on glass, including the development of carbon-fiber reinforced glass and load-bearing glass structures.

from the
an annual
glass issue
Hernan Diaz Alonso : winner of this year's MoMA/PS1 Young Architects Program





bye-bye johnny b goode





the snobs
unintentionally sexual comic book covers



via zoller



cache of NYC restaurant photos 2002-2004

from curbed



This is Silverstein's standard sales presentation. He's uttered it dozens of times to potential tenants, a cross section of Fortune 500 America, and they've all taken the same tour of the building and seen the same view. But so far, Silverstein has not been able to seduce one of them. As of now, in fact, he has secured a single tenant: Silverstein Properties.

Larry Silverstein has spent nearly four years as the odd man out at ground zero, written off by victims' families, urban planners, and the media as the guy who was too broke to rebuild. He's been continually upstaged by a series of louder, more mediagenic characters: George Pataki, celebrity architect Daniel Libeskind, and Rudy Giuliani, who sided with calls by the families of victims for a sixteen-acre memorial. Today, Silverstein has emerged as the most important player in lower Manhattan. He has the cash and the legal right to rebuild—and with 7 World Trade Center nearly ready to rent and construction of the Freedom Tower ramping up, he's on his way to doing exactly that. "My world has been filled with people telling me what I can't do, what I'll never accomplish," Silverstein says in his halting Brooklyn baritone. That he's made it this far can't help but make him crow a little. It's almost enough to make him forget that what lies ahead may be the world's most sensitive marketing challenge: asking tenants to move to the scene of the worst terrorist attacks in history.
Accused of inciting a riot and resisting arrest, Mr. Kyne was the first of the 1,806 people arrested in New York last summer during the Republican National Convention to take his case to a jury. But one day after Officer Wohl testified, and before the defense called a single witness, the prosecutor abruptly dropped all charges.

During a recess, the defense had brought new information to the prosecutor. A videotape shot by a documentary filmmaker showed Mr. Kyne agitated but plainly walking under his own power down the library steps, contradicting the vivid account of Officer Wohl, who was nowhere to be seen in the pictures. Nor was the officer seen taking part in the arrests of four other people at the library against whom he signed complaints.
devil jugs





Of all the triumphantly weird characters who have roamed the frontiers of American art none ever went quite as far out as the composer Harry Partch.



"For death is all the fashion now, till even Death be dead."
"For death is all the fashion now, till even Death be dead."
"For death is all the fashion now, till even Death be dead."
"For death is all the fashion now, till even Death be dead."
"For death is all the fashion now, till even Death be dead."