Schwarz
---
View current page
...more recent posts
rat rod report: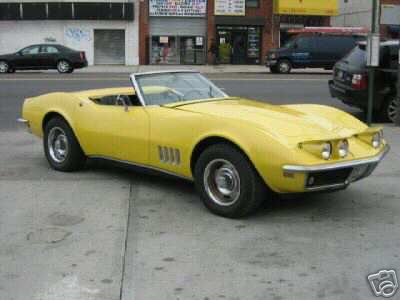 selling locally 1968 convertible vette. matching vins, recenlty rebuilt 327 350 hp. tru duel exaust ps pb no ac odometer showing 62k unverified milage. un restored interior, now dinged up daytona yellow but originally black. bidding started at $100.00 but im seeing it now at 7K with four days to go. similar cars going in the 20 - 25 k area. lets see where this one goes.


[link] [6 comments]



we went to the
george nakashima
woodworking compound in new hope yesterday. they have open house every saturday from 1 to 4:30 pm. we visited the three small cinderblock buildings that were open to the public. classic rocky hilly wooded bucks co landscape. a little bit opened up because of the leaves being off the trees. first stop is a show room (the closest thing to a gift shop) with books and a couple of small tripod endtable/stools (starter pieces at $550.00 that were looking pretty damn desirable) and nice larger pieces. then to a small woodworking building where we found a young aprentice hand sanding a detail on a restoration project. he told us that the set of six 40 year old captains chairs belonged to the rockefellers and needed work because they had been kept outside the whole time. some had fallen completely to pieces. but they had cleaned up real real nice considering and were almost ready to be returned back to the original owners. the small modern slightly industrial buildings all had oversized traditional japanese style windows. the plain unfinished grey cinderblock exterior and interior finishes did not have any dampness at all. the workshop windows were very large, some had pieces of cardboard in place to reduce the suns glare and drying effect on the stored wood. there is still a large inventory of wood on hand selected by the now deceased george. the last stop was the studio where two of georges children have kept the family craft trade going. mira is now considered the primary designer and she will hand select the wooden slabs with you and make you exactly what you want in a table, chair or cabinet. we spoke with the son kevin who sat in the middle of the room in a rocking chair. hell talk your ear of if you let him which is fine if your at all curious. we discussed the ben shahn prints on the wall. a very nice bs cats cradle print on japanese paper (two hands with a big mess of intertwined string laced through the fingers) looking like a take on pollock abstraction. warhol used that same funny pen and ink and stick drawing style in his early commercial work. kevin had his warhol story. firstly he recalled the famous cold fish hand shake. second warhol wanted to trade his work for a piece of furniture. george wouldnt have it (what am i going to do with one of those paintings?). eventually they chose the wood for a piece to be made but andy died before picking it up. they completed the piece anyway and its someplace.
i forgot my camera but next time im in bucks ill go back to take pictures and drool over those nice new
mira
nakashima $550.00
stools
.



Take Back the Memorial Launches Campaign to Claim Snohetta Building for an Above Ground 9/11 Museum


Governor Pataki's promise that the 9/11 memorial quadrant at Ground Zero would be reserved for 9/11 exclusively following the withdrawal of the IFC and Drawing Center left people asking: "What will happen to the Snohetta building now that it has no tenants?" The prevailing logic was that Snohetta would not be built, primarily because fundraising for the memorial was in disarray. Earlier this month, however, Governor Pataki announced he would set aside $80 million dollars to build a smaller version of the Snohetta building. This is surprising considering that the Governor himself has yet to make a donation to the 9/11 memorial. Not that we blame him. The Lower Manhattan Development Corporation (LMDC) has allowed the design process for the memorial and museum to run amok.

Saying, "We cannot allow the trade center to be a construction site for the next 15 years," Mr. Bloomberg proposed that the leaseholder, Larry Silverstein, give up control of two of the five building sites, in exchange for a reduction in his rent. (Mr. Silverstein holds a 99-year lease on the site, which is owned by the Port Authority of New York and New Jersey.)

That would allow officials to seek other developers to build towers on the site while Mr. Silverstein focuses on developing the Freedom Tower.

"We need this now to advance our economy and pay tribute to those who died there," the mayor said, "not a decade and a half in the future when it fits a developer's financial plan."

Officials of the Port Authority have been pressuring Mr. Silverstein to accept a similar deal. In addition, the authority has signaled that it is amenable to the mayor's proposal that its headquarters, previously situated in the twin towers, be moved into one of the buildings Mr. Silverstein is being urged to relinquish, Towers 3 and 4.
Making JC more bicycle-friendly

The city has contemplated for a number of years a bikeway system that would encourage more bicycle use within the city and promote bike tourism.

The Planning Board approved at its Jan. 10 meeting the addition of a professionally-prepared Jersey City Bikeway System plan to the city's Master Plan. Bill Feldman, manager of bicycle and transportation for the RBA Group, the firm that prepared the bikeway plan, spoke at the meeting.

Under the bikeway system, the city would be broken up into five sections with signs pointing out various destinations within those sections. The five sections would be Downtown, The Heights, Journal Square, Lafayette-Greenville, and Liberty State Park.

The bikeway system would share public roadways and include route signage for bicyclists and warning signs for motorists.

Oonce signs are installed, a study will be conducted by the city's Department of Public Works to determine if the bikeway system could include actual bike lanes that would be placed in possible locations such as Mallory Avenue, Washington Boulevard, Washington Street, Christopher Columbus Drive, and Phillip Street.

There is also consideration to link the bikeway system to the East Coast Greenway, a 2,500-mile series of nature paths and roadways that runs from Maine to Florida.

Rebuilding waterfront park


The Planning Board also gave the city the go-ahead to start working on rehabbing the J. Owen Grundy Park. The waterfront park, located at the foot of Exchange Place, was built in 1985 and has seen a great deal of wear and tear in recent years.

Glenn Wrigley, the city's chief architect, spoke to the Planning Board about how parts of the park have deteriorated, such as the railings and plants around the park. Also, it had been determined that the seawall that protects the park from the Hudson River has been breaking down.

Wrigley said that the rehab project will replace the wooden decking on the pier, new tables and lights in the park, and the seawall.

Also, the performing stage at the end of the park will see a new cover and a new power system to facilitate performances.

"There are some very tough decisions that have to be made here, and no-one relishes making them," said Janet R Howard, chief executive of the Bureau of Governmental Research… "But to say that people should invest their money and invest their energies and put all their hope into rebuilding and then in a year we'll re-evaluate, that's no plan at all." In this sense, people's genuine fears of whether the city could cope with another flood, has combined with the general air of disquiet that New Orleans shouldn't be rebuilt at all in that location - and is impacting on the authorities' ability to impose clear guidance up on some core issues. Even though the practical discussion amongst recovery workers and political agents is slightly confused, it is still qualitively different to the line that Lord May took in his Anniversary Address to the Royal Society in 2005. 'It is conceivable,' he said, 'that the Gulf Coast of the US could be effectively uninhabitable by the end of century.' As a word of advice, he advocates that we stop building on floodplains and recognise 'that some areas should, in effect, be given up.'


New Orleans could lose as much as 80 percent of its black population if its most damaged neighborhoods are not rebuilt and if there is not significant government assistance to help poor people return, a detailed analysis by Brown University has concluded.

C. Ray Nagin of New Orleans discussed the federal response to his city's disaster in a speech this week to fellow mayors, meeting in Washington.

Combining data from the 2000 census with federal damage assessment maps, the study provides a new level of specificity about Hurricane Katrina's effect on the city's worst-flooded areas, which were heavily populated by low-income black people.

Of the 354,000 people who lived in New Orleans neighborhoods where the subsequent damage was moderate to severe, 75 percent were black, 29 percent lived below the poverty line, more than 10 percent were unemployed, and more than half were renters, the study found.

The report's author, John R. Logan, concluded that as much as 80 percent of the city's black population might not return for several reasons: their neighborhoods would not be rebuilt, they would be unable to afford the relocation costs, or they would put down roots in other cities.

For similar reasons, as much as half of the city's white population might not return, Dr. Logan concluded.

"The continuing question about the hurricane is this: Whose city will be rebuilt?" Dr. Logan, a professor of sociology, writes in the report.

If the projections are realized, the New Orleans population will shrink to about 140,000 from its prehurricane level of 484,000, and the city, nearly 70 percent black before the storm, will become majority white.


fake bands - "Jake Austen's new book "TV-a-Go-Go" examines the fake but fascinating history of rock & roll on television. Jake drops by Music To Spazz By to discuss TV rock & rollers both historic and arcane. "





garbage scout
ust outta beta is Jim Nachlin's brilliant Google Maps mashup GarbageScout. Here's how it works: see something discarded on the streets of NYC; take a cameraphone shot then email it to GarbageScout; enjoy the detritus digitally from now until armageddon. And, in a touch residents of the Williamsburg waterfront might enjoy, the latest additions are represented by a flaming trash can. Awesome.
from
curbed

If you have been waiting on a trailer to live in and you wonder where it is, it is in Metairie.

All up and down those streets between the Lake Ponchartrain and Veterans Blvd. and the parish line and Bonnabel Blvd. the homes have trailers in front of them. I mean a whole bunch of them do.

I really don't know to what extent people are actually living in them (I have yet to see someone enter or leave one of them), but they are there, and unlike the few trailers dotted around New Orleans proper, they are hooked up to sewage, water, and electricity, all ready to go. I think many of the people who got them just couldn't resist how easy it was to get them and that in itself has nothing to do with how difficult it is for quite a few New Orleanians to get into trailers. Unless you are a conspiracy theorist and if you are you should give it up because believing in things you can never prove will only lead you to nocturnal outbursts as reported back to you by the person sleeping nearest. "You said 'shit' in your sleep numerous times last night."

Probably you could argue that people in need are people in need and Metairie residents are just as needy as some poor New Orleanian without a house, without insurance,or a pot to piss in. It's a good argument and you came to the wrong place if you're looking for someone to argue with. You should go home or into the other room and argue with your loved one about something that has nothing to do with what you are really mad about, have make up sex, and get back to me. Please don't tell me anything about the fight or the sex. I'm already bored and your frustrations and the heartfelt delivered explicit details about your love life might just push me over the edge.

I tried to buy beer at the Walgreens on St. Charles today. You wanna hear about frustration? Walgreens doesn't sell beer. Which to me, by itself, is worse than any conspiracy theory I could come up with, and let me assure you, I could come up with one regarding why Walgreens doesn't sell beer.

I'm spending a little more time Uptown than I normally would, and not just because this is where all the sex kittens are, but because I want to feel the pulse of the apoplectic Uptown hordes, and, I'm feeling it. Diagnosis. Simply, ya'll bitches need more beer, period. In Mid-City we may not have electricity or gas in most of the homes but we have a new convenience store opened at Canal and Galvez. If a store at that location tried to pull the "no beer" bullshit it would be the fuel for a neighborhood bonfire the next night. As for the Mid-City Walgreens, where that is? Jeff Davis and Canal? Ya'll can open up or not, I won't miss you or shop with you. Selling all those over and under the counter chemicals and getting uppity about a little alcohol...well...you make me want to...shop at Rite-Aid.
pls send more pictures!
oh yeah, its in french.
Over 36 hours worth of lectures by Roland Barthes (1915-1980). The audio material available here represents the complete lectures given by Barthes during his first 2 years' teaching at the Collège de France in 1977 and 1978, and also his inaugural lecture about the question of power (and the way it is inscribed in the core of the language). [MP3s are in French] (via UbuWeb)


The initial question that he asks to himself (: « How to find the right distance between me and my neighbour in order that an acceptable social living may be possible for all of us ? ») finds a direct answer in Barthes' following proposal : the idiorhythmy as a way (as a fantasy) of living, i.e. a system in which everyone should be able to find, impose and preserve their own rhythm of life.

These lectures about living in community seem strangely refer to themes that Michel Foucault had previously dealt with. According to Barthes, power is precisely what forbids any idiorythmy because it imposes strict rhythms to individuals. The design of the paragon of an idiorhythmic way of living should be that of an anchorite or an ascetic stylite secluded on the top of his column (cf. Buñuel's Simon Of The Desert) ; on the other hand, the total rejection of idiorythmy is what will produce such communities as convents, monasteries or phalansteries (and we should also add two other types of communities that proscribe the possibility of idiorythmy to individuals, two main institutions in Foucault's works : psychiatric hospitals and prisons).

During his 1977's lectures, Barthes will apply himself to clear a path to a living-together (probably utopian), towards this fantasy of society he suggests : a society that would allow everyone to live according to his own rhythm inside the community but without being based on an extreme solitude for each individual (hard to reach, except in the case of the authentic extatic mysticism and in the case of a deep - pathological - feeling of dereliction), a society that wouldn't be based on the extreme alienation of individiuals by a power (whatever its forms) fixing strict rhythms.
via kenny g
wfmu beware the blo
g

Other members of the committees said the executive branch communications were essential because it had become apparent that one of the most significant failures was the apparent lack of complete engagement by the White House and the federal government in the days immediately before and after the storm.
. . . . . . . . . . . . . . . . . . . . . . . . . . . . . . . . . . . . . . . . . . . . . . . . . . . . . . . . . . . . . . . . . . . .
The White House was told in the hours before Hurricane Katrina hit New Orleans that the city would probably soon be inundated with floodwater, forcing the long-term relocation of hundreds of thousands of people, documents to be released Tuesday by Senate investigators show.
. . . . . . . . . . . . . . . . . . . . . . . . . . . . . . . . . . . . . . . . . . . . . . . . . . . . . . . . . . . . . . . . . . . . .
nyt complete coverage storm and crisis

In the wake of hurricanes Katrina and Rita, HBN launched GreenRelief to initiate and assist efforts that emphasize environmental and social justice when rebuilding communities and restoring the natural environment. HBN investigator Jim Vallette has traveled to the Gulf States region repeatedly to assess the opportunities and barriers affecting green rebuilding plans. This is the first of his occasional reports. More of Jim's work can be found at http://www.greenrelief.org.


underlined artifice - One point of style in her photographs is that she leaves the black edges of the negative visible on the print. This draws awareness that the image is a work of art and it underlines the artifice of the photograph as opposed to it being a window on the world.
real estate pornado alert:
Lockhart Steele
Wednesday, January 25th, 3pm - 6pm
on Intelligent Design with Kenny G

Join Kenny G and DJ Monica on Wednesday, January 25th between 5 and 6pm for an hour of red-hot real estate porn as they welcome guest Lockhart Steele, proprietor of New York City's hottest real estate blog curbed.com. Venturing into topics never-before heard on WFMU's airwaves, Steele will be slinging the same sort of mix of savvy gossip and speculative irony that makes curbed.com tick. We'll be taking calls from listeners, either drooling with envy or frothing with anger about the one subject that everyone in the tri-state area, one way or another, is forced to deal with.

Several years ago, I built my first homemade digital camera. The idea was simple - I would take an ordinary flatbed scanner, and use it in place of photo paper with a large format camera.

My first scanner camera was made from lots of duct tape, a cardboard box, and the cheapest flatbed scanner that I could find. I expected this to be a quick little art project, one that would take a week or two at the most. But when I got my first homemade digital camera to work, I noticed that some wonderful things were beginning to happen.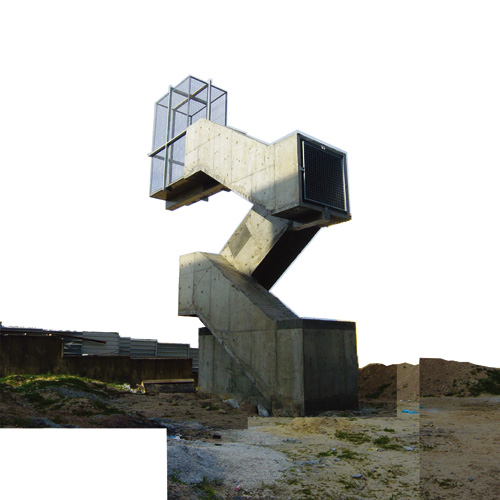 Les mésarchitectures de Didier Fiuza Faustino





La Ville oblique de Claude Parent



via frenchy pilou from pushpullbar





PushPullBar architecture + design forum





BLDG
BLOG






Proclaiming that art is null was not an aesthetic judgment on his part, but an anthropological problem. It was a polemic gesture towards culture as a whole, which now is simultaneously nothing and everything, being at once elitist and crassly materialistic, repetitive, ingenious, pretentious and inflated beyond human recognition. For Baudrillard art has nothing to do with art as it is usually understood. It remains a yet unresolved issue for post-humans to deal with – if anyone in the far-away future still cares organizing another exciting panel on the future of art.

Art doesn't come from a natural impulse, but from calculated artifice (at the dawn of modernism, Baudelaire already figured this out). So it is always possible to question its status, and even its existence. We have grown so accustomed to take art with a sense of awe that we cannot look at it anymore with dispassionate eyes, let alone question its legitimacy. This is what Baudrillard had in mind, and few people realized it at the time. First one has to nullify art in order to look at it for what it is. And this is precisely what Marcel Duchamp and Andy Warhol respectively did. By now art may well have outgrown this function, although everyone keeps acting as if it still mattered. Actually nothing proves that it was meant to persevere, or would persist in the forms it has given itself, except by some kind of tacit agreement on everybody's part. Baudrillard called it a "conspiracy," but he might as well have called Disneyland "the Conspiracy of Reality." And none of it, of course, was real, except as a conspiracy. Conspiracy too is calculated artifice. Maybe the art world is an art onto itself, possibly the only one left. Waiting to be given its final form by someone like Baudrillard. Capital, the ultimate art. We all are artists on this account.

Art is no different anymore from anything else. This doesn't prevent it from growing exponentially. The "end of art," so often trumpeted, never happened. It was replaced instead by unrestrained proliferation and cultural overproduction. Never has art been more successful than it is today – but is it still art? Like material goods, art is endlessly recycling itself to meet the demands of the market. Worse yet: the less pertinent art has become as art, the louder it keeps claiming its "exceptionalism." Instead of bravely acknowledging its own obsolescence and questioning its own status, it is basking in its own self-importance. The only legitimate reason art would have to exist nowadays would be to reinvent itself as art. But this may be asking too much. It may not be capable of doing that, because it has been doing everything it could to prove it still is art. In that sense Baudrillard may well be one of the last people who really cares about art.
from : lotringers introduction to baudrillards conspiricy of art

Ho-Tah-Moie or Roaring Thunder (john stink)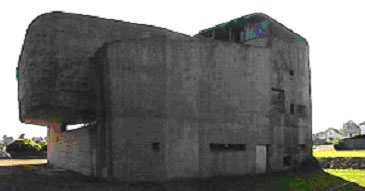 Sainte-Bernadette du Banlay. Nevers, France (1966) Paul Virilio and Claude Parent