Schwarz
---
View current page
...more recent posts
photo: cabin man jug


[link] [7 comments]


eichler house numbers

as advertised in modernism magazine
[link] [1 comment]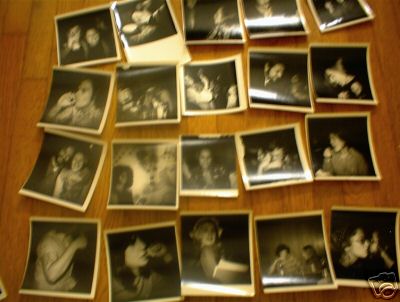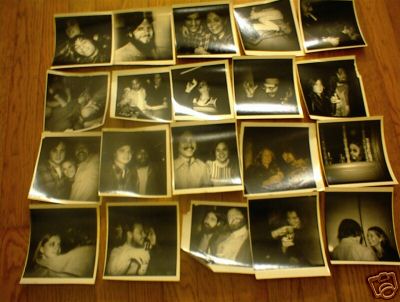 [link] [5 comments]


move over boogie bass / via r slab message bored


[link] [2 comments]


50 greatest cartoons via cityrag


[link] [add a comment]


from the bucks county modern desk: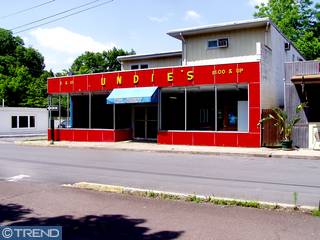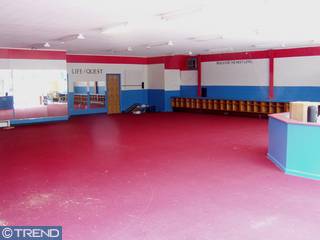 (L)UNDIES / riegelsville boro pa / 48 yo cinderblock hardware store (5 and 10) and apt over / bldg sf 3267 / lot 3920 sf / asking $329,900.00 / taxes pr anum $5,956.00 / view of canal, delaware river and bridge to nj / would make nice artists studio, restaurant, furniture store, etc... (needs interior paint!)
[link] [2 comments]


fmu top 10 2006 / rip the message board

via persona non grata im not lisa
[link] [add a comment]


blackberry product placement


[link] [add a comment]




LAS VEGAS -- New York City has Grand Central Terminal. Boston has Faneuil Hall. Chicago has the Carson Pirie Scott & Co. building. San Francisco has Coit Tower. Las Vegas has . . . the La Concha Motel lobby.

Among such august architectural icons, kitschy La Concha --which most closely resembles a fly-in hamburger stand used by the Jetsons--might seem like a questionable candidate for historic preservation.

But, by year's end, if all goes according to plan, the airy, concrete and glass 1961-vintage lobby, with its three signature 28-foot parabolic arches, will be preserved for posterity at a cost of about $1 million. Preservationists cobbled together the money through state and local grants and donations.

Too high to fit under surrounding overpasses and too heavy to be lifted intact by helicopter, La Concha presented a logistical dilemma, said Suzanne Couture, a designer with Las Vegas-based Friedmutter Group, which is donating architectural services for the project.

California-based structural engineer Mel Green came up with the solution: cut and paste. Sliced into six pieces, crated and trucked about 2 miles to the other end of the Las Vegas Strip, the reassembled 1,000-square-foot lobby, with a 1,500-square-foot addition, will become the centerpiece of a new park and visitor center for the non-profit Neon Museum. The museum, which spearheaded the La Concha effort, has preserved many of Las Vegas' famous neon signs in its 3-acre Boneyard site.
The Ledners' entire house, in fact, appears to be one of these post-Katrina miracles. Designed and built by Mr. Ledner in the mid-1950s, the house, which has the jaunty silhouette of a World's Fair pavilion, looks as fragile as a piece of cut crystal. It was flooded for weeks, and the elegant built-in furniture was left warped and moldy, the fine-grained Arkansas pine paneling was stained and a lifetime's worth of possessions were ruined. Mr. Ledner considered tearing much of it down. But there it stands, denuded of most of its landscaping but largely rebuilt, the comfortable, unconventional homestead the Ledners have known for 50 years.

The house is one of 40 or so modern but eccentric New Orleans residences that Mr. Ledner has designed over six decades, and that have made him something of a local institution. (The most famous, built in 1962 for a pair of ardent smokers, has a procession of 1,200 gold glass ashtrays running just below its roofline; it now belongs to the mayor of New Orleans, C. Ray Nagin.)
An American flag plastered on the first steel column for the Freedom Tower at ground zero was removed Wednesday after the builders realized the stars and stripes were on the wrong side of the flag.

The Port Authority of New York and New Jersey removed the decal on the 31-foot column after The Associated Press and other media questioned the display of the flag, with the 50 stars on the right side instead of the left. Readers also called the AP after seeing the news agency's photograph of the column in Wednesday newspapers.

"It's painted backwards," said Bill Dolphin, 73, of Ocala, Fla. "When it's laying down, it's correct. When it gets lifted up into the air, the blue field should be on the other side."

Donovan Hohn tells the unusual true story of where 28,800 plastic animals (including rubber ducks) ended up after spilling from a freighter in the north Pacific in 1992.



The Orbison data indicate that flocks of toys completed four orbits of the Gyre. The first (2 years) may be faster than the latter three (4, 3, 3 years), because the toys developed holes but continued floating full of water buoyed by the low specific gravity of their plastic.

Historic MIBs — Messages In Bottles — provide confirmation of the Gyre's orbital period as evident in the Orbison time series. In the 1950s, into the Gulf of Alaska Canadian oceanographers hurled 33,869 MIBs in 12-ounce brown beer bottles. Twelve drifted around the Gyre in 1.9-4.2 years, matching the interval between the Orbison peaks (2-4 years). The toys, plus MIBs, provide twenty estimates, indicating the mean time to orbit the Gyre equals 2.9 years. As to speed, the mean orbital period equates to 6.9 miles per day over the 6,800-mile course around the Gyre.







It was designed by Paul Rudolph, who was the dean of the Yale School of Architecture from 1958 to 1965 and a student of the Bauhaus founder Walter Gropius. Mr. Rudolph, who died in 1997, built homes and public and commercial buildings. Among them are his penthouse apartment on Beekman Place in Manhattan, Yale's Art and Architecture Building and the Burroughs Wellcome headquarters in North Carolina.

In an interview on the Web site, WestportNow.com, Morley Boyd, the chairman of the Westport Historic District Commission, said: "If you're looking for shock value, it's hard to beat the loss of this house. There is not much to top it."

But in a town where 92 demolition permits have been issued so far this year, a celebrated lineage alone is not enough to save the house. Because it is not at least 60 years old, the historic commission does not have jurisdiction.

"The house is not historically significant, and any view of how good or bad an architect Paul Rudolph was is purely subjective," said David Waldman, who runs a commercial real estate company and whose wife is listed in town records as the buyer of the house.

Mr. Waldman said that his family wanted the house for the lot. "We have a family of three young children, and a modern structure wasn't appealing to us," he said.

The 4,200-square-foot house, which is to be razed this week, was commissioned by Louis Micheels, a former president of the Western New England Psychoanalytic Society, and his wife, Ina.






ambergris

via jaschw




Rose Mandungu dreamed of renting a houseboat on an Amsterdam canal when she started university. The only place she could find was a converted shipping container.

''I'm looking for a better place,'' said the criminology student, who last year moved into one of 380 steel boxes stacked around a shipyard crawling with rats and cockroaches.

Mandungu, 20, probably won't be able to leave Amsterdam's first container village anytime soon. Close to 150 home seekers chase every 100 houses offered for rent, according to the Dutch Housing Ministry.

Struggling to cope with demand for housing, Amsterdam is moving students and welfare recipients into shipping containers and turning cruise ships into dormitories. The city's latest ploy -- converting empty offices into apartments -- may fail as developers balk at expensive remodeling amid rent controls that will limit their returns.

''We have our hands full trying to address the housing problem,'' said Pieter van Geel, state secretary for housing, planning and the environment. ``There is a big shortage of housing, and at the same time a resistance to rent liberalization.''

The Dutch don't want to hear about more delays, as waiting lists lengthen and people flood into the city's three container towns. Around 2,500 people now live in the containers, which are about 258 square feet, are stacked three-high and go for about 340 ($445) a month.

The housing shortage springs partly from the city's physical limits. Amsterdam, home to about 750,000 people, was mostly built more than 700 years ago when settlers dammed the Amstel river and filled in land, creating the canals that still ring the city center. Today, Amsterdam is about 25 percent water.






The Port Authority of New York and New Jersey does not know what to do with Eero Saarinen's TWA Terminal at JFK International Airport. At the end of November, the organization will issue a Request for Proposals (RFP) to see what developers may have in mind for the landmark. "It is really wide open," said Authority spokesman Pasquale DiFulco. "We are leaving it to the imaginations of the developers who respond to the RFP. It could be a destination resort, a spa, an aviation museum. There are 10,000 square feet that could be offices—the possibilities are endless." DiFulco noted that developers will be asked to assemble a team of experts that can assure that the building will be refurbished and operated in a sustainable manner, but was hesitant to spell out specific details.

Currently, the dynamic structure sits dark as the construction of JetBlue Airway's Terminal 5, designed by Gensler, with some interiors by the Rockwell Group, progresses behind it. Although the building's future use is still unclear, the RFP at least eliminates one previous fate. JetBlue had proposed using the Saarinen building as a gateway to its new terminal. While the airline will install a couple of check-in kiosks in the old terminal's main hall, the building won't be a part of its operations; Beyer Blinder Belle surveyed and documented the terminal for the Port Authority, but is not heading the restoration.




Beijing Olympic Stadium : Sneak Peek






im not from california, but i did play wipe-out on my desk. didnt you?






bozo under the sea

finally researched this album after siting it for years as the obvious inspiration for the b52s rock lobster. "there goes a jelly fish, there goes a sting ray." they got that here!








this 20' over 40' (junkyard?) arrangement (found by luis) achieves the general format i would like to pursue . only missing are the six 4x8' ceiling to floor window/doors i would use.






Meanwhile, homeowners are working through the Road Home decision process, in which the state will fill the gap between insurance and property value up to $150,000. Owners can decide to use the funds to repair, rebuild, or relocate. More likely, owners will remain undecided for a while, waiting to see what actions the city and their neighbors take. Billions of dollars in insurance settlements are sitting in New Orleans banks, as owners ponder their next move. Thus, although progress is being made, significant uncertainty remains. The same is true of rental housing programs.

Finally, this week saw the welcome news that (a) the Mayor's office will finally be a central player in the recovery planning process, and (b) the recovery implementation office will be run by one of the Association of Collegiate Schools of Planning's own, Ed Blakely. Ed has a challenging job ahead to organize a disjointed city bureaucracy, collaborate with a City Council that has only recently begun to work with the Mayor, expedite the flow of funds, and repair as much as possible as quickly as possible for an impatient and weary populace. Ed wrote the book on economic development planning, but never has one of our colleagues faced a bigger economic development challenge.

As with my previous reports, it is clear that New Orleans is strongly moving in positive directions, which is quite exciting to see. But, as before, many uncertainties still remain. In this still-turbulent environment, it continues to be difficult to predict what will occur even one week ahead. The long-term success of the planning process rests largely on its ability, over the next month, to make progress on the issue of risk reduction. And the new recovery office is yet to be born, so we can't be sure how it will play out (we are rooting for Ed). Finally, thousands of individuals have yet to decide how to invest billions of dollars. So, as has been true for some time, the mantra of planners in New Orleans continues to be, "We should have a much clearer idea over the next couple of months or so."






the box (they really call them cans)






google patent