View current page
...more recent posts
ludlowed
- dave 12-08-2010 8:41 pm [link] [6 comments]


need to try

YUBA George Ruan, who worked at Masa, and Jack Wei, from Bar Masa, offer a Japanese menu with touches of China and Italy: 105 East Ninth Street (Third Avenue), (212) 777-8288
- Skinny 12-08-2010 8:10 pm [link] [add a comment]


I broke our blender which we have been using quite a bit. Any suggestions for a replacement? I would love to get the Vitaprep but can't quite get over the price. There must be something close for a more reasonable amount?
- jim 12-05-2010 6:48 pm [link] [4 comments]


lebkuchen recipe / wiki history
- bill 12-04-2010 5:07 pm [link] [add a comment]


ramen v dumplings
- dave 12-04-2010 4:36 pm [link] [add a comment]


frugal portland


- bill 12-04-2010 2:33 pm [link] [2 comments]


14 food shockers


- bill 12-03-2010 1:37 pm [link] [1 comment]


birthday dinner at blue hill stone barns
- dave 12-03-2010 1:36 am [link] [1 comment]


pdx portland

Jason Neroni's not the only New York City name looking to make it big in Portland: Eater confirmed today that New York transplant Sarah Pliner (formerly head chef at the West Village's Socialista Downstairs and veteran of Ducasse and Aquavit) will open up Aviary, a small-plates style spot, on NE Alberta sometime early next year. "Coming from New York, we wanted to be part of a neighborhood," Pliner says. "Alberta is such a vibrant, happening place."

Pliner (who spent about 10 years in Portland during the '90s — cooking at the Heathman and Giorgio's), is pairing with fellow schooled-in-NYers Jasper Shen (Aquavit, Jean-Georges) and Kat Whitehead for the project, and their eclectic mix of influences shows up in the menu. "We've all worked in a million kinds of restaurants," Pliner says, "and we want to take the best of things we've done." A sneak peek at a working menu reveals three sections: Small plates (featuring roast goose salad and oxtail croquettes); a vegetarian "seasonal" menu (think tempura pumpkin and cauliflower veloute); and large plates (like crispy pig ear with coconut rice, and brioche-crusted halibut with uni). NY strip streak is the priciest item, at $16.

Build-out is in progress; projected opening date: January.
- Skinny 12-01-2010 9:44 pm [link] [add a comment]


OUCH

MICHAEL WHITE cooks pasta and people go crazy. This has been the case since he was the chef at Fiamma Osteria on Spring Street in the early years of the century, and it remains the case at Osteria Morini, a casual new restaurant on Lafayette Street.
- Skinny 12-01-2010 9:27 pm [link] [2 comments]


Thai One On 11/30 Three People

Kin Shop....6 dishes, some nice flavors but some things undercooked and some blandness overall, would deff not go back

Lotus of Siam.....12 dishes, all great, bright distinctive flavors, real Thai soul, fantastic and would love to go back tonight
- Skinny 12-01-2010 3:01 pm [link] [1 comment]


the juice press
- dave 11-30-2010 10:52 pm [link] [8 comments]


I'm posting Grandmaw Peacock's Chicken and Rice recipe here because I keep losing my copy and I LOVE this recipe. No chopping, one pot, foolproof (which is a big one for me) and it's better the next day.

Got it from Saveur long time ago, my copy is worn. Some different rices make it nice as well.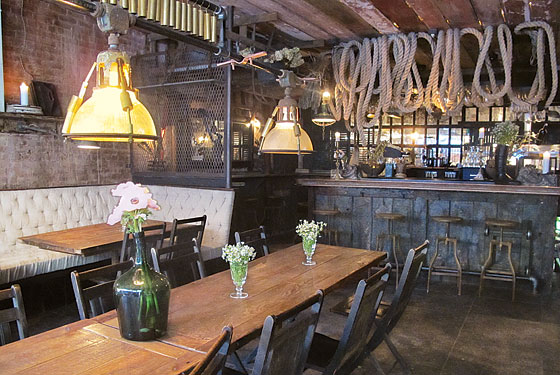 Edi & the Wolf
102 Ave. C, nr. 7th St. 212-598-1040
The inspiration for Edi & the Wolf, a new downtown spot from Seäsonal partners and Viennese expats Eduard Frauneder and Wolfgang Ban, is the traditional eastern Austrian wine tavern known as a Heuriger. Ban defines this type of establishment as "a very rustic restaurant usually connected to a winery that serves very simple dishes," and although his new spot lacks the requisite winery, it does feature an extensive array of Central European varieties like Riesling, Rotgipfler, and Grüner Veltliner. Accompanying them are plates of classic Austrian comfort food, from pork schnitzel and pickled sardines to variously topped flatbreads baked in a pizza oven installed by the previous tenant. As for the space, designed by architect Philipp Haemmerle, it's as handsome and rustic as Alphabet City Heurigerscome, with a pair of Victorian military boots turned into flower vases and some 40-odd feet of old rope, salvaged from a church bell tower and artfully looped above the distressed-copper bar.


Goat Town
511 E. 5th St., nr. Ave. A 212-687-3641
Former Cookshop colleagues Joel Hough and Nicholas Morgenstern reunite to open this American bistro named for the Anglo-Saxon term from which Gotham derives. The sustainable, farm-to-table philosophy is in full force: on the menu, which features seasonal fare like autumn-vegetable ribollita and caramelized Romanesco cauliflower; in the garden, which will eventually provide herbs and vegetables, to be pickled and preserved; and in the décor, by Greenpoint-based hOmE, the brothers behind the rustically reclaimed looks of Manhattan Inn and Paulie Gee's. A central oyster bar will dispense seafood towers and fried oysters, and happy-hour specials include a $14 grass-fed burger and a can of beer.



cooking shall happen again....realized and have known the need to chill in many ways inc cooking......best dish made in years (linda agrees), usually I overcook but flavors yummy, here is correct cooked dish.....oyster/hen of the woods/crimini (EVOO crete/garlic/onion/mix salts) + peconic bays (butter/EVOO tuscany) + reduced in house solera'd wine



comprando entre tablones – aesop store in paris





Happy Thanksgiving.


Why Is Our Thanksgiving Bird Called a Turkey?
(Answer: Because, of course, it came from Turkey)

by Larry E. Tise, Historian
East Carolina University

Read the rest of this post...