tom moody
---
View current page
...more recent posts
---
"Suite 6" [mp3 removed]
No. 7 in the Sidstation/analog drum machine series. I'm especially happy with the drumming on this one.
Nos. 1-6 are
here
. I continue to mess with them, so they gel as a series, with similar volume levels, "dry" sounds as opposed to special-effected, etc. I cheated a bit to get the number to 7 by including both versions of "Protest Song." But no one says I have to stop at 10; I can always do more and edit. But I'm already itching to start polluting these with more softsynths and virtual percussion.
---
Happy Thanksgiving. Please be sure to read Sidney Blumenthal's Salon essay on Dick Cheney's
climb to power
. It tracks this warped creature from his palace coup (with Rumsfeld) kicking the moderates out of the Ford administration, to acting as point man for the Iran Contra traitors during his years in Congress, to engineering Gulf War I (supposedly the "good war" but as bogus as the current one IMHO), to picking himself for Bush Jr.'s VP, to his big moment--the opportunity to put all his world-dominating plans into action: 9/11. One of the most noteworthy things to me is that, yes, Cheney is a man of ruthless ambition, a bureaucratic inside player, and all that, but he's also largely incompetent. He completely had the Soviet threat wrong, right up until the USSR collapsed, and he consistently overstated Iraq's threat to the Middle East in both wars he got us into. Vice President for Torture--already planning his retirement to Eastern Maryland, where he will live off his stolen taxpayer money until his ticker finally gives out. Here's hoping he gets some Pinochet action, late in life, when he's all ready to relax. And here's hoping history properly places him on the dark side of America, along with Joseph McCarthy and the Boston Strangler.
---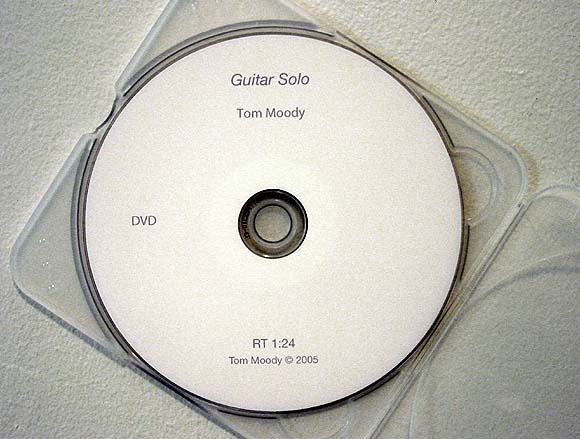 Going back through my email, realized I forgot to plug the second appearance of the Nick Hallett-curated video program 23 REASONS TO SPARE NEW YORK. D'oh, it was last Friday and Saturday, Nov. 18 and 19, at
MONKEYTOWN
, Williamsburg's premiere video eatery. "23 Reasons" is a reel of music videos Hallett put together of experimental rock tunes, all by local bands, featuring Animal Collective, Antony & the Johnsons, Black Dice, Grizzly Bear, Jason Forrest, Liars, and others, and includes my web video "Guitar Solo" (tastefully memorialized in DVD form above--nice wall texture, huh?).