tom moody
---
View current page
...more recent posts
---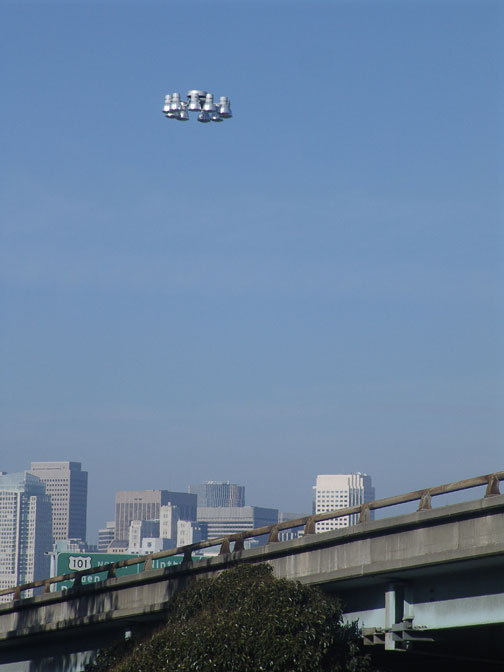 UFOs are real! Joe McKay has been photographing them. Talk about hiding in plain sight--all along they've been masquerading as ordinary streetlamps. Special lenses and McKay's tremendous personal courage allow us to see the alien vessels as they really are. (
more
)
Update: does this photo qualify as a Kaloogian? (Link removed. Wikipedia was considering adding "Kaloogian" as a word, named after California right wing congressional candidate Howard Kaloogian, who posted a picture of Instanbul on his website to "prove" how peaceful Baghdad is under the US' benign guidance. The proposed definition of "a Kaloogian"--meaning a piece of false or falsified visual evidence--was broad enough to include Photoshop-revealed space aliens. Looks like the wingers and/or word-purists won the battle and Wikipedia pulled it.)
---
Recommended: Guthrie Lonergan's
9 Short Music Videos
. Reminiscent of BEIGE's cheesy blue (green?) screen vids, each is built around some corporate sound (ringtone, Microsoft boot-up noise, DVD intro) that craps up our daily lives. Also good:
Bricks Video
. And a lecture "
Surfing the Internet in Public
." Be sure to check out Ian Haig's "Men of the Internet" while you're there. Really need to spend more time surfing. So many gems, so little time...
---
Check this out, all you laptop bombadiers
:
Eric Haney, a retired command sergeant major of the U.S. Army, was a founding member of Delta Force, the military's elite covert counter-terrorist unit. He culled his experiences for "Inside Delta Force" ... a memoir rich with harrowing stories... He serves as an executive producer and technical adviser for "The Unit," CBS' new hit drama based on his book, developed by playwright David Mamet...

[...]

Q: What's your assessment of the war in Iraq?

A: Utter debacle. But it had to be from the very first. The reasons were wrong. The reasons of this administration for taking this nation to war were not what they stated. (Army Gen.) Tommy Franks was brow-beaten and ... pursued warfare that he knew strategically was wrong in the long term. That's why he retired immediately afterward...

We have fomented civil war in Iraq. We have probably fomented internecine war in the Muslim world between the Shias and the Sunnis, and I think Bush may well have started the third world war, all for their own personal policies.

Q: What is the cost to our country?

A: For the first thing, our credibility is utterly zero. So we destroyed whatever credibility we had. ... And I say "we," because the American public went along with this. They voted for a second Bush administration out of fear, so fear is what they're going to have from now on.

[...]

The harm that has been done is irreparable. There are more than 2,000 American kids that have been killed. Tens of thousands of innocent Iraqis have been killed---which no one in the U.S. really cares about those people, do they? I never hear anybody lament that fact. It has been a horror, and this administration has worked overtime to divert the American public's attention from it. Their lies are coming home to roost now, and it's gonna fall apart. But somebody's gonna have to clear up the aftermath and the harm that it's done just to what America stands for. It may be two or three generations in repairing.

Q: What do you make of the torture debate? Cheney ...

A: (Interrupting) That's Cheney's pursuit. The only reason anyone tortures is because they like to do it. It's about vengeance, it's about revenge, or it's about cover-up. You don't gain intelligence that way. Everyone in the world knows that. It's worse than small-minded, and look what it does.

I've argued this on Bill O'Reilly and other Fox News shows. I ask, who would you want to pay to be a torturer? Do you want someone that the American public pays to torture? He's an employee of yours. It's worse than ridiculous. It's criminal; it's utterly criminal. This administration has been masters of diverting attention away from real issues and debating the silly. Debating what constitutes torture: Mistreatment of helpless people in your power is torture, period. And (I'm saying this as) a man who has been involved in the most pointed of our activities. I know it, and all of my mates know it. You don't do it. It's an act of cowardice. I hear apologists for torture say, "Well, they do it to us." Which is a ludicrous argument. ... The Saddam Husseins of the world are not our teachers. Christ almighty, we wrote a Constitution saying what's legal and what we believed in. Now we're going to throw it away.