tom moody
---
View current page
...more recent posts
---
My studio-based artwork from the past couple of years has been archived in blog form; not all of it, but whenever I think of it. The 2004 archive is
here
and the 2003 is
here
; the 2004 wasn't getting regularly updated while I was doing a bunch of animation (even though I was making art, too)--I just added stuff today. By the way, I don't know if I've mentioned that my artistic heroes include Francis Picabia, Sigmar Polke and the late Martin Kippenberger, and I can't think of a better life project than trying to communicate their kinds of quirky, problematic sensibilities in digital-age terms. Not imitating them, but giving in to the perverse turns of mind I think they all represent. The animation, writing, music, and whatever is all a spinoff from, and contingent on, my studio practice. In case there's any question about what I'm up to.
---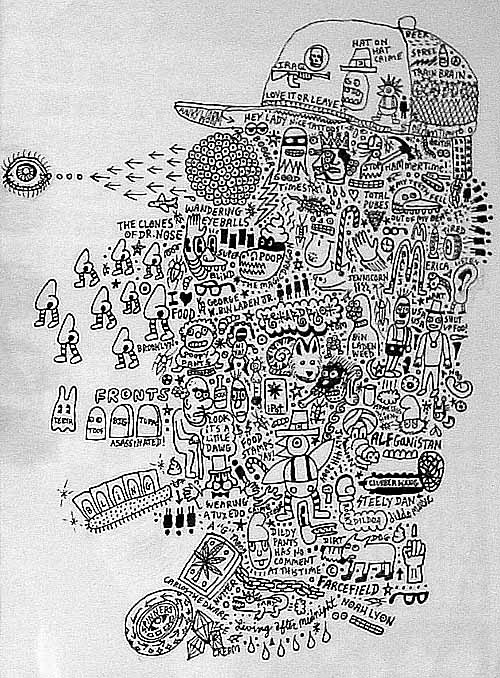 Two by Noah Lyon, from
"The Infinite Fill Show."
Above: "Paper Rodeo Head," ink and whiteout on Bristol, 2004; below: "12 Eyes," mixed media, 2004. Paper Rodeo is a Providence zine crammed with imagery such as Lyon's cartoon homage to Arcimboldo. (The grey smears to the left are shadows from the buttons, which are adjacent to the drawing in the show.) The explosion of psychotropic-influenced graphics coming out of Providence is duly noted; still waiting for a critic to stop complaining about the state of criticism and get down to the hard work of defining how this particular graphic revolution differs from the Zap comix '60s and the Raw magazine '80s (it does differ). These days my taste leans more towards the cartoon minimalism of the "eye buttons," though it's so damn easy to provoke a response with eyes.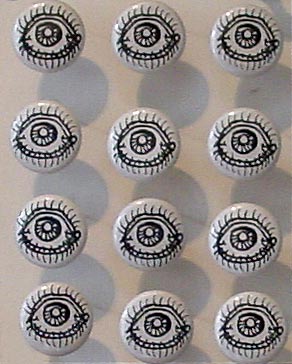 ---
About a year ago I posted a link to Eric Fensler's remixed
GI Joe PSAs
. Those links now redirect to his
main page.
I hadn't looked in a while, but he's added a few new ones. They're on this
video page
, which includes all 25. "Pork chop sandwiches!"..."Stop all the downloading!"..."It's such a wonderful experience here with the Indian"... Relive these moments from the magical year of 2003. And be sure to play
PSA 25
!
---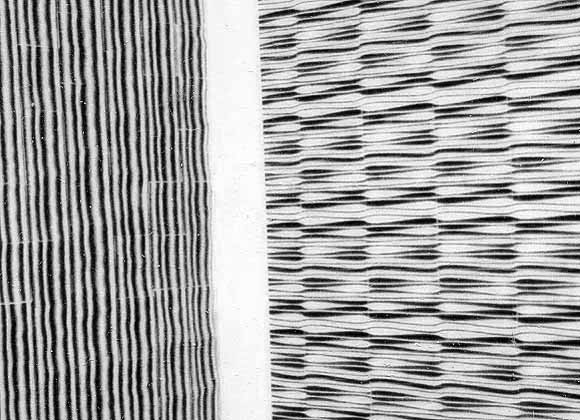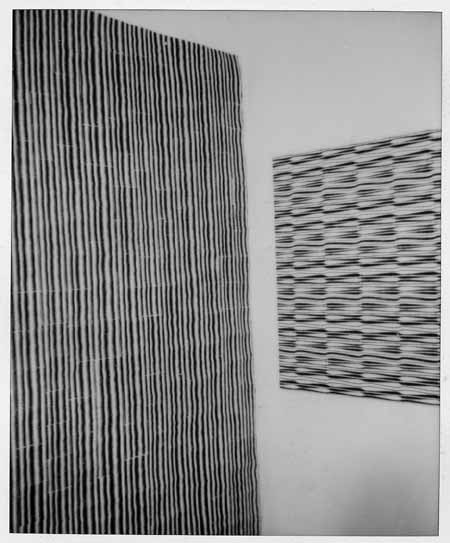 My 54th Street (Hell's Kitchen) studio, ca. 1998. Left hand image(s):
Pipes 2,
1998, laser prints and linen tape, 88" X 78", previously exhibited
here
. The work on the right is untitled, same media. Each piece is essentially a giant paper quilt made of approx. three by five inch rectangles of xerox-printed paper taped together on the back (the linen tape is starchy and moistened when applied; when it dries it forms a "kite frame" of plaster-like strips that give the piece a sense of volume perceptible from the front). The big one hangs loosely on the wall, the small one is folded around a stretcher. Perhaps you can see where a group exhibition of black and white, repeating, Op art-like patterns, computer-made, with a kind of "jenky" outsider craft focus, would interest me. The "pipes" were originally intended to be cut out and used as struts or sticks for the molecules I was making, but I discovered that when placed side by side, they created intense, fairly painful optical vibration (not visible in these polaroid scans). These, and the allover patterns of spheres I was doing simultaneously, are what lead to my investigation and reworking of Op art rhetoric and ultimately my involvement in the "post-hypnotic" exhibition.
"p-h" traveled around the U.S. but never made it to NY. It would have been a hard sell here. I knew the idea of a (multiply-recontextualized) Op pseudo-revival was doomed when I read Roberta Smith's review of the Bridget Riley show at Dia. I'm paraphrasing here, but Smith basically said that Riley was tainted by her association with artists who would be forever on the margins, "especially in anti-Op New York." Wow, opposition to Op art is institutionalized here! Or was that another way of saying "anti-Op Roberta"? Considering the predominance of Op-like patterns in "The Infinite Fill Show," I guess it took the "teen bedroom angle" to override Roberta's dislike of the form and/or perception that it was discredited. Or, less cynically, maybe it was just the overwhelming evidence that artists find it more interesting than she does. [reposted from a few days ago with modifications.]
---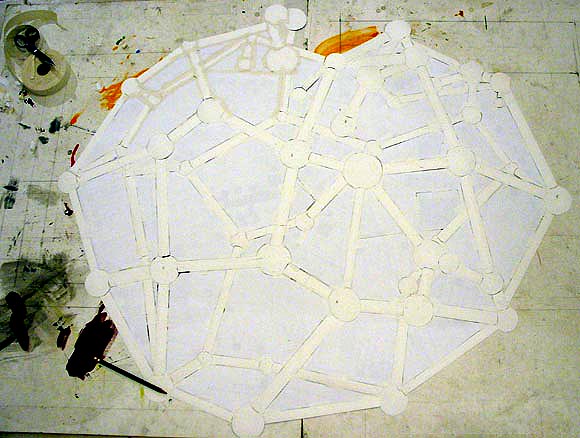 Work in progress; the back side of a piece prior to taping. It looks kind of elegant as a drawing.
---
Wishful thinking (?) by
Steve Gilliard:
"Bloomberg isn't going to risk a riot in Central Park. And if he tries to arrest people for that, he knows that is exactly what will happen. Forget the paranoid fear, a riot in New York during the RNC would be a nightmare for Bush and Rove. They don't want the attention taken away from the President and the party and this will do just that. UFPJ is families, is middle class people with kids. It is not the Ruckus society. If the cops go haywire on them, the whole city will react badly. Bloomberg's popularity isn't high now, chasing yuppie families down 79th St is not something people want on TV or on the cover of the Daily News."
---
M. Night Shyamalan's
The Village
is terrific; I like all his movies. There's a deconstructive element at work in them (I know, that word)--an emphasis on social subtexts and relationships to other films that takes them out of the simple O. Henry/Twilight Zone realm.
Unbreakable
focuses on the warped power fantasies of the invisible comic book fan who ultimately drives the superhero script;
Signs
presents another kind of script, the near-impossible chain of coincidences required for a lapsed believer to regain faith.
The Shyamster (as one smartass critic called him) is a master of the subjective POV, showing you only what he wants to show you and keeping you in a state of nervous tunnel vision throughout. Inexplicable imagery or behavior is explained eventually, sometimes immediately. This is highly manipulative but so what? I like the way gradually-introduced information from outside the frame changes the meaning of what's perceived, all within the filmic atom of "the shot."
Rather than give away
The Village
's plot, let's just say there's a constellation of supernatural or "artificial" works about America's small town past into which the movie could be inserted: The Crucible, The Lottery, Dogtown, A Boy and His Dog, Our Town, Signs. (And of course, Children of the Corn--just kidding.) There's a love story, and a larger enveloping story that is quite creepy and melancholy and gives you something to think about after the movie's over. Oh, and the lead actress is good--I found out afterward she's Ron Howard's daughter. Another surreal, small town connection: Mayberry RFD.
---
Aya T. Kanai, "Polaroids Tokyo/NYC," 2004, spectra polaroid photos, from
"The Infinite Fill Show."
Web layout (rephotography, slight cropping of installation views) by Tom Moody.