tom moody
---
View current page
...more recent posts
---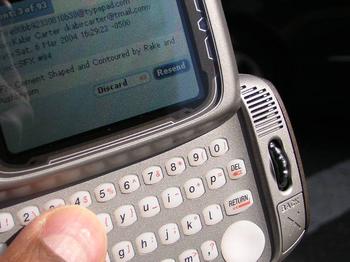 I've been checking out a recent
Rhizome proposal
and related blogs by sound artist Kabir Carter, the fourth panelist in the upcoming
blogging and the arts event
. Carter's sound blogs (a term I'm using, not entirely accurate--more below) are linked to and described there as follows:
Effects

Effects is my first net project. Originally posted as a "stealth" LiveJournal blog, Effects purports to be a diaristic account of my life, but instead only offers dry accounts of sounds that I have heard, or imagine to have heard. While attempting to make LiveJournal friends who can track my accounts, I have periodically contributed to an ever growing catalog of acoustical accounts that never reveal much about me, but hopefully say many things about how I have experienced sound.

http://www.livejournal.com/~effects/

Walking In The City

I am presently realizing Walking in the City, a project commissioned by Subtropics, a Miami based music festival. I moblog (in real time) written descriptions and accounts of acoustic occurences that I audit while walking around New York City. The project was launched during Subtropics' festival opening, where 4 hours of my updates from the city were projected live in an arts and performance space in Miami. Until early April, I will continue to intermittently add to the initial log.

http://effects.blogs.com/subtropics/
I say the term "sound blogs" isn't entirely accurate, because unlike, say, David F. Gallagher's
photoblog
, which also records urban details in a diaristic way, Carter's journals don't document sounds via regular posting of .mp3 files, but rather verbal descriptions of audial phenomena. Many of these short, pointed, often poetic statements enter the journals "moblog" style--as the artist notes above, he types them into a handheld device, on the spot, from the locations where they were heard. The entries resemble a foley artist's deadpan record of sound effects in a movie or TV storyboard. Many of the "sounds" are actually visual descriptions of sound-producing activities, followed by the word "(inaudible)."
SFX: Two Street Signs Affixed to Same Post Vibrating against One Another

SFX #234 SFX: Bell Struck

SFX #233 SFX: Two Small Dogs Barking in Unison

SFX #232 UNKNOWN PERSON: "Not my fault the watermelon tastes like..."

SFX #231 UNKNOWN PERSON: "Police officer, can you go to the end of the train? There's a guy with a bag and blue jeans."

SFX #230 SFX: Droplet Falling from Small Bent Conduit (Inaudible)
I'm reminded of the Kenneth Goldsmith piece where the artist transcribed every word he spoke for a week and hung the transcriptions in a gallery. Like Goldsmith's work we take it on faith the artist isn't making stuff up. But Carter's blogs aren't as obviously sequential: he's moving around the city, and readers often must rely on their own deductive faculties to tell how (or whether) the sounds relate to each other--especially in the
subtropics
blog, where there's no timestamp. A run of posts gives you a feeling of momentary total immersion in a cacophonous, slightly unhinged street scene, and then you're abruptly transported underground, into a subway environment that feels equally random but has its own characteristic sonic events. The sheer amount and complexity of detail paints a cumulative impression of the city not ultimately that dissimilar from Gallagher's far more "accurate" (as in verifiable) photographic record. Both conjure a teeming world beyond our normal mundane powers of observation.
Reading Carter's blogs is highly recommended, although they would doubtless have a different kind of interest if you were
one of those baffled LiveJournal Friends
experiencing them in blog time--that is, following the posts as they appeared.
---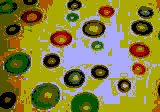 ---
Artist and blogger T. Whid, a fellow panelist in the upcoming Rhizome
blogging and the arts event
, is part of the art duo MTAA, along with M. River (their blog is
here
.) A
Globe and Mail
article on MTAA's current online artwork
1 Year Performance Video
is
here
and I reposted it
here
.
1 Year Performance Video
revisits a classic conceptual-era work by Tehching (Sam) Hsieh, where the artist locked himself in a cage-like cell for a year, and arranged for friends to bring him food and take away his body waste for the duration. (Shades of Wladyslaw Szpilman in
The Pianist,
minus the plumbing.) Recreating the work online, MTAA has made fake cellcams showing the two artists sitting in separate sealed rooms--fake because the pair aren't actually in cells, only posting video loops that show them doing things they might be expected to do at appropriate times of the day. As the artists explain it, they use computer technology to take the suffering out of Hsieh's performance and put the onus of the one-year commitment on the websurfer, who uses a cookie to literally log time watching them.
Pieces that refer so specifically to known, past artworks, satirically or otherwise, are problematic--more on this below--but there's much to think about here. Unlike the
Globe and Mail
, I'd discuss the work in terms of voyeurism, and artist recuperation of the part-guileless, part-sleazy home webcam phenomenon. In real (Internet) life, the only reason a surfer would stay with a site like this for hours was in the hope that the subjects might do something kinky. I know there are people watching this for art, but why? Perhaps the presence of white plastic buckets in the rooms creates some morbid curiosity about how the artists handle basic elimination needs, but frankly I didn't stick around to find out.
Like Penn and Teller explaining a magic trick, the artists reveal--on a related web page--quite a bit about the scripting and webserving mechanics behind their simulation. This geeks-only backstory actually makes for fairly fascinating reading. One guesses the commercial voyeur sites do something similar--calling up particular loops at particular times of the day to fool the rubes. There is also the cliche of a hundred spy thrillers where fake footage of a surveillance subject is inserted into the bank of video recorders to confound the watchers. For sure the technology changes Hsieh's piece quite a bit, which did allow observers, but only at specified times, like a prison visit. Ultimately the MTAA work's relationship to current tech-shaped behavior patterns and pop culture tropes feels more compelling than its parody of the Hsieh performance, which is almost by definition an art world in-joke, with a singular interpretation: that when computer-age art revisits the physically demanding, emotionally wrenching work of yesteryear, an insincere, fast-food facsimile inevitably results. Sorry to leach the humor out of it, but there it is.
Addendum: And speaking of webcams, dave found
this article
about "net or remote hunting" of animals, an example of life trumping art for sheer fuX0red weirdness. (Assuming it's not a hoax.)
---
David F. Gallagher, one of the panelists in the upcoming Rhizome
blogging event
, wears two hats: committed
photoblogger
of his own punchy, artfully composed images (I
linked to him
a few weeks back when discussing the artists "trashing" Terminal 5) and media journalist covering the controversies and mutations of the emergent blogosphere. If you knew about the schism between crazy right wing "warbloggers" and the rest of us, which became apparent when they got a book deal and we didn't, it's possible you first learned about it in an article of his in the
New York Times
. Ditto the failed attempt by Warner Bros. to co-opt
.mp3 bloggers
. As I mentioned earlier, the first appearance of the term "web log" in the Grey Lady was in an article of Gallagher's, on December 28, 2000.
Occasionally his interests converge, as in
this Slate piece
on photoblogging. He invokes the image of cigar store owner Harvey Keitel taking daily random photos of the same section of city street in the movie
Smoke
as a metaphor for the demotic, "anyone can do it" aspect of photoblogging. That definitely comes across, but I've often thought about what a novelistic contrivance Keitel's picturetaking was. Within the film's own logic, he has this slightly kooky personal hobby that just happens to resemble a rigorous conceptual art project. The purpose of the conceit--besides the obvious plot point of Keitel "accidentally" photographing William Hurt's late wife, and thus ending Hurt's period of grieving--was, I think, to present Brooklyn as a place so steeped in renegade art style that even the man on the street had internalized it.
Photoblogging, on the other hand, isn't local, or particularly bohemian--it's a worldwide, bottom-up phenomenon, where practitioners are as arty or as artless as they want, or have, to be. The conceptual element comes in deciding on the parameters of the blog (on the practitioner side) and what
value
the practice has, on the consumer or curatorial side. Is the photoblog factual documentation or personal vision? At what point does a John Cagean interest in the aesthetics of random urban phenomena ("I am standing on this street corner shooting these buildings") intersect with the need for accurate images experienced by, say, a historian or a police investigator?
Photoblogging is photographing but it's also "databasing," and changing the subject slightly, I note that ex-Walker Art Center new media curator Steve Dietz has an
exhibit
coming up on that subject, which looks to be the typical analytical, anecdote-driven new media event. My
general beef
with such shows is that they privilege the rational over the intuitive. Instead of flouting viewer expectations, looking for disobedient, ecstatic, Dionysian uses of the computer, curators love to emphasize the data-crunching everyone already knows it does well. Whereas the more interesting story is how it's
misused
as an art-making tool, in hiphop, "dirtstyle" web design, etc. Fortunately, at a certain point
homegrown, tribal, "amateur"
efforts begin to overwhelm more earnest, grant-conscious, faux-sociological production. "Life finds a way," Sam Neill marvels in
Jurassic Park
, on discovering mating dinosaurs in a supposedly sterile environment. And so does art.
---
Untitled (Clear Evening After Rain), 2004, HTML, 365 x 550 pixels, from
Look, See
, Chris Ashley's weblog. A CD-ROM was recently published of the HTML drawings that appear daily on the blog. I continue to be intrigued and impressed with Ashley's use of the weblog as a medium for abstract art made in the same language as the medium. It's transparency in every good sense of the word.
---
Rhizome.org to host Blogging and the Arts panel
Public Program:
Blogging and the Arts
Tuesday, November 23, 6:30 p.m.-8:00 p.m.
Location:
New Museum of Contemporary Art / Chelsea
556 West 22nd Street
*** Rhizome.org Director of Technology Francis Hwang will lead a panel discussion entitled Blogging and the Arts. The panel includes artist Kabir Carter, photoblogger and journalist David F. Gallagher, artist and critic Tom Moody, and artist T.Whid. The discussion will address questions such as whether blogs will change the nature of discourse in the fine arts field, and ways that artists and critics are integrating this new form of communications into their own work. ***
About Rhizome.org
Founded in 1996, Rhizome.org is an internet-based platform for the global new media arts community. Through programs such as publications, online discussion, art commissions, and archiving, it supports the creation, presentation, discussion, and preservation of contemporary art using new technologies. Since 2003, Rhizome.org has been affiliated with the New Museum of Contemporary Art.
---
This is an interesting mix (including me blah blah), and overdue. I think the new media community will learn of this event via the cyber-Drum and hopefully some will turn out. If anyone knows gallerists or critics or other real space artworld types, please tell them about this because I'm still getting blank looks from that quarter on the subject and/or value of blogging. The art journalism lag on this is frankly pathetic. Artnet (a magazine, not a blog digest) still practically owns the cyber-art-journalism field, although individual blogs such as Tyler Green's are getting more widely known. But the phenomenon of independent blogs embarrassing Institutional Media and demanding that it be more accountable hasn't happened in the art world as it did in politics. Also, "name" critics aren't starting blogs as they have in the political/mediacrit sphere.
Vanity Fair
scribe James Wolcott has a blog now, so where is Jerry Saltz's? Roberta Smith's? Robert Storr's? David Rimanelli's? Why are they still hiding behind the cloak of institutional authority? Do they need editors that much? Are they insecure?
These are my pet peeves, though: the Rhizome panel, by its choices of who was invited, is less grouchy (or, of more universal interest) in that it focuses on practicing artists and how blogs are impacting their work, rather than the deficiencies and pathologies of institutions. I hope to write more about the other panelists (based on surfing their blogs) in advance of the event. [One interesting factoid: Gallagher in his journalist career is the first writer to use the term "web log" in the
New York Times,
on December 28, 2000.] On his blog, twhid asks for suggestions about what to talk about. I'm similarly open here, but refer readers to an earlier dialogue I had with twhid and others in response to a Danish student's questions about "artblogs," which she seemed to assume were a much more evolved and accepted entity than they are. Here are some relevant links:
What is an art blog?
1
/
2
/
3 (scroll down)
One afterthought: the panel lists me as "artist and critic" but I prefer "artist who writes" (or better, just "artist") because the art world is quite old-fashioned and actually punitive in its expectation that artists will only wear one hat, and will otherwise be perceived as uncommitted. Starting this blog was a way to scrape off some of the barnacles of institutional criticism that I found attaching to myself; I guess it's not working, but then I can't make myself shut up.
---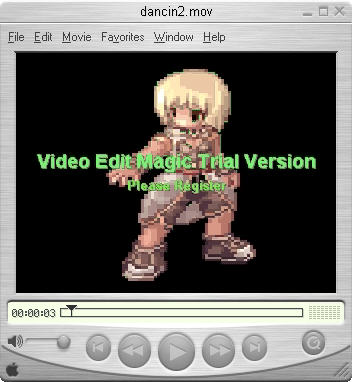 Notes on my video, Dancin' (Please Register).
1.The soundtrack is a short version of "Streetsong 2" [
3.48 MB .mp3
], originally posted
here
.
2. The video is comprised of these animated .gifs swiped off the internet ("like stealing a candy bar from a drugstore"), plus a few more found at the link below. All are resized at 240 (tall) by 320 (wide) pixels. They run sequentially, with only one on the screen at a time. Each appears more than once (some many times), for a duration no less than four piano notes per appearance (and no more than 8). The order varies; the .gifs are mixed and matched and arranged with an eye to rhythm and the element of surprise. Speeds of individual .gifs also vary.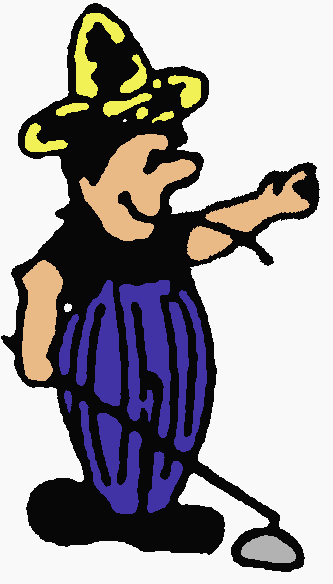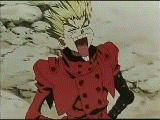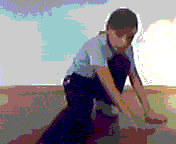 more animated gifs
3. After 1.25 minutes of this foolishness, video fades to black at end. "Trial version: please register" overlay will probably remain throughout the piece (I haven't decided yet).
The video is priced at $500,000. Proceeds after deduction of expenses for a private party in Terminal 5 will be placed in trust to be clawed over by attorneys for individual .GIF-makers.
Update:
The completed video is
here
.
---
Thanks to all who posted encouraging comments about my
first foray into video
. The piece is coming along, it's now down to 50 MB and I jury-rigged a way to sync the audio. I was able to save a thumbnailized, super compressed copy at 9.5 MB, but it looks like, um, shit.
Many of the comments were about trying to get me to switch from a PC to the Macintosh ecosystem. I have more to say on this subject, but in brief, I don't know how I can continue to claim, in my artist statement, that "My work proudly inhabits the 'lo-fi' or 'abject' end of the digital spectrum" if I am using the ideal, "hi fi" system. I wound up in PC-land quite by accident, but it's the way I think most people end up there: it's the computer of choice of managerial types in the American workplace. At a certain point I had so much PC-made work on floppies (done on lunch breaks, of course!) that when my old Mac SE no longer cut it at home, I had no real choice about what to buy to replace it. But this is boring. I also perversely like being outside the orbit of the Mac fetishists, where things tend to look and get done a certain way. I've kidded elsewhere about the laptop chic of New York art events--part of me wants to join it, but there's also something to be said for using the tools of the proles. Think Carl Andre in his carpenter overalls. Oops, not a good example.