tom moody
---
View current page
...more recent posts
---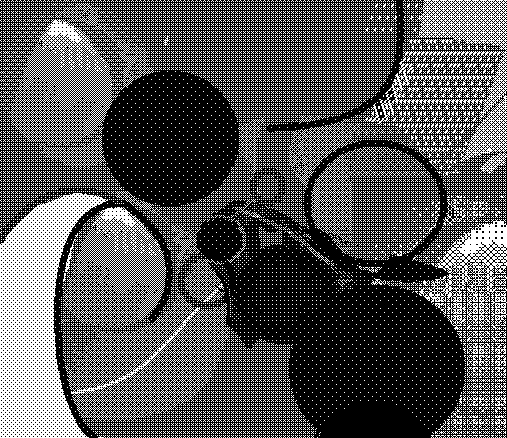 ---
Active Worlds
vs
Second Life
Was talking to someone recently who didn't know the former, a kind of also-ran in the buzz metaverse, or buzz about the metaverse, if you prefer. Posting these links for further comparison. I recall a "Virtual Chelsea" in Active Worlds with wireframe modernist gallery buildings, from about 8 years ago, that never quite got off the ground. Avatars could meet, talk art, and look at painting thumbnails mounted at oblique angles. It's all Lawnmower Man kitsch but interesting to think about the different ramifications of the "fully-immersive" Matrix paradigm (some wildly successful and some not), still grinding on while new social networking schemes based on much less memory intensive tech (MySpace etc) take off even more.
---
Middlebrow Democrat sites such as Daily Kos tell us the "antiwar" legislation just passed by the US House is good because it makes Bush look bad, or something. Justin Raimondo at antiwar.com notes that "the bill gives
more
money for the military than requested by Bush." In a blog post today, Raimondo
responds
to David Sirota, "the resident 'radical' over at the HuffPuffPost," who thinks the legislation, which Bush will veto if it ever gets to his desk, is just grand.
In a veritable cascade of Orwellian doublespeak, Sirota claims:

It is a courageous move because it is never, ever easy to swallow a compromise, even if it is clearly the right thing to do to achieve long-term goals. These Members of Congress played hardball from the beginning, and that hardball made sure this bill included strong, binding legislation to end the war.

If this is "strong and binding," then one can only wonder what would be weak: read it and you'll find that the actual wording of the legislation leaves it up to the White House to "certify" whether "progress" is being made in Iraq -- in which case none of the requirements, including a withdrawal of our forces from Iraq, have to be met. Itís true that such a certification would only delay "redeployment" of our troops, but then all the President has to do is assert that forces remaining in Iraq after March 1, 2008 are specifically in pursuit of Al Qaeda, or other terrorist groups with "global reach" -- which is the argument heís been making since Day One -- and they can stay -- indefinitely.

This is "strong" and "binding"?
Why should we accept a "compromise," anyway? The majority of Americans want to end the war and disagree with Bush's handling of it; every day that passes means more money spent and more lives lost in the 52nd State.
---
"Enigmatic Rap" [mp3 removed]
Update: attempt to relate this to dubious utopian architecture purged for the time being. I am working on a piano version while thinking about how to best describe it.
---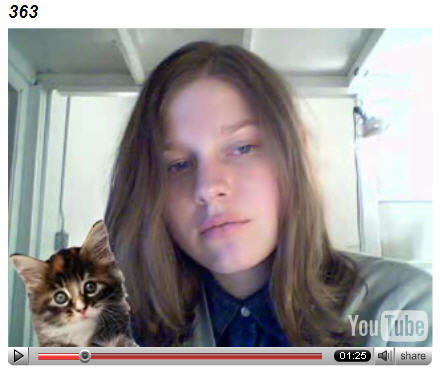 vvebkm
(YouTube)
(petra cortright)
Update: We're discussing this project over at
Paddy Johnson's
.
---
NASTY NETS YOUR CREW IS WACK, YOUR LINKS SUCK, AND Y'ALL GOT SWAGGER JACKERS UP IN YOUR CUT. AS JWW SAID WE CAN RELATE THIS BEEF TO CURTIS + CAMíRON. NASTY NETS IS 50 CENT AND YA'LL JUST GOT SONNED BY DIPSET A.K.A. SUPERCENTRAL. JEAH!
- marky mark ó 3/16/07 @ 11:23 am
WE'RE NASTY NETS OUR CREW IS WACK,
OUR LINKS MIGHT SUCK
BUT WE DONíT SMOKE CRACK
WE GOT SWAGGER JACKERS UP IN OUR CUT
BUT THAT'S BETTER THAN HAVING THEM UP OUR BUTT
SONNED BY DIPSET THIS IS GOOD
AOL IS YA'LLS HOOD
NASTY NETS IS 50 CENT
BUT SUPERCENTRAL IS ALREADY SPENT
MARKY MARK DOESNíT EVEN RAP AT ALL
HE JUST RANTS WITH BLOCK CAPITALS. JEAH!
- tom moody ó 3/17/07 @ 1:39 pm
---
Reenacting the Unenacted?
About The Muster
On May the 14th, 2005, artist Allison Smith transformed Governors Island Ė the former U.S. military base located only minutes by ferry from the southern shore of Manhattan Ė into a stage for an unforgettable work of public art, commissioned by the Public Art Fund. Inspired by American Civil War battle reenactments, The Muster was a "polyphonic marshalling of voices" in which Smith invited artists and non-artists alike to declare a cause and create a campsite-installation in response to her question: "What are you fighting for?" Combining celebration, art, craft, history and activism, this earnest and jubilant event embodied the complexities of its political, aesthetic, and cultural moment.

Allison Smith is a New York-based artist, whose diverse practice investigates the cultural phenomenon of historical reenactment, or living history, using it as a means of addressing the relationship between American history, social activism, craft, and queer identity. Her work has recently been seen in exhibitions at Artpace San Antonio; Palais de Tokyo, Paris; Andy Warhol Museum, Pittsburgh; P.S. 1 Contemporary Art Center, New York; and elsewhere.

Produced with the inimitable flair of the ever-talented graphic designer Jorge Colombo, this book documents the Muster and places it within broader contexts. Included are more than 140 photographs, a foreword by Susan K. Freedman, President of the Public Art Fund, and essays by Tom Eccles, curator of the project and director of the Bard Center for Curatorial Studies, James Trainor, US editor for Frieze, Anne Wehr, Communications Director for the Public Art Fund, and "Mustering Officer" Allison Smith.
A friend attended this event and said it was ridiculous. Semi-diverse clumps of artists standing around looking clueless, waiting for some leadership or an idea to emerge, with no common purpose except the need to be "seen" and the vague desire to "help out." Reenaction is an interesting social phenomenon--so what? "What are you fighting for?" is a "When did you stop beating your wife?"-style question, in that it assumes you are fighting and the questioner doesn't know why, and one should have the good sense not to answer it, thus saving yourself becoming fodder for a coffee table book. Perhaps one purpose the mustering served was to parody the Iraq war protest marches of '03, where every leftist "cause" under the sun was represented and the participants were so busy working on their funny signs and costumes they forgot what was needed--a grim unified front, hundreds of thousands strong, to stop the coming senseless slaughter. Somehow parody doesn't seem like the idea behind "The Muster," though.
---