tom moody
---
View current page
...more recent posts
---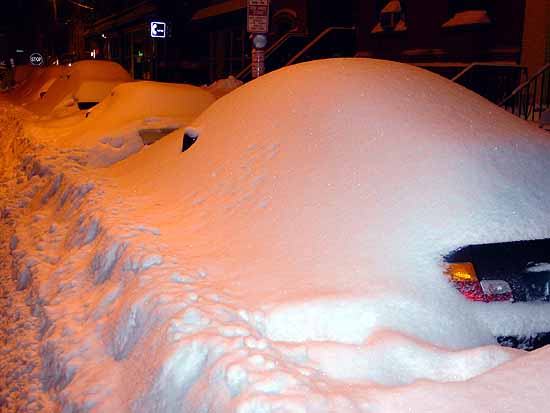 ---
Here's the inside-the-beltway perspective on yesterday's protests from
Josh Marshall
. While quite good on many issues, he's part of the elite urging us on to war without having any connection to it, in terms of having to fight, or having a loved one fight, or seeing the devastation we'll be wreaking firsthand:
I haven't had much time to catch up on the news today. But clearly these worldwide anti-war protests are a big deal. I'm not sure what they'll accomplish, however, beyond telling us what we already know: that the idea of an American invasion of Iraq is very unpopular around the world [and here, dude], and growing more so. We can debate whether this matters, whether 'they' are right [they are], whose fault it might be in the US [George Bush's], how 'we' should react [by bringing our troops home], and so forth. We can debate all that. But the underlying point seems undeniable. The protests aren't the evidence, just a symbol. Look at the polls in other countries.
I'm sure he's thinking, "If only those millions would read Kenneth Pollack's book, they'd all be convinced that pre-emptive war is good."




---
I attended the big New York antiwar protest today. Started at the Public Library in a "feeder march" that never made it to the main rally at 49th and 1st Ave. The cops were ready with barricades and equestrians, keeping the enormous crowds moving uptown on the big avenues and not allowing people to move crosstown on the east-west streets. I made it as far as 3rd Ave and 53rd, then heard I would have to walk all the way up to the 70s to cross over to York, and thence downtown to the rally. Word on the street was that the barricade "pens" at 1st and 49th didn't seem very full, because the bulk of the protestors had been kept away from the rally for "crowd control" reasons. To revert to the Sixties lexicon, I can only say "Oink Oink." The spirit of the crowd was very humorous and upbeat despite the obnoxious police presence. Lots of families and well-mannered, creative people think this war is a crappy idea!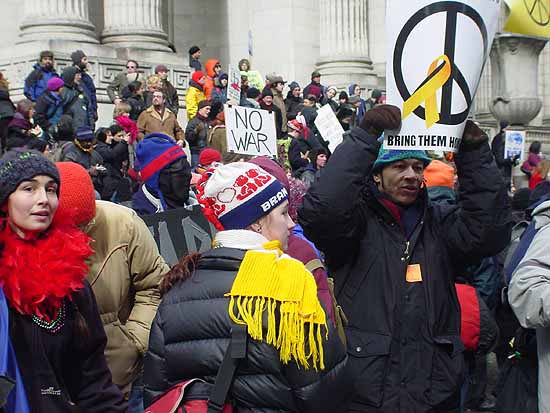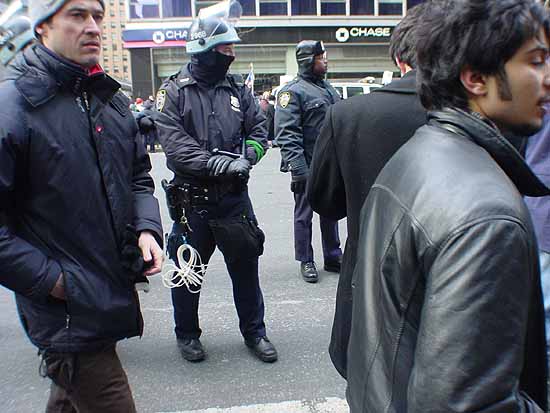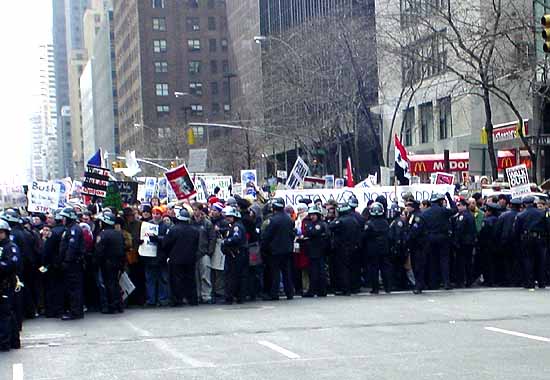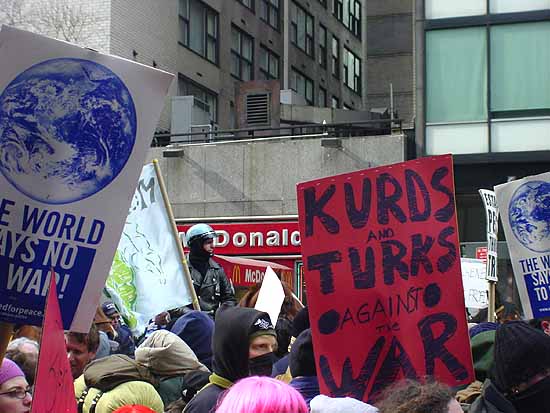 A few more photos are here (click on thumbnails to enlarge).




---
I'm in a mild state of shock: my
review of the Xtreme Houses book
was censored by amazon.com! Here's what I wrote:
Archiporn subverted, January 14, 2003

Within the comforting scheme of the shelter mag "livestyles of the cooler than you" compendium, this book slips in a lot of pointed politics. Atelier van Lieshout, for example, upends notions of private property and public propriety with its communal settlements and sexual recreation centers; its mini-state of AVL-ville, in the port of Rotterdam, was apparently so threatening to the commonweal that it was forced to shut down. Many of the architects are ardent recyclers who make buildings out of such castoff consumer materials as shipping containers and automobile tires. Just as artist Michael Rakowitz taps into the heating ducts and hidden crevices of cities for his temporary dwellings for the homeless (when landlords' backs are turned), Xtreme Houses uses the glossy book format to slide agitprop under the radar of the big business/publishing Monoculture. For those who would confine politics to specialized journals and photocopied broadsheets, this may be disturbing. Also, the book is not typographically cute or "webby," as one writer stated. It has text on the left, pictures on the right, and clear captions; Wired magazine circa 1994 it's definitely not.
During the vetting process, the editors changed the phrase "sexual recreation centers" to "inapropriaterecreation centers" (sic). Not only did they alter the meaning, they added a misspelling and a typo! In case you're wondering what I was talking about, here's the relevant passage from page 96 of the Xtreme Houses book:
[In Atelier Van Lieshout's] buildings, often the bed provides a starting point, as in La Bais-o-Drome, a mobile home dedicated to "loving." At its core is a voluptuous bed littered with ultra-soft pillows and beside it a minibar stocked with mood-enhancing drink. In a similar project, Commune Bed (1998), AVL produced a bed large enough to hold a full scale orgy. Lining the sides of this bed were holsters carrying a selection of pornographic magazines, an assortment of sex toys, plus an array of drink and drugs to help cajole things along.

Compostopia features a large bed with the capacity to sleep at least ten people, but here the bed looks very utilitarian and implies rest rather than recreation. As well as providing sleeping quarters, the Compostopia construction comprises a small vegetable garden, a makeshift gym, washing facilities, a compost toilet, the produce of which can be used to feed the garden. In Sportopia, a variation of this assemblage, a cage was added for the practice of sadomasochistic sex. Here the effluent from the toilet can be recycled by channeling it into the cage to satisy any visiting coprophiliacs. The basic structure is made from scaffolding poles allowing it to be easily erected at any location and in many different combinations.
The irony here is that the book flew under the radar of the big business & publishing Monoculture but my review didn't.
Update, 2012:
I resubmitted this review with compromise language and the revision was accepted:
Atelier van Lieshout, for example, upends notions of private property and public propriety with its communal settlements and semi-ironic "sexual recreation centers"; its mini-state of AVL-ville, in the port of Rotterdam, was apparently so threatening to the commonweal that it was forced to shut down.
---
I think it's time to reread Richard Hofstadter's The Paranoid Style in American Politics, a 1967 book that attempts to explain why our country periodically just goes completely batshit. Hofstadter, a historian at Columbia University, investigated such 18th and 19th Century phenomena as anti-Masonic scares and nationwide Catholic-bashing in an attempt to contextualize the McCarthy era, which was just ending as the book was written.
It seems that 9/11/01, "our national nervous breakdown," as Hunter Thompson calls it, has brought on another paroxysm of the paranoia and hatred that is the dark side of our democratic, freedom-loving society. I mean, we're supposed to hate the French now? And the Germans, with whom we supposedly buried the bayonet 58 years ago? Just because they challenged the aggressors currently running our little show? I say, to heck with that. These countries--our allies--are absolutely right to question our insane rush to war.
Hey, I'm mad about 9/11, too; it makes me all the madder that the men and women in power, weak but pretending to be strong, are trying desperately to change the subject, and settle some old scores. Rumsfeld is a War Loon--the whole crop of them are: Perle, Wolfowitz, Powell, Rice, Bush. These people scare me to death, much more than the Iraqis, who WERE NOT the instigators of the World Trade Center tragedy.




---
Cartoon roundup.
Homestar Runner
is a funny, web-only Flash animation series created by two 20something brothers in Atlanta. It's sort of in the Power Puff Girls mode but the characters and voices are much weirder. Its original fanbase included a lot of Christian kids because it uses clean language, but its popularity is spreading so major media may soon be involved (if they're not already). An essay about the cartoon is
here
. The episode
"Where's the Cheat?"
--or as one of the characters says, "Where the Cheat is at?"--is recommended.

Also, if Virginia Woolf and Joseph Conrad were alive today I'm sure they'd be checking out this collection of
Dragonball Z animated gifs
.
---
Fiction writer and off-and-on art critic Jim Lewis has an essay on
William Eggleston's photography
on Slate. The essay's informative but contains some theoretical bugs; there's also a whiff of art world mythmaking hanging over everything that I wish wasn't. I annotated the article with some annoyed comments in boldface
here
. The following is a sample paragraph (my apologies to Lewis, if he ever reads this, for the pissed off tone; I just reacted and don't feel like doing heavy revision):
In a way, Eggleston did for color photography what the Dutch Masters of genre did for painting in the 16th and 17th centuries: He took it out of the hands of the wealthy institutions that had sponsored it (fashion magazines and advertising agencies in the one case, the church in the other) and turned it into an expression of the everyday. [Oh, come on! As if every American didn't own a color camera in 1976. The problem was that curators thought color was too everyday--a point Lewis makes earlier in the essay. What's with this "wealthy institutions" stuff? This is a strained art historical metaphor.] It is not so far, after all, from the vulgar to the vernacular: Eggleston bridged the gap, and in doing so delivered color back into the hands of art. [Surely Eastman Kodak, if anyone, took color from wealthy institutions and put it into the hands of ordinary people. What Eggleston did, supposedly, was then legitimize that banal enterprise as capital-A art. Except he didn't really--his printing, scale, and attention to detail made it a different level of activity than snapshots dropped off at the drugstore. Also, "bridging the gap between the vulgar and the vernacular" is about as meaningful a pursuit as "bridging the gap between the naked and the nude."]
At my last place of employment, an abstract silkscreen print by "William Eggleston" from the early '70s hung in a hallway--a series of vertical stripes a la Morris Louis. I'm pretty sure it was the same William Eggleston--I remember hearing that he did that type of work at one point--but I can't find any info about this phase of the artist's career on google. Can anyone post or send me a link, or other data about this?
---
A friend suggested I get a studiocam, which gave me the idea to do a series of "every artist his own documentarian" studio action photos. They are currently down while I reevaluate whether they are "good nerdy" or "bad nerdy" vis a vis my image. Below is the piece I was working on in the photos.