tom moody
---
View current page
...more recent posts
---
As anticipated, the Bush Media are reporting a happy day of electing in Iraq that we're paying $200 billion for. I'll be looking around for some kind of reality check.
tex,
one of my favorite antiwar.com bloggers, has some scattered reports. This from reporter Chris Albritton on the all important "image spin":
I'm watching CNN International, and the shots of long lines and happy voters are almost all coming from Iraqi Kurdistan where the voters are motivated and the environment is (relatively) safe. The rub is that CNNi is not identifying the images as coming from Kurdistan; the only way I knew it was from up north was the single shot of someone waving a Kurdish flag. But if you don't know what the flag looks like (red, white and green bars with a yellow starburst in the center), as I suspect most Americans don't, you wouldn't know the context of these images. Shi'ites are also coming out in droves in the south. But Sunnis are staying home. I will be surprised if the Sunni vote hits double digits at this point.
Albritton also reports:
Nine suicide bombs in Baghdad alone, with at least 20 dead. A bomb went off near the home of the Justice Minister. There are a number of outgoing mortars from my neighborhood in the last 10 minutes.
And from
Juan Cole
:
Although the violence and attacks have been extensive and took place all over the country, the security measures put in prevented massive loss of life. Suicide bombers clearly could not get close enough to crowds to take a big toll.

On the other hand, if the turnout is as light in the Sunni Arab areas as it now appears, the parliament/ constitutional assembly is going to be extremely lopsided. It would be sort of like having an election in California where the white Protestants all stayed home and the legislature was mostly Latinos, African-Americans and Asians.
Which would be cool, but the point here is the white former elite wouldn't stand for it--they'd bide their time and then fight (or cheat) to regain power. But BushCo is only concerned about how it plays on TV today, so multinational companies can continue to operate in Iraq under cover of a "democratically elected government." Bottom line, whether it goes well or not, why in the world are we paying in lives and dollars to run another country's elections? Oh, sorry, I forgot: the "war on terror."
---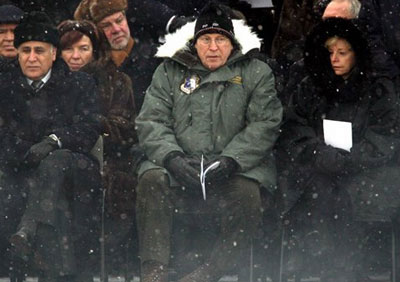 This is all over left bloggerville, but must be passed on. From Salon's War Room: "
Washington Post
fashion columnist Robin Givhan doesn't think much of Vice President Dick Cheney's choice of attire for Thursday's commemoration of the 60th anniversary of the liberation of Auschwitz. Cheney's dressing down in a parka and ski cap, Givhan notes, was rather at odds with the solemnity of the event." Givhan's text:
"The ceremony at the Nazi death camp was outdoors, so those in attendance, such as French President Jacques Chirac and Russian President Vladimir Putin, were wearing dark, formal overcoats and dress shoes or boots. Because it was cold and snowing, they were also wearing gentlemen's hats. In short, they were dressed for the inclement weather as well as the sobriety and dignity of the event.

"The vice president, however, was dressed in the kind of attire one typically wears to operate a snow blower.

"Cheney stood out in a sea of black-coated world leaders because he was wearing an olive drab parka with a fur-trimmed hood. It is embroidered with his name. It reminded one of the way in which children's clothes are inscribed with their names before they are sent away to camp. And indeed, the vice president looked like an awkward boy amid the well-dressed adults.

"Like other attendees, the vice president was wearing a hat. But it was not a fedora or a Stetson or a fur hat or any kind of hat that one might wear to a memorial service as the representative of one's country. Instead, it was a knit ski cap, embroidered with the words 'Staff 2001.' It was the kind of hat a conventioneer might find in a goodie bag.

"It is also worth mentioning that Cheney was wearing hiking boots -- thick, brown, lace-up ones. Did he think he was going to have to hike the 44 miles from Krakow -- where he had made remarks earlier in the day -- to Auschwitz?"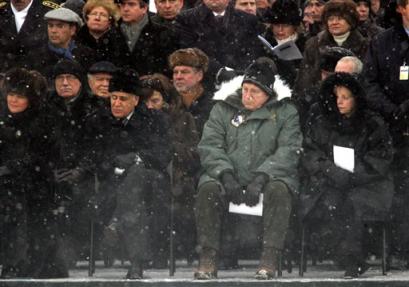 You could almost feel sorry for him if he wasn't responsible for so many people getting killed. There is some difference of opinion on whether this happened because he and Lynne came from separate events, and she wasn't around to help him dress, or if this is just him being indifferent to "Old Europe." Weighing in on the side of arrogance, I'm reminded of the story of Cheney on the campaign trail ordering a bunch of vegetables from a farmer and then just handing him a ten dollar bill, without asking for the price.
---
Details from Michael Bell-Smith's video,
Top of the World,
at
Foxy Production
, in the group exhibition "GEO," which runs through February 8, 2005.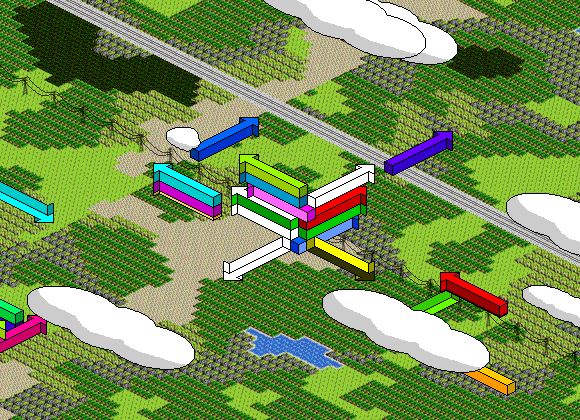 The video begins with an aerial perspective looking down on a videogame landscape (sort of reminiscent of the old Intellivision tank battle terrain, but it could be a lot of things from that era). Directional arrows invade the middle ground and...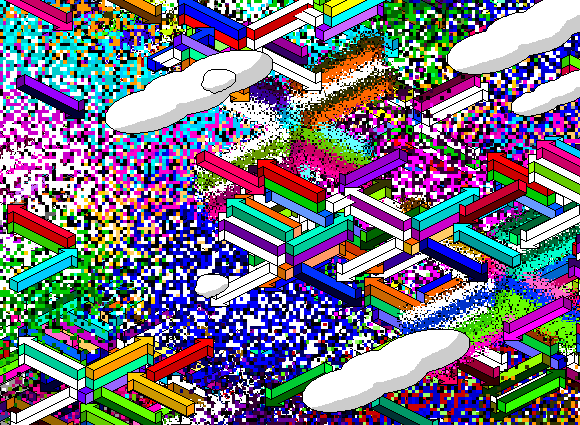 ...after passing over, under, and around each other they begin to dissolve into painterly sprays of pure pixelation--a gorgeous effect, but not too gorgeous. It looks like a specific set of commands to "break down" as opposed to a one-click Photoshop filter; don't know if any, or how much, custom programming was required and don't care particularly. Eventually the screen fills with a succulent allover abstraction that could be Monet's Water Lilies a la Bit-Rot.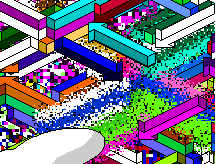 This detail showing the initial breakdown into pixels probably looks fuzzy in Safari--another browser is recommended to see this scaled up image super-sharp.
In the gallery, the video is displayed on an LCD screen directly from the computer. My only quibble is I miss seeing this type of imagery on the big clunky CRT picture tube, as a similar work of Bell-Smith's was displayed last summer in the Infinite Fill Group Show. Ideally when he has a solo exhibit we can see his work with a variety of formats and hardware. Also recommended is a music piece on Bell-Smith's blog that is a kind of
marathon sequencer ditty
--curious to see what happens with that if it reaches the projected 74 minutes.
---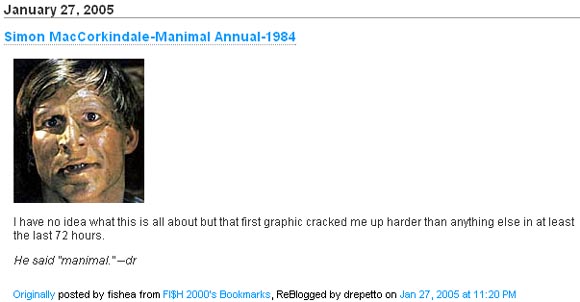 ---
Still More Damn Metablogging
Just reading a
New York Times
article (linked to by Bill) that talks about how blogs are changing the design world because bloggers write from passion and editors and other trendspotters increasingly rely on them to suss out the new.* This hasn't happened in the art world, because galleries still don't know what blogs are. (Print magazines
are
figuring it out and thanks again to
AinA
.) One of the themes of the Rhizome "Blogging and the Arts" panel in Nov. at the New Museum was whether this thickheadedness on the part of art spaces was volitional. Most of the audience for that panel, I'd guess, came from the new media community, comprising folks making computer, internet, video, and multimedia art that is exciting and increasingly relevant as the world becomes more wired, but hard to commodify in the same way that galleries package and sell non-virtual artists.
Many in this cyber-community think the internet's openness and transparency threatens the gallery's traditional business of "creating the appearance of rarity or scarcity of objects in order to market them for high prices to an elite," as someone said that night. Yet at the same time the new media-ers ultimately want that gallery sanction--for the art world to say that what they do is not only art, but great art. My own response is there is no conspiracy, that the gallery world has certain habits of practice, which up till a few years ago included putting up shows, mailing out invitations, getting critics in, xeroxing the critics' clippings and mailing them to collectors, etc. but now includes dealing with the baffling and ever-changing world of websites and like it or not, blogs. Most overworked, underpaid gallery worker ants don't have the time, money, or energy to deal with this layer.
Having said all that, it's annoying that galleries don't acknowledge blog writing and still privilege King Print. I admit I only recently added blog references and hyperlinks to my personal resume, and it's going to be a pain to keep track of them as URLs change or heaven forbid disappear. But I think it's an important step. From the galleries' perspective, legitimation or verification of artists ought to be a two way street, or packet exchange or whatever: they rely on known critics to build the case for work, but they also endorse lesser-known critics by including them in their artists' clipping files. If an up-and-coming critic says something perceptive about a show that the mainstream media mavens missed, the gallery helps spread the word that that writer has a clue by listing their writing on the bio. Thus begins a cycle of mutual critical reinforcement, what the cynical might call a circle jerk, but nevertheless potentially scene-defining.
*The article goes on to talk about how manufacturers corrupt this process by giving bloggers freebies in exchange for plugs, but the art world isn't even to stage one of bloggers mattering yet.
---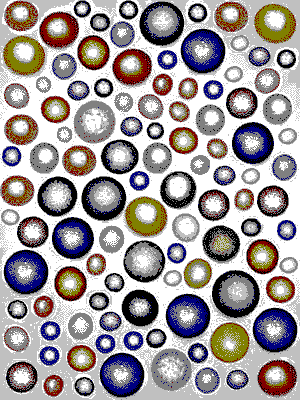 ---
The cool people: the following U.S. Senators voted against the appointment of Condi "Mushroom Cloud" Rice, who is now the Secretary of State:
James Jeffords, Independent, of Vermont, and Democrats Mark Dayton of Minnesota, Barbara Boxer of California, Edward M. Kennedy and John Kerry of Massachusetts, Carl Levin of Michigan, Robert C. Byrd of West Virginia, Jack Reed of Rhode Island, Richard Durbin of Illinois, Daniel Akaka of Hawaii, Evan Bayh of Indiana, Frank Lautenberg of New Jersey and Tom Harkin of Iowa.
These people know a liar when they see one, as do we, the hapless public.
---
This page joins in solidarity with
all the others
who oppose the Senate confirmation of Alberto Gonzales as Attorney General of the U.S. The memo he wrote approving the torture of U.S. military prisoners will eventually earn him a place in one of those netherworld resorts Dante excelled at describing, but in the meantime, let's do what we can to keep him out of high office. One thing I wonder is, why don't any mainstream, non-Fundamentalist churches (Episcopalians, Lutherans, etc.) speak out in protest that sexual humiliation, immersion in buckets of water, and other Inquisition-like horrors to elicit "information" has become the official policy of the U.S.? Were Jesus' teachings just about making people feel mellow? War or no war, this is bad for all of us.
As for the other evil shoo-in,
James Wolcott
has this to say:
Why is Barbara Boxer out there all alone asking the tough questions about Condi Rice's snail trail of deceit and fearmongering? She has the audacity to act as if the Senate actually has some traditional advise-and-consent role to play and for her pains is caricatured as a shrieking harridan on Saturday Night Live and a witch on talk radio. Boxer was terrific today on CNN, refusing to back down and reiterating her questions and objections regarding Rice with emphatic clarity while Sen Lugar mumble-mumbled some pathetic excuse-making about how Rice didn't deliberately mislead the country re Iraq's WMDs, she just did the best she could under the circumstances. Look, Biden and the rest of you Democratic punk-asses--get behind Boxer or get lost. She shouldn't be up there on the parapet alone, not with this wrecking crew trying to gear us up for war on Iran.