tom moody
---
View current page
...more recent posts
---
Belaboring this, but what the hell. The Albright-Knox Gallery in Buffalo just opened a big show called "Extreme Abstraction," which is short for "Extreme(ly Large) Abstraction (Show)," since the work isn't really extreme but consists mostly of blue chip practitioners both living and dead. What would a real "extreme abstraction" show consist of?
--Work in a visual language that is neither Renaissance perspective nor Modernist allover flatness nor Kraussian "expanded field" conceptualism but something wholly new and unrecognized. Which by definition means it would not be in the show.
--Abstract art outside the range of human perception, requiring special equipment to view or hear it.
--Art that is so volatile or fugitive that it decays by the show's end.
--Abstraction that results from extremes of human behavior, as in paintings made of blood during actual cult rituals, under the influence of hallucinogens, etc. See also John Nash's "paranoia rooms" in
A Beautiful Mind
.
--Conceptual art practices that recontectualize abstract things from the culture, such as mathematical formulae, circuit diagrams, or botanical microphotography, all of which are completely incomprehensible to the layman.
Any others?
Update, from the comments:
--Abstract art created while doing a righteous goofy-foot 360 counter-rotation backside double-fakey. (mark)
--Thousands and thousands of yards of saffron fabric hanging from orange goal posts... (bill)
---
"Nine Inch Bells" [mp3 removed]
Quoting myself from an earlier thread: "Chris, thanks for the comment on the recent visual work, and no, my musicmaking is still going strong. I just picked up a slew of new programs and am slowly learning them. If anything has to give here it's going to be the damn writing."
---
The Albright-Knox Gallery's website really blows chunks. I've been bitching (good naturedly) about their "Extreme Abstraction" show, thinking it was just the four fairly un-extreme artists I mentioned, but it turns out those were just the four participating in the extreme symposium. The website doesn't list the artists in the exhibition! Or if it does I missed it. Does anyone know who is in the exhibit, and if there is anyone more extreme in it than Liz Larner, David Reed, Linda Besemer, Katharina Grosse, and Ingrid Calame? Also, why are Cory Arcangel, Paper Rad, and Tree Wave performing in connection with the exhibit? Are they extreme abstract artists?
Further digging on the Albright site pulled up this para: "'Extreme Abstraction' is a major installation that will open to the public in the summer of 2005. Commissions by leading, (sic) abstract artists, recent acquisitions of contemporary art, and masterworks from the Gallery's collection will be highlighted together and throughout the entire Gallery to provide visitors with a visual representation of the history and future of abstract art. Artists such as Polly Apfelbaum, Lynda Benglis, Arthuro Herrera, Piet Mondrian, Jackson Pollock, Gerhard Richter, and Pae White are only a few of the many artists who will be represented, several of whom will be working at the Gallery on site-specific installations for this exhibition." OK, this gets more blue chip by the minute.
---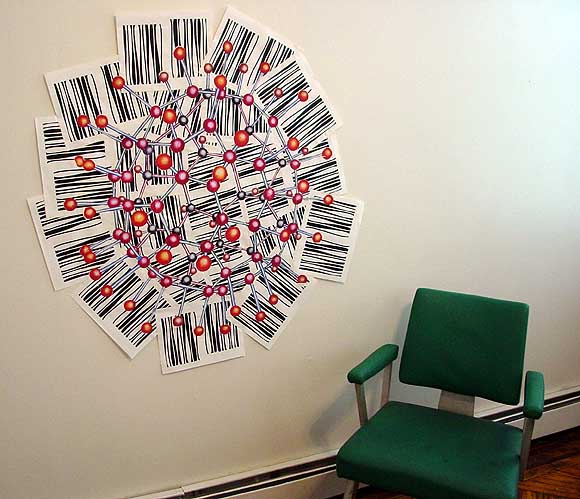 The above piece,
Fuzzyball
, has been shipped over to Manchester, UK, for the
Futuresonic
festival. It's in an exhibit called "
Fuzzy Logic
," which is a subset of another exhibition called "
Low Grade
" that is part of the larger festival. The curators are Jackie Passmore and Michael Connor. By the way, the molecule above really is called a "fuzzyball" (a buckyball variant); I didn't title it just for the show. Here's the rundown on "Fuzzy Logic":
"Low Grade" argues that the roots of computing technology are linked to Britain's 19th Century cotton trade, with weaving looms providing inspiration for the design of the first computer. In a city famous for both its textile history - Manchester was once known as "Cottonopolis" - and as the birthplace of the modern computer, "Fuzzy Logic" demonstrates how new media artists are turning back to the loom, combining technology with the knitting needle to create a new wave of fabric-based media arts, mathematical knitting and textile activism.

Artists and works include:
Claire Irving (UK): Mathematical Knitting

Woolly Thoughts (UK): Mathematical Afghans

Cat Mazza (US): KnitPro Software, the LogoKnit knitting machine and examples of knitted work

Mandy McIntosh (UK): Knitting patterns for Atlanta and other cities, plus Radiant Circle

LoVid (US): Soft sound sculpture, sculpting psychedelic soundsssssssssssz

Peter Coffin (US): Wall-based prints bridging ASCII art and knitting patterns

Cory Arcangel (US): Security blanket based on the "infinite fill" patterns used in place of colour on early drawing software Mac Paint

Rebecca Vaughan (US): Conceptual knitted cosies for uncosy environments

Tom Moody (US): Psychedelic and abject works riding the guardrails between the handmade and the digital
My piece doesn't involve knitting but I have always described this type of work as a paper quilt or mosaic. When I started doing these pieces in the mid-90s I was very interested in cyberfeminist Sadie Plant, who is speaking at the festival, and I was somewhat chagrined to discover no one in the NY art world was following this dialogue, or giving any particular thought to bridging the computational and the crafted. Things have gotten better in the last few years with the arrival on the scene of many of the above artists, so I'm not feeling quite as lonely as I did in 1997, when the gallery I was showing with mostly just apologized for the work, as in "Sorry it's not made with a brush or pencil and fabricated of fine, durable art materials, we know how important that is to you, Mrs. Drysdale." As late as 2001, a dealer I was working with was still asking me questions like "Do you ever think of painting these?"
---
"Cryptkicker" [mp3 removed]
I may do some more variations on this (minimal techno) piece. For the non-drum parts, I picked three (licensed!) samples that I thought were just exquisite and gave each its own track in the sequencer and its own octave for keymapping. The bass seems to go slightly out of phase because I left in all the trial balloons that eventually led to the main groove, sprinkling them in more or less randomly into the main sequence. The piano chords are appallingly simple and eventually I'd like to add some juicier melodies. The synth stab I left as is, because it sounds so seductively weird and funny.
---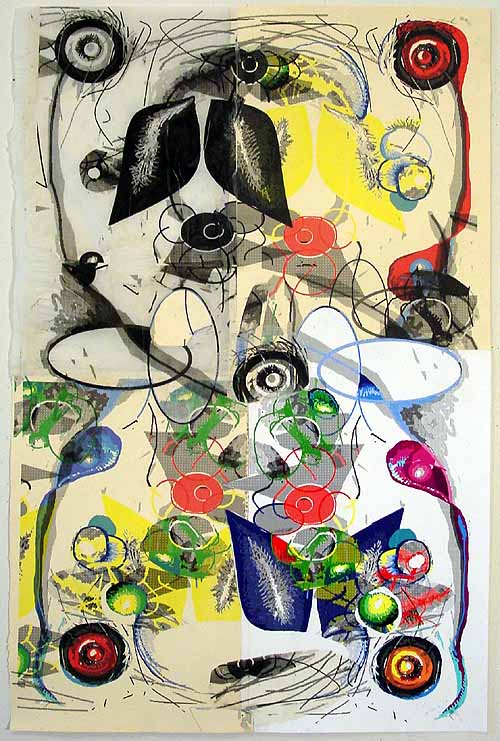 Zipatone Omniverse
, 2005--this piece will be donated to the
Dieu Donne Papermill
(accent agu over the e in Donne screws up my RSS) for its annual benefit. Quite a challenge to figure out a way to incorporate their fine handmade artist's paper into my usual slacker vibe. I settled for practically destroying a couple of sheets in the printer and then trying to salvage them with tape and glue stick. This piece really looks handmade (and kind of "1930s surrealism") to me--even though all the drawing/markmaking was done in MSPaintbrush.
---
More on "extreme abstraction":
Adolescent ranting aside,
there is always the inherent contradiction of packaging work as extreme or "out there" when it's acceptable enough to curatorial and collector sensibilities to be in a major museum. I don't know David Batchelor's work but the rest of the choices in the Albright-Knox's "Extreme Abstraction" show are bread-and-butter practitioners. Each got noticed for bringing a little added oomph to the art world's workaday business of moving paintings. Besemer is "excessive" in the sense of "look at all those damn tiny stripes, can you believe someone sat there and painted those by hand with a brush?" but her paintings are perfectly crafted modular artifacts that are ultimately quite soothing to collector sensibilities. I'm really not sure what's supposed to be extreme about David Reed, unless it's the polish and seamlessness he brings to his surfaces. Katharina Grosse's best wall paintings do have a bit of that messy graffitti edge but compared to say, Jonathan Borofsky's rambunctious wall fillers of yore she seems positively sedate. In a sense all abstraction is extreme because no one gets it except a handful of aging art world initiates and it still has the capacity to inspire hostility after all these years. (I realize "extreme abstraction" as an exhibition title is sort of a joke and don't want to belabor this.)
---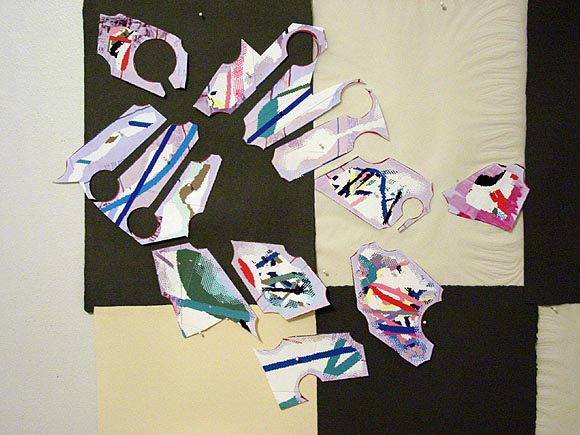 Posting has been lighter than usual because I've had some time-consuming things going on in the studio and frankly I need a break. For the next little while it's just going to be nerdy introspective private jokes and willfully obscure art around here.