tom moody
---
View current page
...more recent posts
---
An
earlier post
on Jerry Saltz's review of Walid Raad has been beefed up to actually make the point I thought I was making.
---
Permanent U.S. Military Bases in Iraq
Tom Engelhardt
on the permanent military bases our taxes are paying for in Iraq, a country we're supposedly "withdrawing" from (forget that):
Thomas Ricks of the Washington Post paid a visit to Balad Air Base, the largest American base in the country, 68 kilometers north of Baghdad and "smack in the middle of the most hostile part of Iraq." In a piece entitled "Biggest Base in Iraq Has Small-Town Feel," Ricks paints a striking portrait:

The base is sizeable enough to have its own "neighborhoods" including "KBR-land" (in honor of the Halliburton subsidiary that has done most of the base-construction work in Iraq); "CJSOTF" ("home to a special operations unit," the Combined Joint Special Operations Task Force, surrounded by "especially high walls," and so secretive that even the base Army public affairs chief has never been inside); and a junkyard for bombed out Army Humvees. There is as well a Subway, a Pizza Hut, a Popeye's, "an ersatz Starbucks," a 24-hour Burger King, two post exchanges where TVs, iPods, and the like can be purchased, four mess halls, a hospital, a strictly enforced on-base speed limit of 10 MPH, a huge airstrip, 250 aircraft (helicopters and predator drones included), air-traffic pile-ups of a sort you would see over Chicago's O'Hare airport, and "a miniature golf course, which mimics a battlefield with its baby sandbags, little Jersey barriers, strands of concertina wire and, down at the end of the course, what appears to be a tiny detainee cage."

Ricks reports that the 20,000 troops stationed at Balad live in "air-conditioned containers" which will, in the future -- and yes, for those building these bases, there still is a future -- be wired "to bring the troops Internet, cable television and overseas telephone access." He points out as well that, of the troops at Balad, "only several hundred have jobs that take them off base. Most Americans posted here never interact with an Iraqi."

Recently, Oliver Poole, a British reporter, visited another of the American "super-bases," the still-under-construction al-Asad Airbase (Football and pizza point to US staying for long haul). He observes, of "the biggest Marine camp in western Anbar province," that "this stretch of desert increasingly resembles a slice of US suburbia." In addition to the requisite Subway and pizza outlets, there is a football field, a Hertz rent-a-car office, a swimming pool, and a movie theater showing the latest flicks. Al-Asad is so large -- such bases may cover 15-20 square miles -- that it has two bus routes and, if not traffic lights, at least red stop signs at all intersections.

There are at least four such "super-bases" in Iraq, none of which have anything to do with "withdrawal" from that country. Quite the contrary, these bases are being constructed as little American islands of eternal order in an anarchic sea. Whatever top administration officials and military commanders say -- and they always deny that we seek "permanent" bases in Iraq -– facts-on-the-ground speak with another voice entirely. These bases practically scream "permanency."

Unfortunately, there's a problem here. American reporters adhere to a simple rule: The words "permanent," "bases," and "Iraq" should never be placed in the same sentence, not even in the same paragraph; in fact, not even in the same news report.
Bush lies, New Orleans dies, Halliburton thrives.
---
Here's what happens if you take the money paragraph from Jerry Saltz's current review of Walid Raad's Kitchen show and present it in the format of Donald Judd's devastatingly terse 1960s reviews, which Chris Ashley has been
quoting on his page
. The equivocating phrase "--which is fine" at the end of the second sentence is snipped but this is otherwise verbatim from Saltz's
generally fairly complimentary seven paragraphs on the artist
.
Jerry Saltz
"In the Galleries"
Village Voice, February 2006
Walid Raad/The Atlas Group: As poignant as several of these pieces are, I'm not really sure Raad is an artist. He's more of a social scientist using art or examining power. He mixes Joseph Beuys, Marcel Broodthaers, and David Wilson's Museum of Jurassic Technology, but there's not a lot of alchemical energy to what he does. His work is smart, doctrinaire, and poetic, but formally it's very nth generation conceptualism. You wonder if all this fictionalized fact, factualized fiction, and secret-intrigue business is even necessary. Sometimes it feels wooden and hokey. His melodramatic Bas Jan Ader–like titles and his talk about "authority" and "authorship" suggest Raad is suave but has a latent pedantic streak. Also, nearly every work here dates from between 1996 and 2000 and has been seen in international exhibitions. He needs to do some new work. (The Kitchen, through March 11)
Just fantasizing about the old days when reviewers said what they thought without burying it deep within the obligatory summary of the party line.
---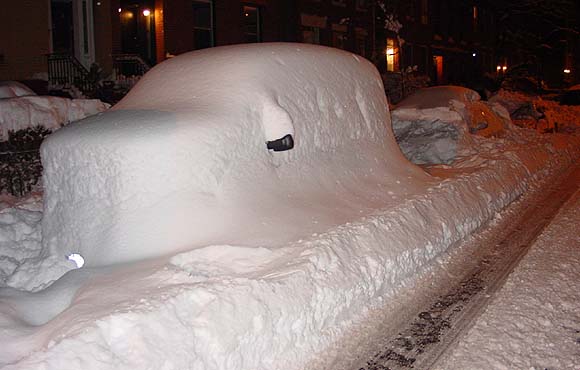 ---
I like the gallery Foxy Production but it bugs me that they're giving the members of the collective Paper Rad solo shows. It's like saying "Collectives are cool! OK, now let's get back to the valorization of individual geniuses which is what we know and can sell."
The Paper Rad installation at Pace was amazing. They really rose to the occasion. It's better and stronger than anything we've seen from them individually. Their triangular box installation was minimal but the exterior "painted mural" image with Bart Simpson, and the wall-to-wall video projected on the inside of the box were maximal--it was a perfect balance, very thought out.
Jacob Ciocci's recent solo
was good, but on the whole I'm more interested in his (and Paper Rad's) video than the physical work. The video *is* radical, but the objects strike me as standard outsider moves (dolls, thrift store items, accumulations of more detail than the eye can take in...)
Which is not to say I didn't find a lot of compelling things to look at in Ciocci's show. I guess the problem is you want so-called cutting edge work to show you things you haven't seen. The "boy's bedroom" with chock-a-block tchotchkes on the walls we've seen. It's a more psychedelic version of a piece like Ed Kienholz's
The Beanery
--a claustrophobic enclosed room full of "stuff." The video in Ciocci's bedroom was great; I wanted to move all the stuff out of the way so I could see it.
The video murals in the Pace show were something new. Imagine a giant Rauschenberg or Polke painting with all the layered elements *moving*, each independently of the other. The subject isn't some rarified art substance but the worst and silliest pop culture trash--cheesy animated GIFs downloaded off the internet merging and morphing with abstract Flash patterns and found photographs in a constantly changing allover field: dozens of moving and overlapping Hannah Hoch style collages bubbling in and outside your field of vision. Similar things are going on in Ciocci's physical work, but there's something about forcing it onto a rectangular, pixeled 2-D field that tightens it up, makes the familiar strategies seem unfamiliar. With the objects you are weighted down with all the history of those objects.
Also, it's possible that this collective actually works better...
as a collective.
---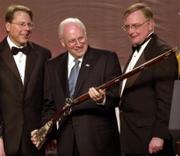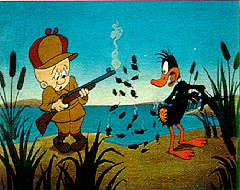 As long as everyone's talking about crack shot Dick Cheney, might as well pile on. From
Josh Marshall
:
What stuck out to me though is that the owner of the property on which the incident occurred was the person interviewed by the AP. And the property owner, Katharine Armstrong, gave a highly exculpatory recounting of what transpired. Basically, she said the victim, Harry Whittington, snuck up on Cheney, didn't give the appropriate warning. And in any case getting sprayed with shot in the face and half your body isn't that big a deal anyway.

But by way of Brad Blog we find that Armstrong is the daughter of the one of the folks who hired Cheney at Halliburton.
They also waited 24 hours to report this, while they worked out a story that didn't make Cheney sound like a complete incompetent moron. I like Armstrong's quote in the New York Times about the physically robust Veep:
''Fortunately, the vice president has got a lot of medical people around him and so they were right there and probably more cautious than we would have been,'' she said. ''The vice president has got an ambulance on call, so the ambulance came.''
(hat tips to stephen and bill for the images)
---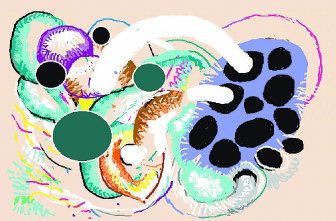 The two-person show I'm in in Dallas, with Saskia Jorda, is reviewed in the
Fort Worth Star Telegram.
Thanks to Titus O'Brien, the writer (who I have not met) for the nice words. "[Ll]ke Terry Winters on acid - then pixelated" is great.
---
From
Paul Craig Roberts
, a former associate editor of the Wall Street Journal and a former assistant secretary of the U.S. Treasury (under Reagan):
Readers keep asking if Bush is attacking Iran because it plans to open an oil bourse that would permit oil to trade in Euros. A number of readers mistakenly believe that this would wreck the dollar's value.

The answer is no.

The neocons' plans for the Middle East predate any notion of an Iranian oil bourse.

Will an Iranian oil bourse hurt the dollar? Not really.

The dollar's value depends on the world's willingness to hold dollar denominated assets, not on the currency used to pay oil bills. If payments were not made in dollars, there could be a slight negative impact on the dollar from countries reducing their dollar cash balances and from the psychological shock of pricing oil in Euros (or some other currency). However, what really counts is what do the oil producers, for example, do with the currency that they are paid. If they are paid in dollars, but exchange the dollars for Euros or Yen and purchase equities or bonds or real estate in Europe and Japan, it doesn't help that oil is billed in dollars. Or if they are paid in Euros but exchange the Euros for dollars and purchase US assets, it doesn't hurt that the oil is billed in Euros.

The negative impact on the dollar will be far greater from the additional red ink necessary to finance an attack on Iran than from an oil bourse. Today, US war-making capability is dependent on the rest of the world to finance it.

Oil is billed in dollars because the dollar is the world reserve currency. The dollar is not the reserve currency because oil is billed in dollars. The US is abusing the dollar's role as reserve currency. When a trusted alternative appears, the dollar is likely to lose its reserve currency role. Iran, however, cannot cause that transition.
Not sure I agree with all of that, but wanted to post it since I've been following this story. When you see scare stories about Iran, though, please do disregard them as neocon propaganda. We really don't need another losing war from those creeps.