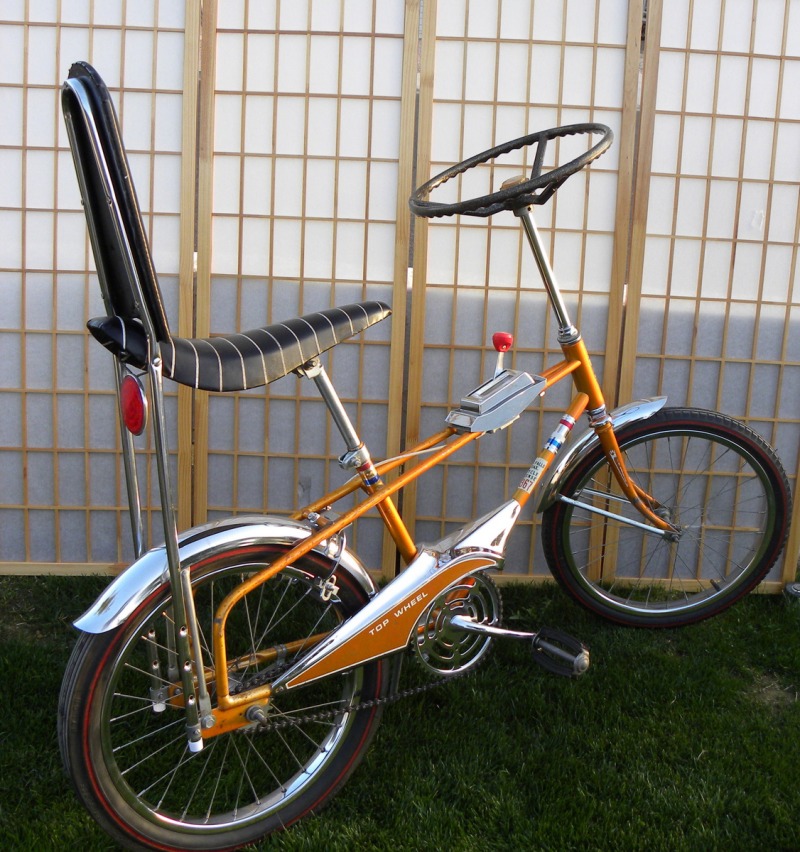 ---
A kid in my neighborhood had one of these Top Wheels, I don't remember seeing many at all.
My first "muscle bike" was a gold Japanese 5-speed stingray knock-off I got for Christmas, probably 1967. In 7th grade I got another stingray style one-speed. My neighbors had Krates. Did any of you have stingrays or knock-offs?
I think The Ram Horn was less common than regular Stingrays or Krates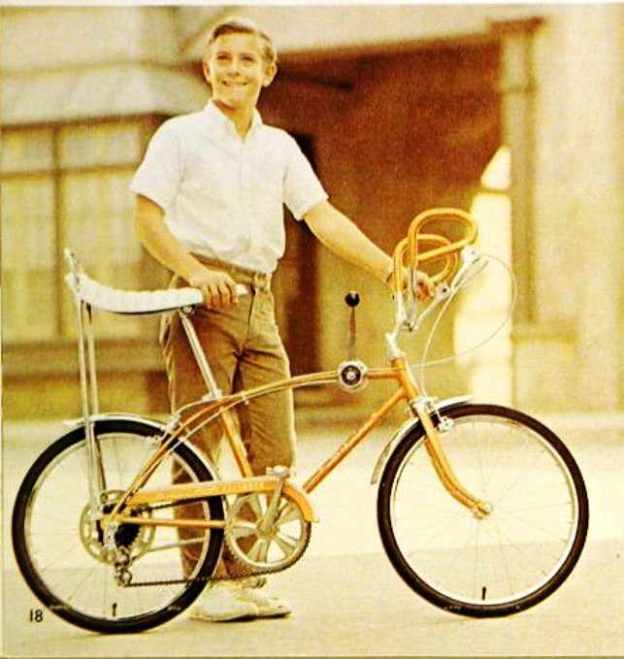 Sears Screamer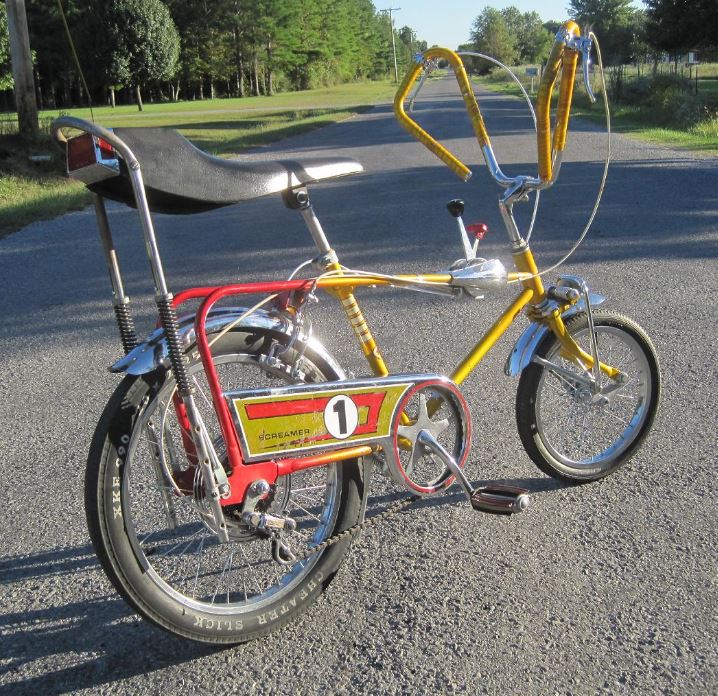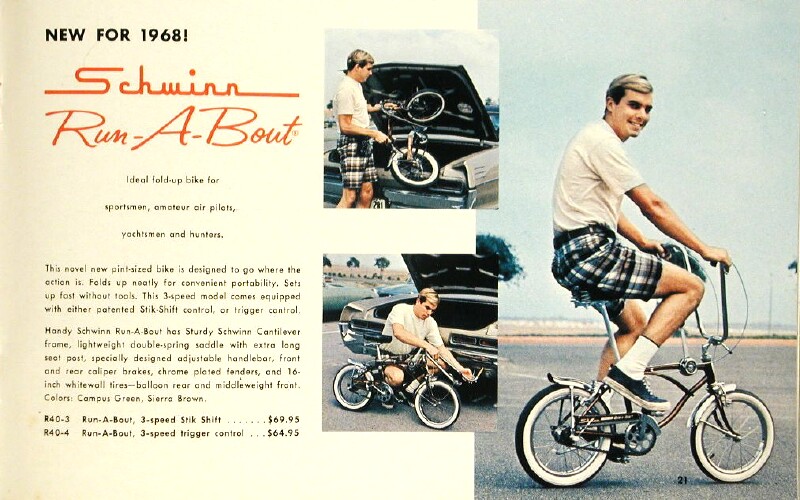 I never had a proper stingray, much to my chagrin, but I did have a Mattel V-Room, with the toy motorcycle treatment. It was my first two-wheeler. Eventually I got embarrassed by the fake-ness (and ran out of batteries,) and removed the engine and exhaust pipe. I rode it for a couple of years, until the handlebars snapped off one day, leading to a nasty fall. I still wanted a cool stingray, but the next bike I received was an English racer style, with Sturmey-Archer 3-speed (which always got hopelessly fouled up.) I thought it was rather stodgy, but had to live with it. After that, the focus of my desire matured to a Schwinn 10 speed, which I ultimately did get.
I had a purple Sears fake sting ray 5 speed with skinny tires. Made by J.C. Higgins. (Back in the day I remember one of my dads work associates referring to it with the N word kind of bike.)
https://www.collectorsweekly.com/stories/36297-vintage-bike-siren

this is the first bike accessory I really coveted. I traded something for a set of used angel wing handlebars and stripped the fenders off my too big to be a stingray Sears bike. But no Banana seat. More like a beach cruiser.
this is what i was gifted in 3rd grade. sure i wanted the schwinn.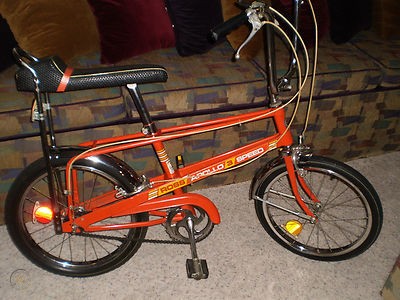 who's having a TV Dinner tonight!
My dad said you'll get a Schwinn after I get a Cadillac. Neither happened.
looks like i was a little behind the trends. bmx bikes became the de rigeur rides prior to upgrading to 10 speeds. thought it was closer to 1980 when they became popular but heres a mongoose from 1975. they were pricey too if memory serves.
My first bike was a one-speed Schwinn, then the five-speed stingray knock off. In fifth grade I got a mitsutani 10 speed. In seventh grade I returned to the sting-ray style because I missed going off jumps and popping wheelies. I got a Webco bmx bike in 1976, my sophomore year, which I hardly rode because I wasn't good enough at the tricks and was constantly challenged by kids who could shred. I wasn't great on a skateboard but could do 360's well enough, fortunately the ollie and other more advanced tricks hadn't been invented yet and because of Portland's climate there were no swimming pools which I certainly would have sucked at riding, so the skateboard was a relatively shame-free source of transportation for my 15th year. Getting my driver's license brought some relief to my wheeled woes.






The main components of this bike match my bmx - Black Webco frame, Redline forks, black Tuffwheels and box-style handlebars.






You could buy that back. Anyone have a big wheel plastic thing. I was too old , but liked the deign.






i had a big wheel. my younger sister got the green machine.






Mean green after mean joe Greene. My college NTSU were the mean green. He was an amuni. Drafted to nfl 1969 round1






I was too old for the big wheel and was jealous of the younger set for having them.






Mee too. I was thinking it might be Dave's bracket exclusively here





i graduated to this. part of me thought the bmx kids were dumb because it took so much more effort to get anywhere.






Yeah, for me to ride home from school meant climbing 5 miles of steep hills on a one-speed, which was stupid.






I hitch hiked 2 miles everyday





The alternative was an English racer. A full size bike with regular handlebars. Usually 3 speeds in the handle and grip breaks and skinny tires.