---
View current page
...more recent posts
---
ENDLESS PARADE OF EXCELLENCE RULES THE KNOWN UNIVERSE!
Because Rob Cruickshank posted a link for the
Pinetree Line
early warning network of radar bases (equipped with computer technology, if you please). And my hometown was the impeccably strategic location for Station #12.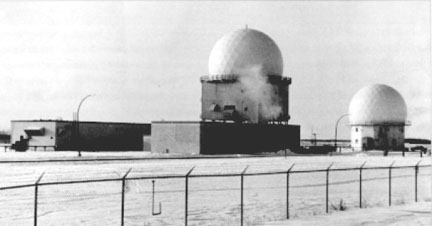 It had to look like the Soviet Union to keep you safe from the Soviet Union
What of the
slide show
for the whole pinetree line? (you may well ask) ...it's exquisite.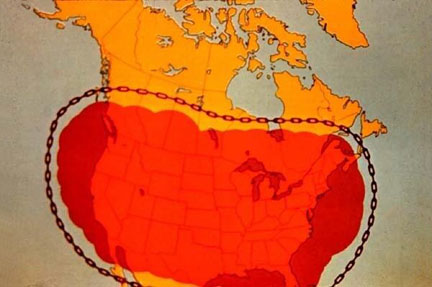 Did you grow up close to RADAR?
---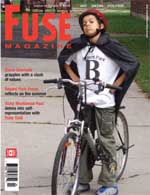 I'm on the editorial committee for
FUSE Magazine
. There is a launch and screening tomorrow night at Cinecycle. It's gonna be good!
Launch for Volume 29, Issue 4
November 15, 2006
7 p.m. sharp
$10
FUSE launches 'Mobilizing Our Interests' with Regent Park TV. Featuring film screenings by Regent Park Focus and the Balata Film Collective (presented by Vicky Moufawad-Paul)
At CINECYCLE (129 Spadina Ave., Toronto)
---
In a
recent comment thread
I was nattering on about neurology & consciousness, thinking I'd already covered this particular topic on the blog. But I realised I was thinking of one of my "Up & Anti-Up" columns for
Kiss Machine
magazine. Here is an excerpt from
issue # 11
During neuroscience experiments in the 1970s, patients were poked on the arm, and asked to note the exact moment when they became consciousness of the stimulus. Brain activity was recorded. Next, the patients were poked directly on the area of the brain that had previously been stimulated. Astonishingly, the brain pokes were "noticed" significantly later than the arm pokes were. This suggested that the brain was receiving information after it was first perceived, but sending that information back in time to coincide with the moment of stimulus. Too trippy? Yes, it is, and of course a lot of people have perfectly non-spooky ways of explaining this data. But it is interesting that quantum theory has accustomed us to hearing such seemingly paranormal ideas from the mouths of credible scientists.

Daniel C. Dennett, a philosopher of consciousness, chalks up the phenomenon to a "temporal smear." He explains that there is no fixed point when external events are registered in the mind, but rather consciousness is a process; a multi-track continuum. In his book, Consciousness Explained, he presents a more fluid model of consciousness, in which, "at any point in time there are multiple drafts of narrative fragments at various stages of editing in various places in the brain."

Dennett also chides us (and his colleagues) for clinging to Cartesian Dualism; the old idea that consciousness resides on some separate special metaphysical plane, distinct from lumpen matter. While most people nowadays agree that the mind is a physical process (materialism), many of us still cling to a model of the Cartesian Theatre, in which our perceptions play like film on a screen, a "functional place of some sort where the items of phenomenology are projected." But according to Dennett, "there is no such theatre, there is no such audience." This would still require an entity separate from the system. Rather, he holds that the continuous, multiple narratives running in our brains are all there is to consciousness. Dennett's extreme materialism is very influential, though many people feel he goes too far, especially in his 1998 article "Quining Qualia," published in Consciousness in Modern Science, in which he denies the existence of perceptual phenomena. Nonetheless, by strictly adhering to physiology, Dennett confronts us with the idea that consciousness does not give us access to a definable external reality.
---
"History does not offer lessons; its unique constellations of contingencies never repeat. But life does offer the same points, over and over again. A lesson is many-edged; a point has only one, but that one sharp. And the point we might still take from the First World War is the old one that wars are always, in Lincoln's perfectly chosen word, astounding. They produce results that we can hardly imagine when they start. It is not that wars are always wrong. It is that wars are always wars, good for destroying things that must be destroyed, as in 1864 or 1944, but useless for doing anything more, and no good at all for doing cultural work: saving the national honor, proving that we're not a second-rate power, avenging old humiliations, demonstrating resolve, or any of the rest of the empty vocabulary of self-improvement through mutual slaughter."
From a 2004 New Yorker article
THE BIG ONE: Historians rethink the war to end all wars
by Adam Gopnik (a writer, who makes me fucking crazy with irritation whenever he wastes time and ink on twee little articles about how precious Parisians are.)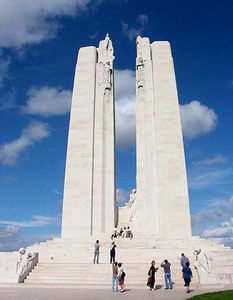 Also, read
"Vimy"
by
Pierre Berton
because it's an electrifying piece of history writing.
And next year don't get smug on the new white peace poppy pin because it actually hurts those old darlings still standing (or sitting in their wheel chairs) in shopping malls selling the red ones. (they aren't geriatric war-mongers, they have just remained astounded for over 60 years)

---
T.A.A.F.I.
opened Friday night, so today and tomorrow you should spend all your time and money on art at the Drake & the Gladstone.
One early favourite is room 208 at the Drake where you will find
The Movement Movement's
brilliant sound piece. Do not fear the headphones, the headphones will not control you. Do not fear Jessica Rose and Jenn Goodwin, they are but mere trotting trollops.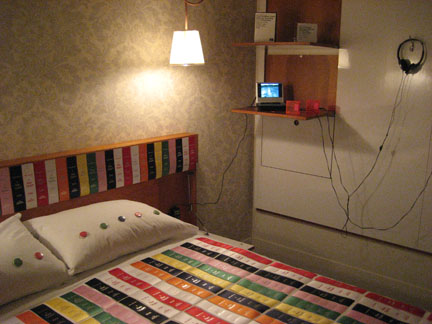 ---
The
Arts Vote
surveys are in for Toronto's municipal election next week. Out of 44 Wards, only 19 have any candidates who bothered to respond. There are four dudes running in my ward and none of them have answered the survey yet. Their names are Nick Boragina, Joe Pantalone, George Sawision, and Hďmy Syed. I do like
Hďmy Syed
's website, and it's nice that there are some motivated people running against Mr. Shoe-in Pantalone. Maybe I'll
bug them
all about the survey. Heck, Rob Ford answered it! Actually, Ford's monosyllabic survey response is recommended reading: hilarious, in a what-the-fuck-is-wrong-with-this-world kind of way.