tom moody
---
View current page
...more recent posts
---
Thoughts on Monotrona, Cory Arcangel, and the return of Old School Vid Games.
I've never been much of a player of videogames but I love the distinctive, cheap-synth-meets-sped-up-player-piano sound of the early consoles. There's something beautiful and stupid and perfectly reductive about those adrenaline-filled melodies, as urgent in their own way as Ramones songs. In 1983
Haruomi Hosono,
of the Japanese technopop outfit Yellow Magic Orchestra, released an LP of game ditties on the Alfa label; the genius of his
Videogame Music
was that he didn't "interpret" the tunes but presented them straight up (according to
this Hosono fan page
,
VGM
was the first of what went on to become an established genre in Japan). Of all the tracks on the album--"Xevious," "Bosconian," "Pac-Man," "Phozon," "Mappy," "Libble Rabble," "Pole Position," "New Rally-X," "Dig Dug," and "Galaga"--only the last got some YMO-style musical embellishment; everything else was treated as found sound. I bought the album in the '80s and listened to it with the proper degree of quasi-ethnographic disinterest, as if it were a Harry Smith collection of folk ballads, but also just plain enjoyed it. Not only did the anonymous composers compress the entire musical spectrum--classical, pop, show tunes--into the smallest number of bytes, they wrote some damn catchy tunes ("Dig Dug" is still stuck in my head).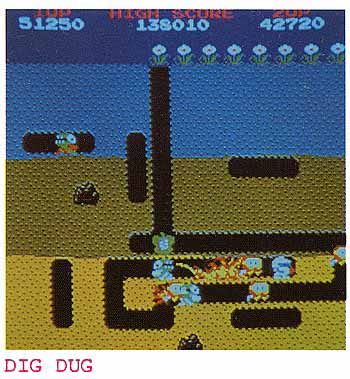 Videogame bleeps and sniggles were an important component of the early '80s "electro" scene, which was primarily urban hiphop and synthfunk in the Man Parrish/Afrika Bambaataa/Roger Troutman mold (see David Toop's A-Z of Electro for a definitive rundown). Pop culture has been revisiting that scene for a few years now in connection with the '80s nostalgia boom, and videogame sights and sounds are once again in the air. In this post I discuss two careers that are somewhat tangential to the taste-cycle, but nevertheless informed and uplifted by it. Monotrona is a post-feminist, posthuman musician/performance artist who uses old-school electronic gadgets in her act: her new CD, Hawkeye and Firebird, prominently features ancient Commodore 64 game sounds. Cory Arcangel is a computer artist associated with Beige Records, the definitive electro-slacker (but not really) combine.
I first heard Monotrona on the Stork Club on WFMU-FM (a sadly missed live music show), around '97 or '98, performing "Joey, a Mechanical Boy," which was described as the "fourth in a 14-section work called the 'Fourteen Imitations of Man.'" The story--told in music and dialogue, all performed by the artist using a variety of accents, vocoderlike filters, etc.--was extremely weird. Joey is an ectopically-spawned robot child who goes to work for NASA. His mother, in a ridiculous Chicago accent, tries to reach him on the phone and is headed off by the "Dark Technical Force," a gnostic demiurge that has a strange hold over Joey. Meanwhile, two shadowy government operatives discuss a rogue scientific scheme to create a ManWoman. The piezoelectric puppet show includes some really beautiful songs in the Chrome/Suicide/Throbbing Gristle postpunk vein, performed with buzzy, distorted keyboards. After the performance, Stork described Monotrona's equipment for listeners as "a mountain of unpatented cheap toy electronics adapted for her use--an indescribable array of electronics centered around a Casio machine, using light sabres, pistols, all sorts of mixers, and an oscillating device that looks like a little recipe box with two joysticks coming out of it..." [added 3/24/04: my cassette tape of the event: 36 min, 33.6MB]
Clearly Monotrona's act is visual as well as sound-based, but I've yet to see her live. Searching around the Internet I found a number of baffled and/or dismissive reviews of her stage show. Nevertheless, as a radio musical "Joey" was brilliant and I've been eagerly awaiting a followup. It finally arrived last month in the form of Hawkeye and Firebird, an 8-song, 21 minute CD on Menlo Park. Evidently her "14 Imitations" cosmology has morphed into a gesamtkunstwerk called "Superbeings," and the CD's title characters are two more personae in that scheme (I note that Joey is still on the list, too). Some listeners may be put off that she sings all the songs in the pidgin-English, little-girl voice of Hawkeye, a "Korean superhero" who flies around the world in her airplane accompanied by Firebird, a legless robot slave. ("People awound the world are afwaid/Don't worry people, we will fight and save the day!") The vocal conceit works well on about half the songs, and the music is consistently arresting. She integrates game tunes from the Commodore 64 ("Hotrod," "Monty on the Run," "Sanxion," "Crazy Commets") into the songs sometimes as the primary melody (I think), other times as effects and fills. All of the tracks have the breakneck speed and delicious brevity of the best game music, and there's at least one Gary Numan reference.
The Commodore 64 also appears on The 8-Bit Construction Set LP, released in 2000 by the musical ensemble of the same name: in addition to Cory Arcangel, the group consists of Paul B. Davis, Joe Beuckman and Joe Bonn. This unusual record is marketed as a "dj tool" that includes samples and lock grooves for use in live performances. "8-bit" refers to the very low memory computers first introduced in the '70s and early '80s, including the Atari line, much fetishized by geeks. Meticulously organized, The 8-Bit Construction Set has an "Atari side" and a "C64 side"; each includes samples and "scratch tones" taken from the respective computers (including sound clips from ads used to sell them back in the day), about ten locked grooves with beats and simple loops played on the machines, an original 2 or 3 minute composition ("Saucemaster" on the Atari side and "Dollars" on the C64 side), and a track of actual data that can be recorded on audiocassette tape and fed into the appropriate computer (these sound like fax machine tones until you translate them). Highlights include a promo of Alan Alda hawking the Atari to nervous first-time users, and the two aforementioned original tracks by the group, which are slammin' Detroit-style electro (wish there were more of them). With two copies of the record you can amuse your friends and pets by performing long, trippy Steve Reich compositions using the lock grooves and a fader; I'm not embarrassed to admit I tried it.
The DIY aesthetic also infuses Arcangel's visual work, particularly what he calls his "Nintendo cartridge hacks." On his website, he describes in mind-shattering detail his process of disassembling game cartridges and adding or subtracting characters and backgrounds. This compulsion to educate is part of the Beige Records schtick, as explained in this New York Times article:
The [8-Bit] stage show was a testimony to nerdiness. It wasn't enough for the group simply to play dance music on old Atari and Commodore 8-bit computers and show homemade "Star Trek"-like films. It continually stopped its show to announce the type of computer being used, how much memory it had, its assembly language and other technical minutiae. This was an attempt not just to show how difficult sophisticated electronic dance is to make on such retro technology, but also to savor the moment in the limelight that the group members' cumulative hours of computer reconstruction, programming and yard- sale searching had bought them.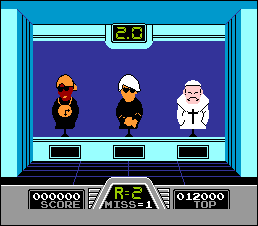 For his piece I Shot Andy Warhol, Arcangel took apart a cartridge called Hogan's Alley, a fairly elementary target-shooting program, and substituted new characters on a chip of his own making. The object of the hacked game--and it really is this simple--is to aim a plastic pistol at the screen and hit the Andy Warhol icon whenever it pops up in the alley, while avoiding hitting the Pope, Colonel Sanders, and Flavor Flav icons. The game ends when you've made 10 misses (including erroneous celebrity kills). In another part of the game you take potshots at falling Campbell's soup cans, and flouting the laws of physics, make them bounce upwards through an open window.
Elsewhere on this page I've dissed art-smart art using videogames, and still think the idea of blowing apart a Foucault text in an arcade-style shoot-em-up is pretentious. At first I was annoyed by the concept of I Shot Andy Warhol for this reason. Oh, no, not him again. But after playing the damn thing at Eyebeam Atelier (and I must proudly say, advancing the TOP SCORE on all 3 subgames) I have to say it's so focking stoopid it's OK. It is what it is: an opportunity to be vicariously transgendered (if you're a guy) and sociopathically kill an important-but-overhyped art world figure again and again. (My only two "misses" were plugging Colonel Sanders twice; that was pretty fun too).

- tom moody 11-07-2002 10:48 am [link] [2 refs] [10 comments]