tom moody
---
View current page
...more recent posts
---
Tonight I attended an evening of electronic/noise performances, organized by
LoVid
at Gale-Martin Fine Art in lower Chelsea. The theme was "artists working with homemade electronics and electronic signals," and the vibe lay somewhere between that photo of Microsoft employees circa 1975, fashionwise, and a Survival Research Labs performance in 1986, intensity level-wise.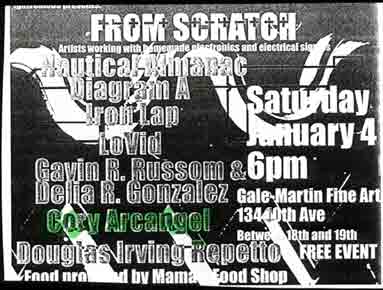 Cory Arcangel began with a Power Point presentation about the history of Motorola 6502 chip, used in Apples, Commodores, etc., which "made low cost home computing possible." He then gave an amusing, faux-sloppily illustrated
step by step procedure
for his Nintendo cartridge hacks, which involves busting open the cartridge and adding to/deleting from the existing chip with an emulator program (to write code compatible with the Nintendo software) and a chip burner (to put the new code on a chip, which is then soldered into the cartridge). On display were two of his recent efforts, an abstract honeycomb version of an old-school shoot-and-run game, and an ambient video of slowly scrolling cartoon clouds, all that remained after subtracting out most of a Mario Bros. game. Following Arcangel's lecture, which drew appreciative laughs, Gavin R. Russom & Delia R. Gonzalez set everyone's teeth on edge for about a half hour with a dense, wall-of-sound feedback assault, produced with bolted-together analog equipment. Both musicians performed in a kneeling position, with two of the crudest portraits on canvas I've ever seen obscuring the control consoles. This was OK but too long. Next was LoVid (Tali Hinkis and Kyle Lapidus), a really tasty combination of knob twiddling sound and fucked-raster video. Some exceptional psychedelic static patterns projected while the music blurted and coughed. The last performance I stayed for was
Nautical Almanac
, a kind of Frankenstein synthesis of soldered analog patch bays and hacked Casio-type digital instruments. The two performers did primal scream spazz-outs with mikes in their mouths (a la Lux Interior of the Cramps); the sounds that emerged from the alligator-clip-sprouting instruments were as unpredictable, rapidfire, and sophisticated as stuff from the Miami (Schematic) glitch school, but really raunched-out and ball busting. It was nice seeing/hearing all this chaos inside the denuded white walls of one those monster Chelsea art-boxes. Great evening.