tom moody
---
View current page
...more recent posts
---
Memorable Quotes from Terminator 3: Rise of the Machines (2003)
(spoilers, I guess--sorry)
Terminator: Katherine Brewster? Have you sustained injury?
Kate: Drop dead you asshole!
Terminator: I am unable to comply.
Terminator: [after inspecting John Connor] No sign of brain trauma.
John Connor: Yeah I'm fine, thanks!
[The Terminator walks into a strip club to look for clothes]
Terminator: Take off your clothes.
Male Stripper: Talk to the hand, bitch.
[The Terminator grabs the stripper's hand and talks to it]
Terminator: Now!
[Kate shoots the Terminator in the face. He spits out the bullet]
Terminator: Don't do that.
Terminator: My presence in this time has been anticipated. The T-X is designed to terminate other cybernetic organisms.
John Connor: So, she's an anti-terminator terminator. You've got to be shitting me.
Terminator: No, I am not shitting you.
[Notes to fans: (1) It's nice to see the series is sticking to its pulp roots. There was some Freddy Kruegerlike gore that surprised me. (2) No cops get wasted on screen, but military technocrats and teenagers die by the dozens. Go figure. (3) The new female Terminator is really pretty. Jim Hoberman says it best: "This svelte femmebot has an irresistible habit of cocking her head and glaring with impersonal curiosity at the victim she's about to vaporize..." --TM]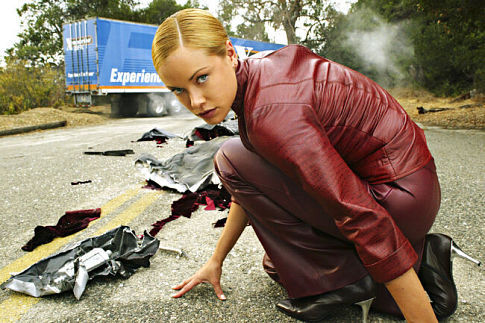 OK, now I've done my bit to help America get back on its feet.

- tom moody 7-09-2003 4:12 am [link] [add a comment]