tom moody
---
View current page
...more recent posts
---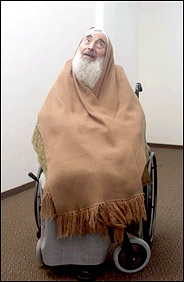 Speaking of the Middle East and Star Trek, the picture above of the late, soon-to-be-blown-away Sheik Yassin (from the New York Times, looking much like a waxwork from Madame Tussaud's) made me think of Captain Pike: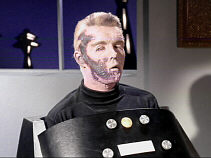 Which reminded me to look for a cybertheory essay I read years ago, by Alan Shapiro, called "Captain Kirk Was Never the Original." Lo and behold, I found it, and commend it to your reading. In a nutshell, Shapiro contrasts Kirk's Cartesian man of action with Pike's traveler in virtual reality, suggesting that we "read Star Trek against Star Trek" rather than dismiss it, as many theorists do, as a relic of pre-digital consciousness. Here's a good excerpt:
The successful media product model has as prerequisite a mythical moment of transcendent creativity which clears the way for the emergence of a new spectacle object. The spectacle object (celebrity, consumer gadget, media property) then enters the panoply of fetishes among which we shop in our efforts to find an identity "niche" and dubiously distinguish ourselves from others. The model serves as lightning rod for ambivalent collective projections, allowing each individual to feel unique at the very moment when all consumers of that same niche are imitating the same elevated pattern.

But the fully achieved simulacra of virtual reality threaten the stability and profitability of this system of differences. This is why Captain Pike, who was too far ahead of his time, had to be shunted aside in favor of the valorous Captain Kirk.
And another cool passage:
So Pike, the true first-born, was whisked away into virtual reality and replaced by the changeling Kirk. There was, of course, another way forward for Captain Pike, but the screenwriters of "The Menagerie" were unfortunately ignorant of the basics of writing operating systems software drivers for peripheral devices. Since Pike's bio-rehabilitation programmers had succeeded in resuscitating at least one controllable nerve impulse from his consciousness, and connecting the discrete signals of this impulse across the synaptic gap to an output device (the beeping for "yes" or "no"), further layers of software to drive more sophisticated output devices and sound cards would certainly be possible. From the single binary registering of a 0 or a 1, an entire operational language (a full digital communication) can be devised. One merely has to enumerate and combine varied sequences of 0s and 1s as discrete identifiers in an infinitely permutated system. The only drawback would be that Pike's consciousness itself would always remain at the level of the lowest machine language, forced to perpetually master and will the lengthy binary sequences in order to express himself! He would literally be the machine and its finally awakened artificial intelligence.