tom moody
---
View current page
...more recent posts
---
Photos from the
Wrecking Ball
, a twice-monthly "Evening of Electronic Musical Debauchery and Mayhem" in Brooklyn. Top,
Heat Sensor,
three intense guys with laptops, who've gotten some ink recently working with hiphoppers MF Doom and King Ghidra. All glitchy texture and monotonously elegant looped beats, this was hard to stay focused on, except for occasionally ear-tickling Kruder & Dorfmeisterish atmospherics. Middle photo,
Bubblyfish,
incorporating 8-bit/
gameboy
sounds organically into danceable techno. This could be pop music in Europe, and that's meant as a compliment (because I hear they have techno on the radio over there, and not just in car commercials). Her final number--begun and ended with a childlike pecking out of "Good King Wenceslas"--especially shined. Not pictured because the photo was overexposed: Man From Planet Risk's
jenghizkhan,
the most dissonant and "art," as opposed to arty, entry in the program. He had beats, but also skronky sounds resembling giant uncoiling springs overlapping in reverberating, Stockhausenlike crescendos. Also, like Bubblyfish, some pretty melodies wafting into the mix.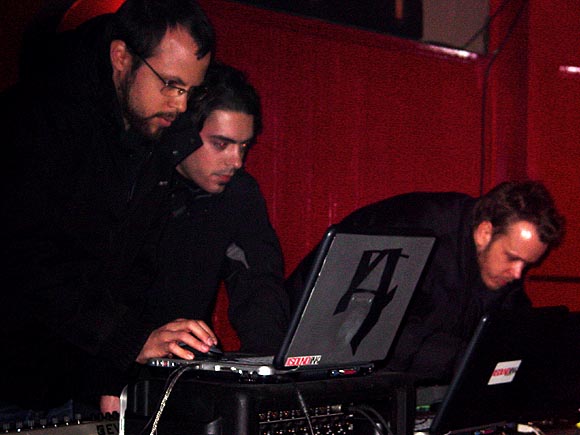 Heat Sensor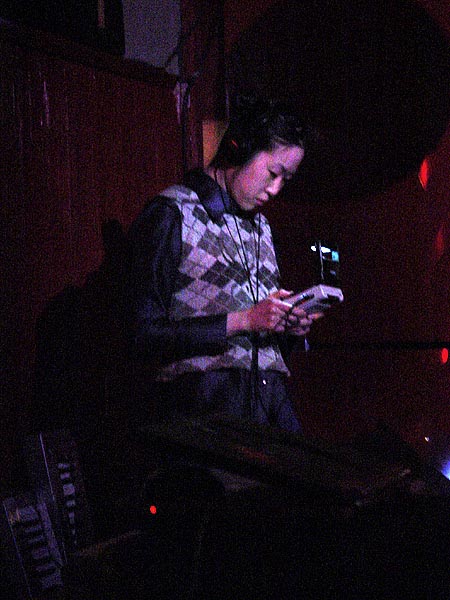 Bubblyfish (and speckly texture on the photo--sorry)