tom moody
---
View current page
...more recent posts
---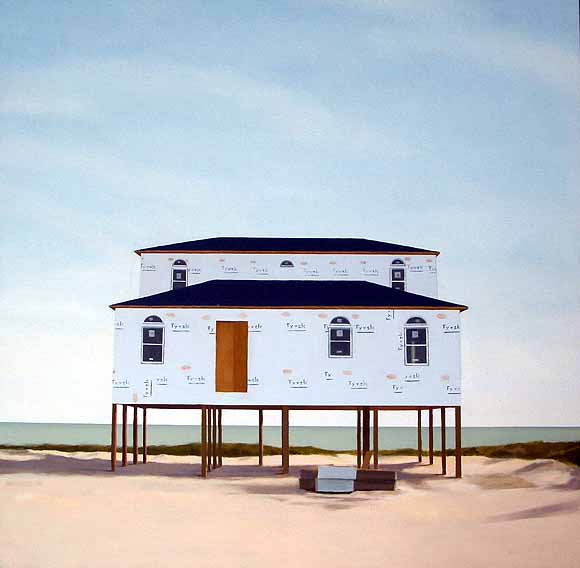 Below are some raw notes towards the essay I'm writing on
Kara Hammond's work
. These will change as as the writing is fleshed out. The image above is
Tyvek Beach House,
oil on canvas, 2005.
Kara Hammond describes the imagery in her paintings and drawings as "scenes of everyday human existence." Thatís as good a summary as youíre likely to find of this straightforward but strangely varied collection of suburban homes, airport buildings, storage sheds, space vehicles, office complexes, freeway ramps, trash receptacles, outdoor toilets, and other artifacts of the consumer-inflected landscape.

The work is "post-" quite a few things, to use a bit of art historical jargon. They are post-commodity art in the sense that they are not preaching about humankindís intrusions into the natural environment but merely recording them as factually as possible. They are post-appropriation in that the recording more or less takes for granted artís manipulation of signs, and the curious relationships that arise when painterly subjectivity meets the photographic record.

But the term post- usually implies a residue of what came before, and one still sees a skeptical, theoretical bent at work in these placid, some might say traditional-looking subjects. Images as reductive and open-ended as haikus on the individual level reveal their critical drift when seen cumulatively.