tom moody
---
View current page
...more recent posts
---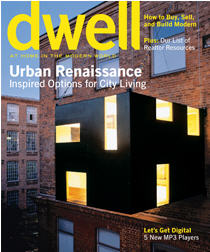 Congratulations to Stefan Eberstadt, whose sculpture
Rucksack Haus
adorns the cover of
Dwell
magazine this month. In the US we'd say "backpack house." I called it sculpture but it's also fully functional architecture; the box, perforated with wraparound windows, skylights, and "floor-windows" hangs suspended by cables from a larger building. The piece has received much attention in Germany and it's great to see it getting ink in the States. It occurs to me that housing such as this might be very useful in a certain flooded city we know. Not being flip here--the city should encourage provisional structures such as this parabuilding, rather than just letting the fat cats raze and redevelop to make New Orleans safe for their ilk.
I was in Munich last month attending the wedding of Stefan to Courtenay Smith, a friend and colleague from my Texas years and who is now curator of
Lothringer Dreizehn
, an art space located at Lothringer Strasse 13 in Munich. I had a great time; best wishes to both.