tom moody
---
View current page
...more recent posts
---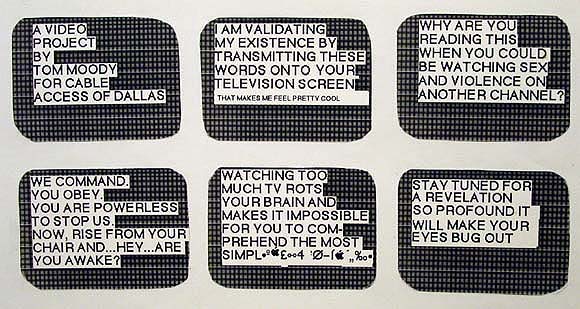 Above is a proposal page for a project I did around 1990 for Dallas Public Access Cable. Messages 2-6 above were translated into "teletext" (block capitals on blue screens) and aired individually at random times of the day. I made this crude prototype using MacPaint. Clearly, as text-based art the piece owes more to Harvey Kurtzman of
Mad
than Lawrence Weiner of Dia. Never saw these live because I didn't have cable but remember one anecdote from their run: Due to a technical glitch the "WE COMMAND. YOU OBEY..." screen accidentally ran on an African American affairs channel and the station got a lot of angry complaints. What, black people don't want authoritarian messages coming from their TVs? Seriously, sorry that happened but it was kind of an anti-authoritarian (or a-authoritarian) message.
I was reminded of this because Emma Davidson (Lektrolab) and Paul B. Davis (Lektrolab/BEIGE) are doing a Teletext project that will run on Dutch TV later this month as part of ambientTV.net. Their Teletext TV station is called
Microtel
, and they are calling for submissions to create simple text and graphics messages. If you saw the Bodenstandig 2000 show at Deitch you saw some of drx's girlie/sex ads done in this format and they looked great--very low res and cheesy. You have to download a program (Windows only) to create the Teletext files and then email the files to Paul and Emma for reformatting.