tom moody
---
View current page
...more recent posts
---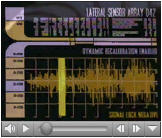 "Sensor Readings" [
27 MB .mp4
]
This is a sketch. My plan is to brighten and crispen the image, but since that will involve custom tweaking about 50 frames, I'm procrastinating. Batch processing only gets you so far. I might play around with the erratic "cursor" movement some more, but I'm resisting point-to-point, "follow the bouncing ball" closure here, in case that's not obvious.
Update: Having said all that, now I'm working on the timing. I don't want to use a ruler, so I'm matching clips to beats by eye. In this consumer program I'm using, any deletion in the timeline shortens the whole timeline (i.e., you can't use markers to pin your finished work in place), so it's taking a ridiculous amount of time. It's harder to make something clunky than something slick, in my experience. The image is brightened up, at least; I batch-processed the panels using "auto-contrast" and then finally figured out how to uniformly crop each panel in Photoshop using "snap to grid." I now have a GIF where the cursor rolls more smoothly than in the motion captures used in the above .mov, it's just a question of chopping it up in a way that accentuates rather than distracts from the tune.
Update 2: As discussed, the file has been brightened and the timing is tighter now. I replaced the old file--it's about 10 MB bigger.