tom moody
---
View current page
...more recent posts
---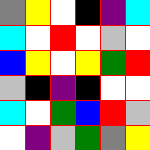 Two shows opening this week:
Tom Moody, Room Sized Animated GIFs
artMovingProjects
Williamsburg, Brooklyn, NY
166 North 12th Street
917-301-6680
May 5 - June 25, 2006
Opening: Friday, May 5, 7:00PM - 9:00PM
Music Performance/Lecture: May 19th, 8PM

Note: gallery closed June 8-11

Animated GIFs, the tiny, blinking, often annoying image files that draw your eye to particular parts of a Web page, have been around since the Net's early days. There is a sizeable do-it-yourself culture built up around them, which now includes a second generation of Web and gallery based art using them ironically and/or proactively.

For the past several years, Moody has been drawing GIFs in a simple paint program and posting them on his blog. The gallery will project two of these pulsing, but defiantly lo-fi animations huge on opposing walls of the space. Others will be displayed on monitors scattered on the floor.

The gallery will also feature a lecture/performance by Moody where he will present some of his music. These catchy compositions, made with a combination of old computers such as the Macintosh SE as well as more current soft synths and samplers, have a punchy concision similar to his GIFs. The styles range from videogame Electro to a string quartet piece written for a softsampler. --from ArtCal
And, Rhizome.org Net Art News on
The GIF Show
*:
The GIF Show, an exhibition opening May 3rd, at San Francisco's Rx Gallery, takes the pulse of what some net surfers call 'GIF Luv,' a recent frenzy of file-sharing and creative muscle-flexing associated with GIFs (Graphic Interchange Format files). Curated by Marisa Olson in a West Coast Rhizome collaboration with Rx, the show presents GIFs and GIF-based videos, prints, readymades, and sculptures by a range of artists, including Cory Arcangel, Peter Baldes, Michael Bell-Smith, Jimpunk, Olia Lialina, Abe Linkoln, Guthrie Lonergan, Lovid, Tom Moody, Paper Rad, Paul Slocum, and Matt Smear (aka 893/umeancompetitor). GIFs have a rich cultural life on the internet and each bears specific stylistic markers. From Myspace graphics to advertising images to porn banners, and beyond, GIFs overcome resolution and bandwidth challenges in their pervasive population of the net. Animated GIFs, in particular, have evolved from a largely cinematic, cell-based form of art practice, and have more recently been incorporated in music videos and employed as stimulating narrative devices on blogs. From the flashy to the minimal, the sonic to the silent, the artists in The GIF Show demonstrate the diversity of forms to be found in GIFs, and many of them comment on the broader social life of these image files. The opening is sure to be just as lively, with music by Eats Tapes and visuals by Nate Boyce. Spread the luv! - Rhizome.org
The MySpace page
for The GIF Show has a lot of new material added.
*Update, 2011:
The Rhizome link has been changed to
http://rhizome.org/editorial/2006/apr/29/gifs-galore-and-more/