tom moody
---
View current page
...more recent posts
---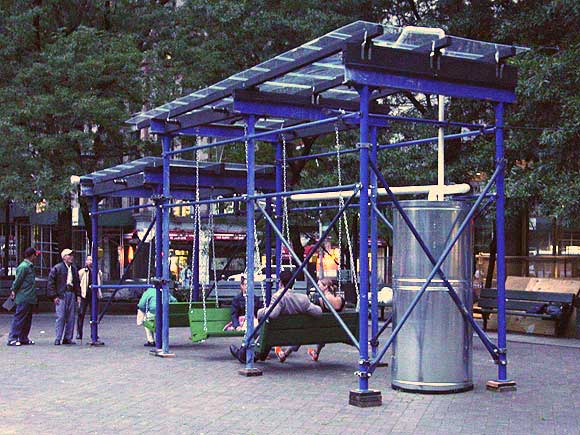 Public sculpture that's actually good: Matthew Geller's
Awash
, which opened tonight in Collect Pond Park in Lower Manhattan, and will be installed through November 25. It's a "portable fountain" made of sidewalk scaffolding, Plexigas, and PVC pipe. As you sit in the swings, water flows over your head like rain sliding down a loft skylight, and is then recycled through the PVC ductwork and back up through a pump in the water tank. It's romantic, carefree, and absurd at the same time, and the materials are completely unassuming. Last year, Geller's piece
Foggy Day
--notable for its artificial fog bank in Chinatown's Cortlandt Alley--was criticized by no less than the
New York Sun
and Fox News as socially dubious "fog art." The site for this new, budgetarily conscious urban earthwork is Collect Pond Park, a bland but historically charged spot across from the Tombs (bounded by Franklin, Leonard, Centre and Lafayette). In Manhattan's early history this was once a beautiful lake called the Collect, which became putrescent with urbanization, was drained, and served as the boggy foundations for the Five Points slum, made famous in
The Gangs of New York.
Now the land's surrounded by courthouses and other government buildings, and is in bad need of being rescued by something as funky as this. (One thinks also of the World Trade Center
kiddie pool memorial
--but that wasn't supposed to be funky.)
Re: the twilight photo
s
--I was taking advantage of
The Golden Hour
.
Update: photo lightened and color-corrected from the original crepuscular blue; another photo moved to the comments that is still blue but shows the flowing water more clearly. Yes, I fell down in my role of NY art documentarian. I got lost in the Five Points government building maze and the hour was getting later and later...
Update: Here are some better pictures from the
LMCC blog
: