tom moody
---
View current page
...more recent posts
---
Attack of the Clones, Part 5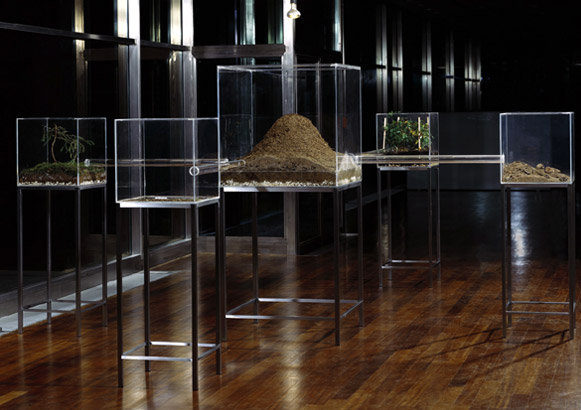 Klaus Mosettig (born 1975),
Processual Minimalism
, 2006, a colony of forest ants constructing a hill. (via
VVork
)
From
The Lives of a Cell,
by Lewis Thomas, 1974:
A gallery in New York exhibited a collection of 2 million live army ants, on loan from Central America, in a one-colony show entitled "Patterns and Structures." They were displayed on sand in a huge square bin, walled by plastic sides...
[...]
I learned that the army ants had all died.
[...]
There was no explanation, beyond the rumored, unproved possibility of cold drafts in the gallery over the weekend. Monday they were moving sluggishly, with less precision, dully. Then, the death began, affecting first one part and then another, and within a day all 2 million were dead...
[...]
It is a melancholy parable. I am unsure of the meaning, but I do think it has something to do with all that plastic--that, and the distance from the earth.
Previous clones