tom moody
---
View current page
...more recent posts
---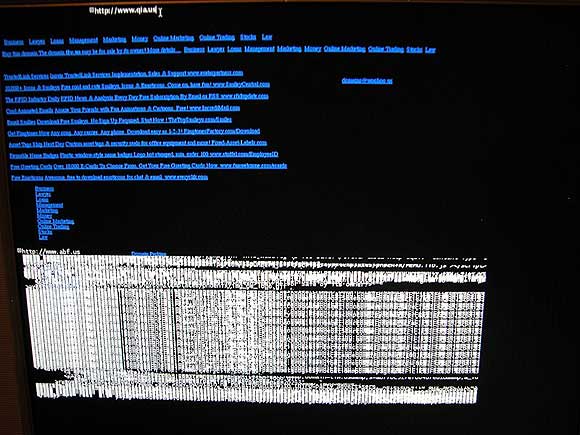 Student essays on JODI's current New York exhibition, from the
vertexList blog
. Efrain Calderon Jr.'s is especially thorough and helpful and does not read as if it were written at gunpoint. And here are some shots of the JODI
opening
, also from the vertexList blog. Looking forward to seeing the show this weekend.
A few months back a NY cyber art dealer made a comment here expressing regret that the dealer's space could not show JODI "because of the lack of support for this type of work." In fact, none of Manhattan's supposedly computer-specializing galleries stepped up, despite JODI's cred and long history as Dadaist hacker artists. Fortunately two galleries saw an opportunity: vertexList in Brooklyn and
And/Or Gallery
in Dallas, which are hosting simultaneous, feed-connected JODI shows. My understanding is that sales of unique and editioned works have been made at both venues, so, so much for that "lack of support."
Update: In the comments, VONA says, "JODI has shown at Pace and a big solo show at Eyebeam in the last few years. Itís somewhat of a distortion to imply, as I feel this post does, that they are locked outside a commercial art realm." My reply:
Eyebeam is a non-profit space--not sure how that show was in the commercial realm. As for the Pace exhibit--that's one group show, not much of a commitment. As discussed here, Pace seems to have flubbed that installation, projecting the wrong DVDs on a cross-shaped wooden construction built specifically for another video work.

Anyway, the point of this post is JODI's doing fine in the commercial realm, with galleries outside of Manhattan.
Update 2: Turns out the issue with VONA wasn't that I was distorting the record but that new media artists need to "forget" showing in Chelsea (still the key to wider art world recognition, last I heard--not a guarantee but the place that collectors, curators and writers tend to go to to see art) and I wasn't sufficiently respectful of this aspiration of VONA's.