tom moody
---
View current page
...more recent posts
---
Here's a quick cultural core dump for the past couple of weeks. Sorry, it just builds up. Also, trying to keep my mind off the horror that's about to unfold abroad. I just don't understand how pundits like Joshua Marshall can sit and talk about this calmly, as if nice, normal people were running the government. Everyone should be standing outside the White House right now, holding signs and screaming at the top of their lungs. As someone who lives within a couple of miles of Ground Zero, I have to say, frankly, our leaders scare me shitless.
Armory Show, NYC. Times are hard: beautiful abstract painting sells, and so does lasciviousness, I guess, judging from the photos of attractive young people I saw sprinkled throughout the many booths (I have to admit I do like Katy Grannan's work a lot--for all the wrong reasons). Enjoyed Austrian artist Constantin Luser's installation of adolescent, pseudoscientific wall diagrams and matching sleeping bag (playing the Beatles' Something over and over on his portable stereo gave the work a touch of the nightmare). Lots of Martin Kippenberger paintings, which is always good.

Road trip to Pittman, NJ to see a double bill of The Evil Dead and Equinox. The latter may be the best film ever made--and no, it's not the 1992 Alan Rudolph movie but the Dennis Muren/Jack Woods trash horror classic from 1970. Woods himself plays the sinister park ranger, Asmodeus, who promises "All the money in the world, kid!" to Frank Bonner, who would later play Herb Tarlek on WKRP in Cincinnati. The tree r4pe scene in Evil Dead is possibly more shocking now than it was in '82. Hard to believe Raimi's now directing superhero blockbusters.

Saw David Cronenberg's Spider yesterday. The closest thing I can compare it to in terms of look and theme is his fellow Canadian Atom Egoyan's Felicia's Journey. Lots of English gloom and bad teeth. Good, though.

Picked up a new Dopplereffekt 12" and Barbara Morgenstern's Nichts Muss CD yesterday. Enjoying both. Also noteworthy is The Mover's Frontal Frustration on Tresor, which Simon Reynolds describes as a "glorious slab of doomcore." The best things I've bought lately, though, have to be the reissues of The Black Dog's Parallel and Temple of the Transparent Balls. This was music I knew had to exist 10 years ago but didn't have a clue how to find. I used to stand at the Techno bin and just gape (or tape stuff off the radio without a clue what it was). Now there are books and websites that can steer you to the absolute best music from that period.

- tom moody 3-19-2003 8:58 am [link] [2 comments]


---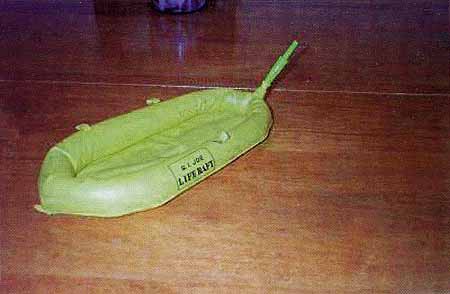 Here's another picture from Useful Photography #2, which I posted about earlier. These are images of things being sold by everyday entrepeneurs on ebay, saved and re-presented by the curators as found photography. My friend John picked up a copy of this book at Printed Matter and was carrying it around with him as he made the rounds of Chelsea galleries in NYC. A young woman working the desk at one of the biggest spaces noticed it and asked if she could look at it. John said she held onto it for about 15 minutes, slowly studying each picture. When she handed it back she said, in so many words, "This is what photography should be, not the big lavishly-produced objects we sell in this neighborhood." My sentiments exactly.

- tom moody 3-19-2003 6:11 am [link] [1 comment]


---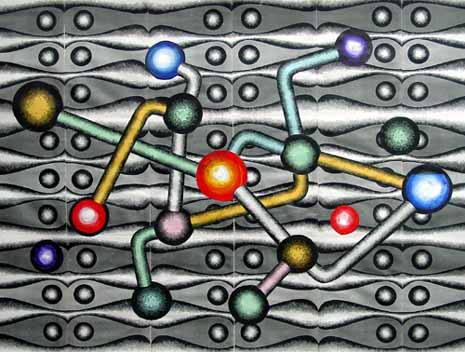 Sealab, 1997, acrylic paint, ink, paper, linen tape, 21" X 29"

- tom moody 3-19-2003 6:10 am [link] [1 comment]


---
Media Hos, Do Your Thang
Today's AP story on the Bush ultimatum to Saddam subtly favors the Pres, as usual. Check out the wording of this paragraph, near the end of the story:
The American public, by a 2-1 margin, generally supports military action against Iraq to remove Saddam, a slight increase from recent weeks, according to a CNN-USA Today-Gallup poll out Monday. Opinion was evenly divided when people were asked about an attack without an attempt to gain U.N. backing.

But why phrase it that way if Bush has ditched the UN? I'd say my rewrite below is more fair--and, yes, free of "liberal" bias--now that the UN is out of the picture.
The American public is evenly divided (50/50) on whether military action against Iraq is proper without UN backing, according to a CNN-USA Today-Gallup poll out Monday. Military action with UN approval, which Bush makes clear is no longer an option, was favored by a 2-1 margin.
---
Back in October I posted the names of the Senators and Congresspeople who gullibly (or cynically) approved Bush's war plans: if you want to take another look they're
here
. It was completely foreseeable at that time that Junior would immediately start moving troops to the Gulf, thus making the invasion a
fait accompli
(note French phrase), just as his father did in the last Gulf War. But here was Sen. Hillary Clinton's morally convoluted rationale for her vote, stated to the
NY Times
: "She concluded that bipartisan support would make the president's success at the United Nations 'more likely and, therefore, war less likely.''" From the news today it looks like Bush just gave the finger to the UN, so instead of making war less likely, she made it inevitable. Thanks a lot.
---
Yipes--some stuff I saved from the
New York Times
later got censored by the paper! Apparently the NYPD's use of snipers on rooftops and plainclothesmen in the crowd during the Feb 15 protest has gone down the
Memory Hole
--reported on February 15 but deleted the next day. Here's what I highlighted and saved sometime late on the evening of the 15th and
posted
at 12:59 am on the 16th (scroll down just past the photos to see the original, with sarcastic comments):
The police did not disclose details of their security operation, but did say that 5,000 officers were involved. [It was mounted during one of the most intense national security alerts since the attacks of 9/11. In addition to the thousands of uniformed officers in the streets, it included sharp-shooters on rooftops, mounted officers, radiation detectors and other hazardous-materials detection and decontamination equipment, bomb-sniffing dogs and plainclothes officers mingling in the crowds.] (brackets added)


It appeared that the police had not anticipated such a large crowd. At 1:45 p.m., Chief Joseph J. Esposito, the highest-ranking uniformed officer, ordered the department's highest mobilization, a rare measure that brought 1,000 officers from precincts and other commands around town. The alert was last used in November 2001, when American Airlines Flight 587 crashed in the Rockaways.
The
article I quoted those words from
, as it currently appears in the
Times
online edition, no longer contains the bracketed language; the two paragraphs have been combined into one, which is now the last graf of the article. The changes occurred sometime on Feb 16. And here's another version saved on Feb 15 by the website
Unknown News
:
The police did not disclose details of their security operation, but it was mounted during one of the most intense national security alerts since the terrorist attacks of 9/11, and it included thousands of uniformed officers in the streets, sharp-shooters on rooftops and plainclothes officers in the crowds.
Interestingly, the verbiage I saved included more detail than what Unknown News quoted--perhaps because I captured it earlier in the day on the Feb 15? Their version makes no mention of mounted officers, "radiation detectors and other hazardous-materials detection and decontamination equipment," or bomb-sniffing dogs. It is incongruous that the second paragraph doesn't appear in their version, though, if in fact mine is the earlier save.
March 15, 2003 Update: Both the Memory Hole and Unknown News have added the version I found to their accounts of this. Russ Kick at the Memory Hole found independent verification of what I saved here.




---
The thought train that would not die.
I added the following paragraph as an afterthought to
my essay
on Jim Lewis' Slate piece on William Eggleston (that's four prepositional phrases in sequence!):
It may well be that Eggleston's "breakthrough" enabled photo departments to collect color photos for the first time, but this is really a minor achievement, important only within the rigid, internecine structure of the contemporary art museum, since color photography *was* being collected a few doors down the hall, in the painting department. Thus, what he really did was give photographers who wanted to use color permission to do something, a handful of years early, that artists were already doing. But to be important, we expect artists to rewrite the rules of the game, not just a few intramural regulations.


If I had to pick a "great man" it would probably be [Richard] Prince, for finally, belatedly extending the logic of Duchamp and Pop art to photography (and being a malicious wit). The reason breaking the color barrier was important was that at last photography could be as permeable to the everyday (commercial, media-defined) world as painting had become under Warhol. More than a color progenitor, it might be interesting to think of Eggleston as a proto-appropriator, photographing banal commercial subject matter in a landscape setting before Prince et al came along and just removed the setting. But that's a stretch--I still think Eggleston is mainly an art photographer, whose principal contribution is injecting the poetry of color field painting into mechanically produced images.
And what comes after Prince? Found vernacular photography, culled from the internet and smartly curated. Highly recommended is a book series called Useful Photography. It's some Dutch curators (artists?) compiling photographs taken from a wide range of sources. Issue #2 is all pictures of things people are selling on ebay. It's mostly abject crap lying on blankets--stereo speakers, model kits, old shoes and hats--but the photos are magical, and all they seem really sophisticated in this context. Here's what the authors wrote on the back cover (the book's sole bit of text):

MANY THOUSANDS OF PEOPLE NOW OWN A DIGITAL CAMERA. MANY THOUSANDS MORE SELL THEIR PERSONAL ITEMS THROUGH EBAY EVERY DAY. EVERYONE IS A PHOTOGRAPHER AND ALL THEIR HOMES ARE STUDIOS.
The folks behind this project are Hans Aarsman, Claudie de Cleen, Julian Germain, Erik Kessels, and Hans Van Der Meer. Buy the book! Eschew photo fetishism!
---
Here are some concert photos from
PSYCH-OUT 2K3
, taken by Aya Kanai. Top to bottom: Nautical Almanac, Extreme Animalz, LoVid.