tom moody
---
View current page
...more recent posts
---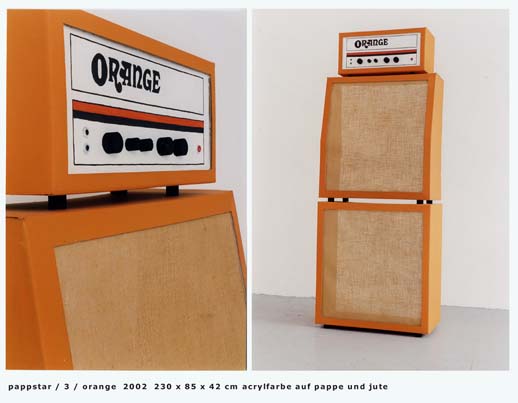 From the press release for "Icon," a two person exhibit at homeroom, Munich, Germany:
homeroom presents new "object paintings" by Munich-based artist Tom Früchtl and a selection of C-prints from the photographic series, Electric Mind, by Los Angeles-based Jennifer Stratford. The work of both artists deals with symbols of late-1970s and early 1980s youth culture—namely, amplifiers and video games whose iconic status derived from their association with play and leisure time, independence and power.
For the exhibition, Früchtl, who is both an artist and musician, has created two life-size, cardboard amplifiers which he calls Pappstar 1, Marshall and Pappstar 3, Orange, word plays on the German term for cardboard (Pappe), the English term "pop," and the names given to the machines by their commercial manufacturers. Even as stand-ins for the originals, Früchtl's "loudspeakers" carry nostalgic emotional content and weight (Marshall was virtually synonymous with the "wall of sound" music and stage shows of bands such as Judas Priest and AC/DC). But in their reincarnation as open-backed doubles, Früchtl's amps are more walls of surface that deliver new content on borrowed style and question what the role of painting can or should be.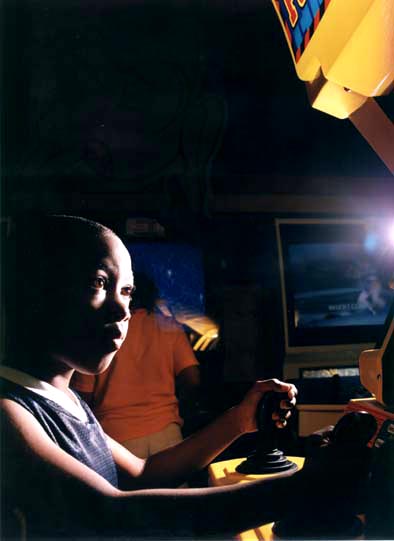 By contrast, Jennifer Stratford's 20 x 30 inch C-prints chronicle every aspect of video game culture from darkened parlors to entranced players, boxy machines to low-tech graphics. The photos are part of an ongoing project Stratford began two years ago after seeing a cast-off Asteroids machine on the back of a pick-up truck on a California freeway. She was struck by "how American it was to waste a big hulking giant that once gave us the feeling of outer space." Her search to understand and perhaps reclaim that liberation has produced a body of work that, by turns, abstracts the games into visually pleasing patterns and records the banal and introverted dimensions of play, where feelings of pleasure, excitement, and involvement are closely linked to states of pathological immersion and escape. A limited edition CD, We're All Players, a collection of music inspired by video games and compiled by Stratford is available for €10.
The show runs from 22 March - 16 May 2003; for information contact Courtenay Smith at info@homeroom.de

- tom moody 3-28-2003 9:31 pm [link] [5 comments]


---
Noam Chomsky is one of the few people who bucked the conventional wisdom that bombing Afghanistan was good--before and after we "won." He also opposed the Kosovo war back in Clinton time, earning him the scorn of liberals who support humanitarian intervention. The MIT prof is the subject of a passive-aggressive hatchet piece in the
New Yorker
this week. It's one of those mini-biographies, where a staff writer talks about Chomsky's academic battles as a linguist, his current schedule of intensive travel and speechifying, his wife, his grooming--while subtly reinforcing the official line that he's a bad egg. For example:
Chomsky is not a pacifist on principle, but when it comes to the United States he has never supported an intervention. The country's record is just too damning, he says: to expect better in the future is to indulge in willful self-delusion. States, he believes, can never be moral actors. But when asked to suggest a better way--an alternative to intervention in, say, Bosnia or Kosovo or Rwanda, to stop massacres currently taking place--he has no ideas to offer. Those are, he says, difficult cases. He does not know how to think about them.
I recommend perusing Chomsky's
writing archive
at znet to see whether he "doesn't know how to think" about Kosovo, in particular. He points out that there was no "flood of refugees" there before the start of the war, as interventionists claimed, and attacks the double standard of the US arming the Turks against their own Kurdish population at the same time as we were "protecting" the Kosovars. He argues that Milosevic would have been toppled eventually through his own political blunders, and that the US bombing was an unnecessary aggravation. In general, he thinks it's better for countries to remove their own bad leaders a la Ceausescu than suffer the indignity of having it done for them. Whether one agrees with any of this or not, it's kind of deceitful to say it's not a position.
---
Wireframe Aesthetics (Part 1)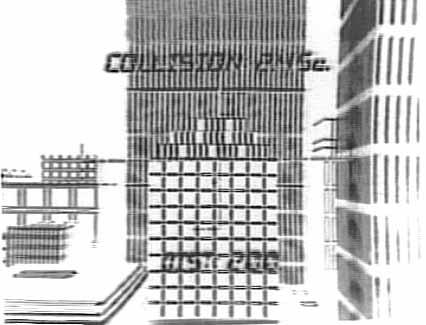 Escape from New York, 1981. John Carpenter couldn't afford wireframe computer simulation for his low budget film, so a model of New York City was constructed for the sole purpose of being photographed and rendered as a negative image.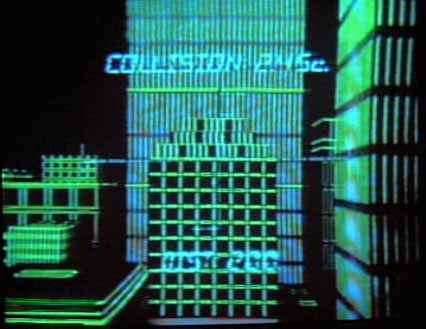 Escape from New York. Image as it appears in cockpit of Snake Plissken's glider.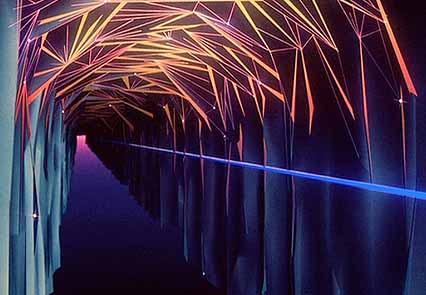 Still from Tron, 1982 (flipped vertically). Steven Lisberger's entirely computer-generated landscape set the standard for wireframe aesthetics. Critics often refer to this film with tongues in cheeks, but they do refer to it.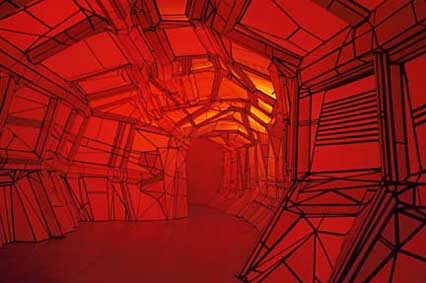 Stephen Hendee, Inertial Field, 1998. Sculptor Hendee makes Tron-like walk-in environments with foamcore, electrician's tape, and backlighting, thus bringing the idea full circle, to a Carpenter-esque simulation of a simulation.
---
Paul Berman, the "liberal hawk" who I
posted about earlier
, just published a
NY Times
magazine piece on Sayyid Qutb, an obscure (to us) Islamic philosopher, who apparently is the key to Berman's "Islamic fascism" hypothesis. We've been discussing it over
here
. In so many words, Berman says that Qutb's brand of militant religious fundamentalism has the potential to unite secular and spiritualist Arab factions that have traditionally been opposed (and still are, judging from Osama bin Laden's recent condemnation of Saddam Hussein).
Ellen Willis reviews Berman's book in Salon today, and says he's wrongheaded to support Bush's war--she calls him "naive." Berman treats Bush as a mere instrument to bring Enlightenment (i.e. liberal democracy) to spiritually mature but politically ignorant Arabs, but Willis reminds us that Bush has a fundamentalist agenda of his own. I'd say Berman is doing Bush's intellectual spadework: in his research and exegesis on Qutb, he's trying to forge a link between Iraq and al-Qaeda that Bush has so far been unable to prove.
Berman says the antiwar movement makes fascism abroad possible, but by giving Bush philosophical legitimacy, he's abetting its spread here at home. The "reluctant hawk" argument (espoused by the likes of Joshua Marshall, who rah-rahed the war 'till a few days before it started) is "We need to take out Saddam, I just don't think George Bush is doing it the right way." This seems totally unrealistic and hypothetical to me. For all the center/left's blather, the only plan on the table is Bush's. And the left's first priority should be removal of that right wing nutjob by 2004 at the latest. Supporting his war helps keep him in power.




---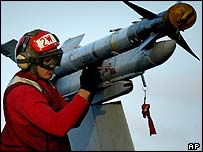 I've been a bit shy about putting pictures of myself on this site, but every once in a while someone takes a photo of me that causes me to say, "People gotta see this." So here it is. Please don't clog the comment board with praise or jealous jeers--I want to be appreciated for my ideas, not just how I look on cam.
---
From
The Agonist
, here's some news from the last country we liberated:
9:53 CST Thousands of demonstrators flooded the streets of Laghman, a provincial capital in Afghanistan, on March 23 to protest the U.S.-led war on Iraq. An estimated10,000-plus people chanted slogans like "allah akbar" (God is Great) and burned U.S. and British flags. Many protesters were chanting "death to America, death to Britain, " the Pakistan-based Afghan Islamic Press agency reported.




---
Well, I wasn't planning to include this picture in my
post
on the March 22 protest, because the cops had a minimal presence from what I could see. But according to
bloggy
, they got a little rowdy late in the day, when the protesters didn't disperse as fast as they'd like. This picture shows New York's finest in their riot helmets (behind the women), waiting for marchers near the endpoint. If ya got power, ya gotta use it, I guess.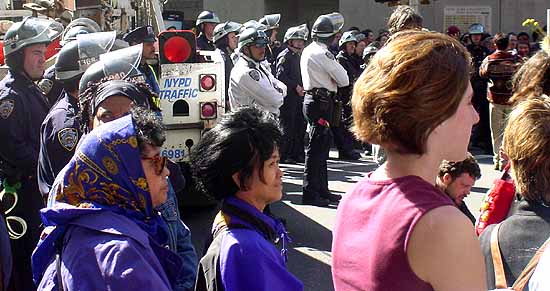 ---
I attended the march to protest the invasion of Iraq today in New York City. The crowd of 100,000 to 200,000 stretched from Times Square to Washington Square--this thing was
big
. As with the Feb. 15 rally, the mood was passionate and upbeat, with spontaneous cheering and chanting: "Money for health care!
Not for war!
Money for schools!
Not for war!
Money for libraries!
Not for war!
" As you can see from this picture, it was a family event, on a beautiful Spring day, and you could almost close your eyes and believe that the suits weren't raining death and madness on a faraway country, at hideous cost to all of us.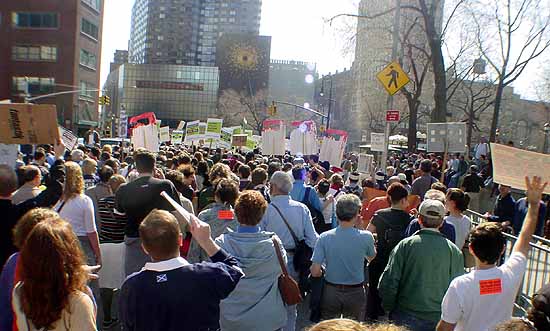 The crowd was mellow but a lot of the signs were angry. How could you not feel that way if you'd spent a couple of days watching Wolf Blitzer and Peter Arnett screaming "Whoa! Whoa! Look at the size of that one!" as downtown Baghdad was ripped to shreds? Here's the grrlpower antidote to the wargasm boys: one of the signs said "Eat my Bush."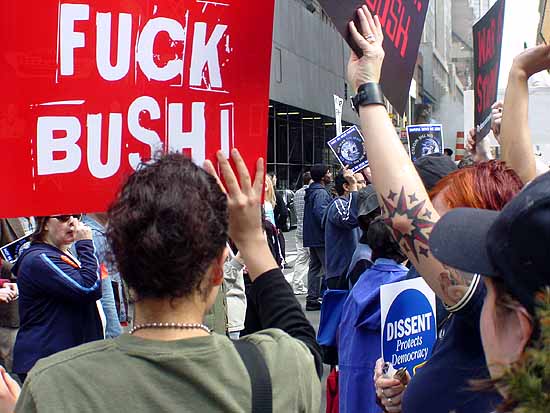 And then there was this guy. This is a bold piece of agitprop, but of course it represents an extreme view that this page cannot in any way endorse. Can you imagine, comparing Bush to you-know-who and the WTC massacre to the Reichstag fire? Irresponsible, irresponsible.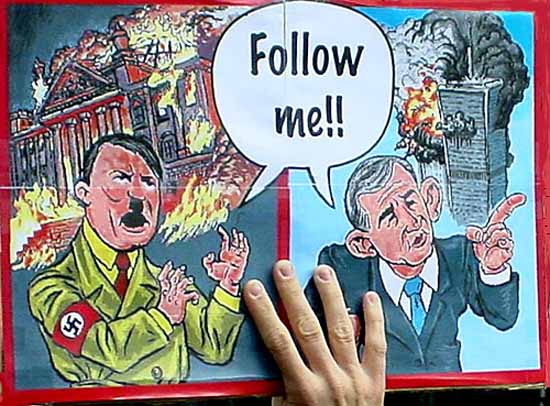 Unlike Feb. 15, cop presence was at a minimum. I guess they figured out that the crowds of kids, moms & dads, and seniors that turn out for these events don't merit the plastic handcuffs and riot gear. Also, virtually no "pro-war" demonstrators to be seen: just a couple of disgruntled souls standing on the sidewalk shaking their heads or holding thumbs down. No hardhats screaming "Death to hippies!" I certainly have the impression that this city, which you'd think might be baying for militaristic revenge for 9/11, in fact feels emphatically the opposite. Maybe that's why Bush has decided to sacrifice us.