tom moody
---
View current page
...more recent posts
---

---
Lt. Col. Nate "Heavy Dose of Fear and Violence" Sassaman is
back in the news
this week. His men allegedly forced some Iraqi curfew violators to jump off a bridge into the Tigris (wearing flex cuffs, apparently), and one of the Iraqis allegedly never came out of the water. Oh yeah, and then Sassaman allegedly covered it up.
But otherwise, things are going well over in Iraq. Looks we'll have a nice orderly transition of power to the new government (Ahmed Chalabi) come June, and then we can all pat ourselves on the back for a job well done. Sure, there are a few problem regions and an "outlaw cleric" to be dealt with, but overall, the Bush team--and especially the "brain" Dick Cheney--has done a superlative job on this thing.




---
Below is my own reconfiguration of the "
MTAA simple
" and "
Linkoln complex
" net art diagrams, a stab at representing graphically the point I was trying to make in a (somewhat rewritten)
previous post
. File this under art criticism (or trainspotting), not art.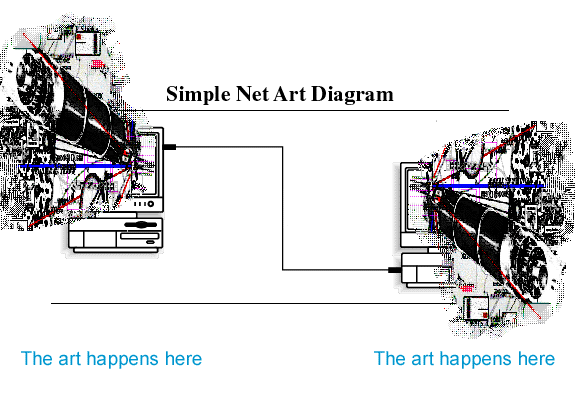 ---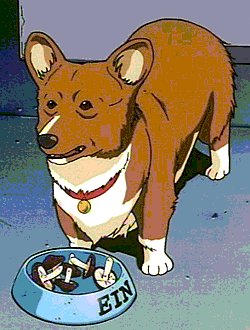 ---
There has been a little controversy in bloggerville over the American mercenaries killed by the mob in Fallujah. Kos, who posts on the liberal website
Daily Kos
, made a supposedly ill-advised remark in some other blogger's comment section about the deaths, leading right wing law professor Glenn Reynolds (aka Instapundit) to recommend boycotting or censuring Kos's sponsors, many of whom were Democratic candidates. A few advertisers pulled out (don't know if any--or how many--were candidates), but Kos says he's replaced them. Predictably, the unctuous Kerry campaign
publically de-linked
Kos from its website.
Here's what Kos said about what he said:
There's been much ado about my indifference to the Mercenary deaths in Fallujah a couple days ago. I wrote in some diary comments somewhere that "I felt nothing" and "screw them."

My language was harsh, and, in reality, not true. Fact is, I did feel something. That's why I was so angry.

I was angry that five soldiers -- the real heroes in my mind -- were killed the same day and got far lower billing in the newscasts. I was angry that 51 American soldiers paid the ultimate price for Bush's folly in Iraq in March alone. I was angry that these mercenaries make more in a day than our brave men and women in uniform make in an entire month. I was angry that the US is funding private armies, paying them $30,000 per soldier, per month, while the Bush administration tries to cut our soldiers' hazard pay. I was angry that these mercenaries would leave their wives and children behind to enter a war zone on their own violition.

So I struck back.

[...]

[In] Iraq, our men and women in uniform are there under orders, trying to make the best of an impossible situation. The war is not their fault, and I will always defend their honor and bravery to the end of my days. But the mercenary is a whole different deal. They willingly enter a war zone, and do so because of the paycheck. They're not there for humanitarian reasons (I doubt they'd donate half their paycheck to the Red Cross or whatever). They're there because the money is DAMN good. They answer to no one except their CEO. They are dangerous, hence international efforts (however fruitless they may be) to ban their use.

So not only was I wrong to say I felt nothing over their deaths, I was lying. I felt way too much. Nobody deserves to die. But in the greater scheme of things, there are a lot of greater tragedies going on in Iraq (51 last month, plus countless civilians and Iraqi police). That those tragedies are essentially ignored these days is, ultimately, the greatest tragedy of all.
Those deaths were terrible but I hate that saying "screw the mercenaries" is being framed as an issue of patriotism or "supporting the troops." These high-paid soldiers of fortune are essentially a private army dedicated to securing Middle East oil assets and protecting corporate interests abroad. And just a reminder: they're shooting Iraqis today; tomorrow they could be over here in the States breaking strikes and busting protesters' heads. This isn't as farfetched as it sounds: the Bush campaign recently hired
Vance International
, notorious anti-labor thugs, for "private security." This privatization of military functions is a sick trend, and I actually think it's more patriotic to oppose it. Unfortunately the Kerry campaign seems to think we should "support the mercs."
---
We're continuing to discuss that dumb
New York Times
article about Net Art
here
. There has been a sea change that the writer completely missed--an influx of artists redefining the medium, not so much through browser-dismantling code a la Jodi.org, but testing the limits of how much a window can hold, like turning an amplifier up to 11. These largely basement producers handle Net graphics in a painterly or expressionistic way, cocking a half-appreciative, half-horrified eye on all the weird content out there on the Internet. The phenomenon isn't about marketing (yet) but rather thrives within the Net's potlatch or "gift economy" of upload exchange. Artists put up simple animations made with .GIFs or Flash, with sound or without, as well as appropriate, resize and mutate found .GIFs and jpegs, attacking visual phenomena the way a junglist attacks sound (to make an electronic music analogy). Rebellious defacement and smartass humor trump the tedious academic-cum-Sol LeWittoid pallette of earlier net practice. In the
Times
thread Sally sums up the first generation of self-defined Net Art as "long-loading, find-the-place-to-click-me narratives packed with theoretically correct reference to the body or lack thereof." There are just too many sites resembling university sociology projects, rarely repaying the time you invest in them, illustrated with diagrams like this one from 1997: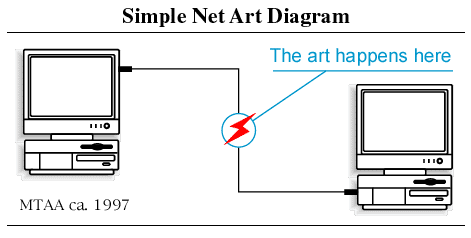 .
It's not that MTAA is humorless, but their art is very much about pointing and clicking and following steps, rather than just having raw sensation flooding into your browser. For an example of the latter, check out this remix of the above diagram by Abe Linkoln, one of the bloggers at 544x378(WebTV). Talk about the Oedipal slaying of a forerunner. Here's another piece from the WebTV site (I think also by Linkoln). This was done by searching "544 X 378" in Google Images, picking a blurry, faintly appalling image out of a page full of possibilities (in this case a random dork in a mask sitting at his computer), then adding a kind of Sigmar Polke screen of "plus" signs as a shifting psychedelic overlay. This use of dimensions to search for images has the randomness of a drive-by shooting. Or check out this .GIF by jimpunk, an image both sublime and gritty, resembling a sleek physics demo that appears to be destroying its own background: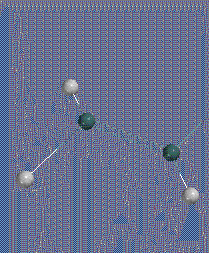 With more of this happening, the Whitney might think about setting up those terminals again!
UPDATE: My own reconfiguration of the "MTAA simple" and "Linkoln complex" net art diagrams is here.

UPDATE, 2012: The GIF I thought was posted by Linkoln was, in fact, posted by Linkoln (then called Abe W. Linkoln), on March 15, 2004 (permalink to the post doesn't work).




---
A couple of short clips from Laura Parnes' video installation
Hollywood Inferno
are now available on her
website
. As I mentioned in an
earlier post
, some of the dialogue is appropriated, Kathy Acker-style, from media and art-critical sources. In
this clip
(which should load in your browser as a Quicktime movie), the source of the words is Dave Hickey, a critic embraced as a spiritual mentor by many of my peers for his supposedly frank, "jazzy" style. Some see him as a noble outsider, I think, when he is in fact a creature of the institutional art world, and quite the cynic. As a non-fan from way back, I get a special kick hearing his words spoken by Guy Richards Smit's sleazebag Virgil, who, in Parnes' video, is a Satan figure leading a young girl inexorably to damnation. As Lisa Gangitano puts it, somewhat less ecclesiastically, in her "
Repulsion
" exhibition catalog essay:
Sandy occupies hermetic spaces that Virgil is quite eager to fracture, providing viewpoints previously unavailable to [her]. As he leads her through this defamiliarized territory populated by demonic Furbies, Columbine models, and fire-breathing teenagers, she becomes more and more seduced by the pleasure of spectatorship. The scale of her world shifts, and so does her definition of beauty.
Hickey, however, reverses the process, leading the reader back to comfortably familiar notions of beauty from the wilderness staked out by "French critics."
---
This
page
from the English department of a Japanese university strings together excerpts from science fiction novels and stories into a continuous single text. It reminds me of THE NAM, a phone-book thick transcription of dialogue from five Hollywood Vietnam movies by YBA (young British artist) Fiona Banner. The only two chunks of text I recognize are Heinlein's
Stranger in a Strange Land
and Cordwainer Smith's "A Planet Called Shayol" (any other attributions?). I wrote about the Smith story a while back and have cleaned up the excerpt from the Japanese page and posted it in the
comments
to that post. That is one f*ed up story.