tom moody
---
View current page
...more recent posts
---
David F. Gallagher, one of the panelists in the upcoming Rhizome
blogging event
, wears two hats: committed
photoblogger
of his own punchy, artfully composed images (I
linked to him
a few weeks back when discussing the artists "trashing" Terminal 5) and media journalist covering the controversies and mutations of the emergent blogosphere. If you knew about the schism between crazy right wing "warbloggers" and the rest of us, which became apparent when they got a book deal and we didn't, it's possible you first learned about it in an article of his in the
New York Times
. Ditto the failed attempt by Warner Bros. to co-opt
.mp3 bloggers
. As I mentioned earlier, the first appearance of the term "web log" in the Grey Lady was in an article of Gallagher's, on December 28, 2000.
Occasionally his interests converge, as in
this Slate piece
on photoblogging. He invokes the image of cigar store owner Harvey Keitel taking daily random photos of the same section of city street in the movie
Smoke
as a metaphor for the demotic, "anyone can do it" aspect of photoblogging. That definitely comes across, but I've often thought about what a novelistic contrivance Keitel's picturetaking was. Within the film's own logic, he has this slightly kooky personal hobby that just happens to resemble a rigorous conceptual art project. The purpose of the conceit--besides the obvious plot point of Keitel "accidentally" photographing William Hurt's late wife, and thus ending Hurt's period of grieving--was, I think, to present Brooklyn as a place so steeped in renegade art style that even the man on the street had internalized it.
Photoblogging, on the other hand, isn't local, or particularly bohemian--it's a worldwide, bottom-up phenomenon, where practitioners are as arty or as artless as they want, or have, to be. The conceptual element comes in deciding on the parameters of the blog (on the practitioner side) and what
value
the practice has, on the consumer or curatorial side. Is the photoblog factual documentation or personal vision? At what point does a John Cagean interest in the aesthetics of random urban phenomena ("I am standing on this street corner shooting these buildings") intersect with the need for accurate images experienced by, say, a historian or a police investigator?
Photoblogging is photographing but it's also "databasing," and changing the subject slightly, I note that ex-Walker Art Center new media curator Steve Dietz has an
exhibit
coming up on that subject, which looks to be the typical analytical, anecdote-driven new media event. My
general beef
with such shows is that they privilege the rational over the intuitive. Instead of flouting viewer expectations, looking for disobedient, ecstatic, Dionysian uses of the computer, curators love to emphasize the data-crunching everyone already knows it does well. Whereas the more interesting story is how it's
misused
as an art-making tool, in hiphop, "dirtstyle" web design, etc. Fortunately, at a certain point
homegrown, tribal, "amateur"
efforts begin to overwhelm more earnest, grant-conscious, faux-sociological production. "Life finds a way," Sam Neill marvels in
Jurassic Park
, on discovering mating dinosaurs in a supposedly sterile environment. And so does art.
---
Untitled (Clear Evening After Rain), 2004, HTML, 365 x 550 pixels, from
Look, See
, Chris Ashley's weblog. A CD-ROM was recently published of the HTML drawings that appear daily on the blog. I continue to be intrigued and impressed with Ashley's use of the weblog as a medium for abstract art made in the same language as the medium. It's transparency in every good sense of the word.
---
Rhizome.org to host Blogging and the Arts panel
Public Program:
Blogging and the Arts
Tuesday, November 23, 6:30 p.m.-8:00 p.m.
Location:
New Museum of Contemporary Art / Chelsea
556 West 22nd Street
*** Rhizome.org Director of Technology Francis Hwang will lead a panel discussion entitled Blogging and the Arts. The panel includes artist Kabir Carter, photoblogger and journalist David F. Gallagher, artist and critic Tom Moody, and artist T.Whid. The discussion will address questions such as whether blogs will change the nature of discourse in the fine arts field, and ways that artists and critics are integrating this new form of communications into their own work. ***
About Rhizome.org
Founded in 1996, Rhizome.org is an internet-based platform for the global new media arts community. Through programs such as publications, online discussion, art commissions, and archiving, it supports the creation, presentation, discussion, and preservation of contemporary art using new technologies. Since 2003, Rhizome.org has been affiliated with the New Museum of Contemporary Art.
---
This is an interesting mix (including me blah blah), and overdue. I think the new media community will learn of this event via the cyber-Drum and hopefully some will turn out. If anyone knows gallerists or critics or other real space artworld types, please tell them about this because I'm still getting blank looks from that quarter on the subject and/or value of blogging. The art journalism lag on this is frankly pathetic. Artnet (a magazine, not a blog digest) still practically owns the cyber-art-journalism field, although individual blogs such as Tyler Green's are getting more widely known. But the phenomenon of independent blogs embarrassing Institutional Media and demanding that it be more accountable hasn't happened in the art world as it did in politics. Also, "name" critics aren't starting blogs as they have in the political/mediacrit sphere.
Vanity Fair
scribe James Wolcott has a blog now, so where is Jerry Saltz's? Roberta Smith's? Robert Storr's? David Rimanelli's? Why are they still hiding behind the cloak of institutional authority? Do they need editors that much? Are they insecure?
These are my pet peeves, though: the Rhizome panel, by its choices of who was invited, is less grouchy (or, of more universal interest) in that it focuses on practicing artists and how blogs are impacting their work, rather than the deficiencies and pathologies of institutions. I hope to write more about the other panelists (based on surfing their blogs) in advance of the event. [One interesting factoid: Gallagher in his journalist career is the first writer to use the term "web log" in the
New York Times,
on December 28, 2000.] On his blog, twhid asks for suggestions about what to talk about. I'm similarly open here, but refer readers to an earlier dialogue I had with twhid and others in response to a Danish student's questions about "artblogs," which she seemed to assume were a much more evolved and accepted entity than they are. Here are some relevant links:
What is an art blog?
1
/
2
/
3 (scroll down)
One afterthought: the panel lists me as "artist and critic" but I prefer "artist who writes" (or better, just "artist") because the art world is quite old-fashioned and actually punitive in its expectation that artists will only wear one hat, and will otherwise be perceived as uncommitted. Starting this blog was a way to scrape off some of the barnacles of institutional criticism that I found attaching to myself; I guess it's not working, but then I can't make myself shut up.
---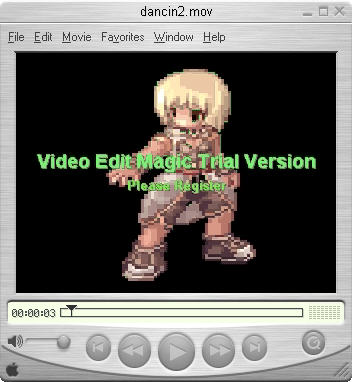 Notes on my video, Dancin' (Please Register).
1.The soundtrack is a short version of "Streetsong 2" [
3.48 MB .mp3
], originally posted
here
.
2. The video is comprised of these animated .gifs swiped off the internet ("like stealing a candy bar from a drugstore"), plus a few more found at the link below. All are resized at 240 (tall) by 320 (wide) pixels. They run sequentially, with only one on the screen at a time. Each appears more than once (some many times), for a duration no less than four piano notes per appearance (and no more than 8). The order varies; the .gifs are mixed and matched and arranged with an eye to rhythm and the element of surprise. Speeds of individual .gifs also vary.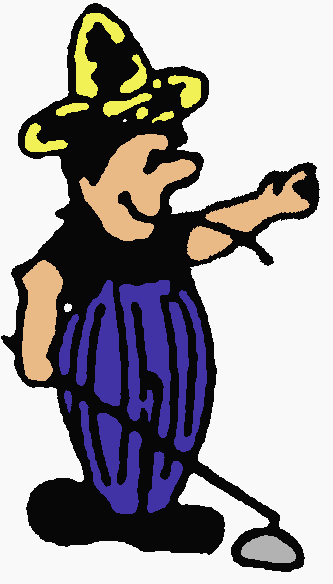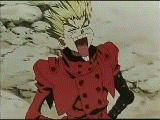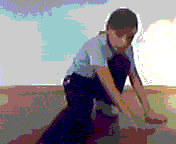 more animated gifs
3. After 1.25 minutes of this foolishness, video fades to black at end. "Trial version: please register" overlay will probably remain throughout the piece (I haven't decided yet).
The video is priced at $500,000. Proceeds after deduction of expenses for a private party in Terminal 5 will be placed in trust to be clawed over by attorneys for individual .GIF-makers.
Update:
The completed video is
here
.
---
Thanks to all who posted encouraging comments about my
first foray into video
. The piece is coming along, it's now down to 50 MB and I jury-rigged a way to sync the audio. I was able to save a thumbnailized, super compressed copy at 9.5 MB, but it looks like, um, shit.
Many of the comments were about trying to get me to switch from a PC to the Macintosh ecosystem. I have more to say on this subject, but in brief, I don't know how I can continue to claim, in my artist statement, that "My work proudly inhabits the 'lo-fi' or 'abject' end of the digital spectrum" if I am using the ideal, "hi fi" system. I wound up in PC-land quite by accident, but it's the way I think most people end up there: it's the computer of choice of managerial types in the American workplace. At a certain point I had so much PC-made work on floppies (done on lunch breaks, of course!) that when my old Mac SE no longer cut it at home, I had no real choice about what to buy to replace it. But this is boring. I also perversely like being outside the orbit of the Mac fetishists, where things tend to look and get done a certain way. I've kidded elsewhere about the laptop chic of New York art events--part of me wants to join it, but there's also something to be said for using the tools of the proles. Think Carl Andre in his carpenter overalls. Oops, not a good example.
---
How It Works...The Computer
. Good clear scans of individual pages show differences between the 1971 and 1979 editions of this (high school?) reference book. Highly informative, high kitsch appeal, what more could you ask for? (via cory a. & eyebeam reBlog)
---




Reviving the ancient practice of barter that lay behind the putative origins of our fair city--that is, the ability to trade almost anything for a handful of beads--is
Mondo Mondo Trading Post
. Go to the 6th Floor at Cooper Union during the hours listed below and swap anything you have--a poem, a song, a piece of crumpled paper lying at your feet--for a pretty souvenir made of
Perler Beads
, a craft kit item I'm told I'd know more about if I'd recently left high school. The Mondo Mondo traders, Kevin McGarry and Matt Savitsky, have taken their economic roadshow up and down the Northeast, setting up temporary displays with cardboard totem poles, an array of multi-hued blankets, and a table of Souvenirs. Trades are documented with online photos of the crap (and also good stuff) people coughed up. From the website the project looks to be a combination of hippie-era hopefulness about creating an alternative system of exchange and a kind of wised-up parody of a colorful kid's show world where the bottom line is you take home something made of plastic. Judging from the pictures of McGarry and Savitsky stoically manning their booth in a host of public spaces (plazas, museum grounds, bookstore sidewalks), there is something beautiful and sweet about the activity but the stupid factor is not to be overlooked--the quality of the hapless, doomed quest to change the world through a single throwback gesture. The website captures the spirit nicely, with its melange of happy colors, texture-mapped wood grain, and sprightly MIDI tunes downloaded off of various fan sites (especially fine is the one that greets you on load-up, Radiohead's "Paranoid Android"). Hopefully I'll have a chance to go tomorrow and can give a better report.
Saturday Nov. 13th - 3PM to 5PM

Wednesday Nov. 17th - 9PM to 11PM

Saturday Nov. 20th - 6PM to 8PM
UPDATE, Saturday, Nov. 13: Visited the Trading Post and found it as winsome as described. One slight inaccuracy above is the trades don't stop with you taking home a Souvenir--everything ever traded is for sale. Previous swaps from New Hampshire, PA, NYC, etc. were arrayed around the room in hand-cut cardboard display cases. Poems or stories were handwritten on card stock and would be recited or reenacted by the proprietors on request. I traded a
Gimme Shell
7-inch EP for a robin's-eggs-in-nest Souvenir. It's a gem.
---
Blog Spotlight:
Loretta Lux
"They are imaginary portraits dealing with the idea of Childhood. Childhood has been idealized as a lost garden paradise to which we can never return. We are excluded from this world of carelessness, innocence and unity. But the imaginary kingdom is nothing more than a projection of adult ideas and concerns onto the image, an expression of our own yearnings." - Loretta Lux.
According to her press page, Lux's "images are created using photography, painting and digital tinkering. She photographs the child then places the resulting image on a backdrop that she has painted or photographed separately. On most of Lux's images the colours, and sometimes the children's features, are digitally altered."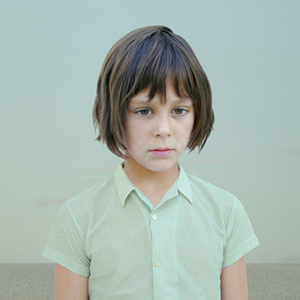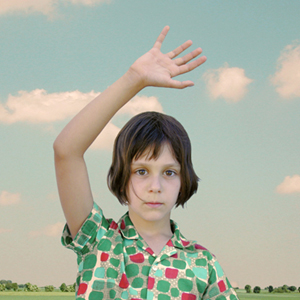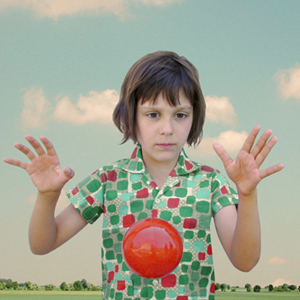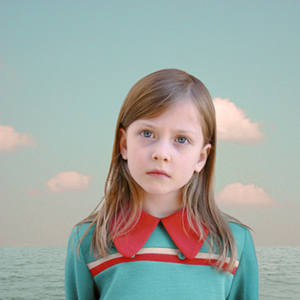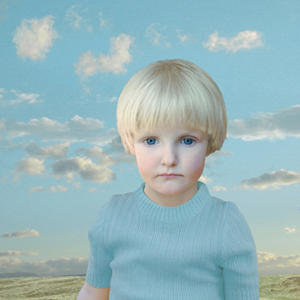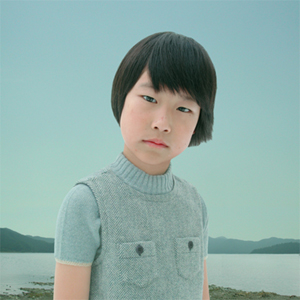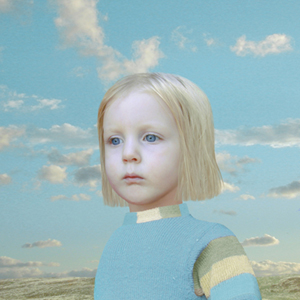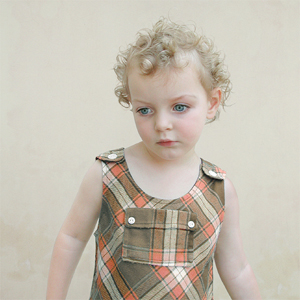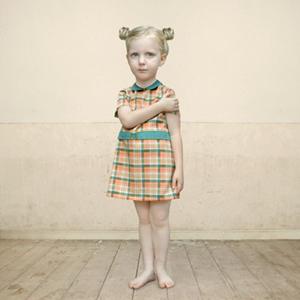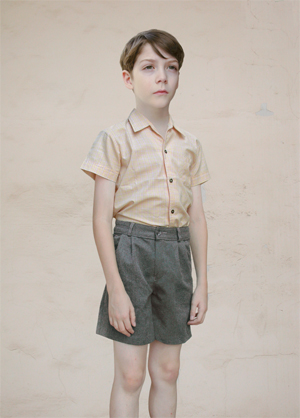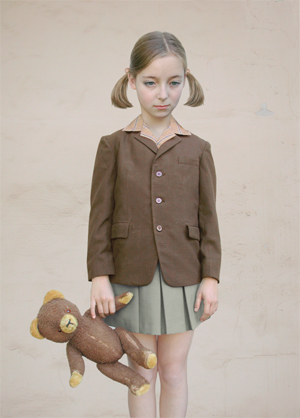 This is startlingly good work, a little scary because we're not used to seeing our cultural fetishization of children carried to quite this degree of care and craft. Also noteworthy is the hybrid nature of these images. Would they have been possible were Lux not equally skilled as a painter, photographer and digital artist? I don't think so. A prediction: this will emerge as more important work than John Currin's similarly polished but differently odd paintings, in that Lux has mastered a new technology in order to
invent a medium
to go along with her imagery, whereas Currin is just the latest in an unbroken cycle of "getting back in touch with the lost master painting techniques of yesteryear, blah blah."
UPDATE: Speaking of cycles, a friend asked why I'm just writing about this work now when tout le art world already chewed it up and spat it out (favorably) last spring. I replied that this blog isn't a slave to the usual rhythms of capitalist marketing hype--that it's impulsive, heedless of fashion, and also, I wasn't paying attention.