tom moody
---
View current page
...more recent posts
---
Saw an unspeakably dreadful movie yesterday. The lead actor can't act his way out of biodegradable Hefty bag. He spends most of the film shouting, and is completely unconvincing as a real person. The film is touted as "science fiction" but is full of logical fallacies and absurd predictions. Some of the characters fly around with Flash Gordon rocket belts, emitting blue flames, which inexplicably don't set their pants on fire or cook their asses like rump roasts. The main character has his eyes surgically removed and replaced to avoid retinal-scan IDs, and then uses the
old
eyes (twice!) to get back into his former place of employment--a police facility that is supposedly hunting him relentlessly. Wouldn't the first thing they do be to (optically) "change the locks"? The psychic "precognitives" floating in an indoor swimming pool keep sinking underwater for long periods of time--no explanation is given why they don't drown. When one of them is removed from the pool after years of floating she has enough muscle tone and stamina to walk around the city for hours (assisted by the lead actor, but c'mon). When the precogs envision a future murder, a Rube Goldberg contraption carves a wooden ball on a lathe and sends it spiralling around a Plexiglas habittrail, zooming around curves and then coming right at the viewer: this serves no purpose except to be "cinematic": as if the viewers are all big babies who have to have objects dangled over their cribs to hold their attention.
More crap: The film envisions we'll have superconducting or MagLev transportation in place by 2054, with cars crawling down the sides of buildings and feeding into Hot Wheels-track spaghetti-bowls. This is a vision worthy of pulp "scientifiction" of the 1930s, which William Gibson brilliantly parodied in his short story "The Gernsback Continuum." When are we going to get past this model? The scenes of the lead actor jumping from hovercar to hovercar are completely fake. The chase/fight scene in the robot car factory is a swipe from the clocktower-battle in Hayao Miyazake's anime Castle of Cagliostro, a far superior film. There's some supposedly "noir-ish" stuff involving a Hannibal Lecter-like doctor and his "decadent" German nurse--an ethnic parody worthy of Mel Brooks. When the lead actor solves a precrime using projected images from the psychics, he "conducts" the pictures on a widescreen monitor with a virtual data-glove, like a symphony conductor waving a baton--this is pretentious and laughable and almost unbearable to watch. The movie borrows from dozens of better films but it's hollow at the core. The director hasn't made a good movie since the one with Dennis Weaver being chased by a Mack truck, and the lead actor has never made, and will never make, a good movie. Please don't go!

- tom moody 6-26-2002 8:31 pm [link] [9 comments]


---
Two works by
Cory Arcangel
:
Carnivore: "This project is a standalone home TV unit which connects via Ethernet to a packet sniffer and counts the number of times the phrase "boo yaa tribe" is passed through the network displaying the result on a television screen [note: the television is woodgrain!]. It is done in collaboration with RSG and made entirely out of discarded computers and salvation army bought equipment."
Landscape Study #4: "Essentially I decided to create a background for a game that doesn't exist about my home-town of Buffalo, New York. To accomplish this feat I took 360 degree landscape photographs of a neighborhood in Buffalo and scanned them into a computer. I then formatted them to fit the graphics format of the the Nintendo Entertainment System which because of its severe hardware limitations can only hold 8K of graphics. Once formatted for the Nintendo, I wrote a program that would scroll the graphics [remember Mario?] and my partner Paul Davis wrote a sound track. I then melted the computer chips off a Super Mario cartridge and replaced them with chips I manufactured." (This piece is currently on view at Bitforms gallery in NYC.)
Another Arcangel project (with others): A vinyl record called 8-bit Construction Set ("Atari vs. Commodore").
Interesting interview with Arcangel, Davis, and other artists on the Beige label expressing their "fat bits" and "post-data" philosophy of art/music, and dissing Oval's Markus Popp for using pre-programmed software.
Much of this material on Arcangel, et al, can be accessed through this page hosted by a major museum.

- tom moody 6-23-2002 8:28 am [link] [5 comments]


---
Techno Diary, Installment 2.
My listening has been bipolar lately, alternating between fairly pristine German minimalist house and florid, funky, latter-day manifestations of
kozmigroov
.
In the former, stripped down vein, I recommend 3 recent mix compilations: Michael Mayer's IMMER (Kompakt), Steve Bug's The Flow (Cocoon Recordings) and Swayzak's Groovetechnology v1.3 (Studio !K7). All are DJ'd by musicians who also make their own tracks, and all have a strong point of view. "Self styled dub techno house blokes" David Brown and James S. Taylor (aka Swayzak) have assembled cuts with an audible bearing on their own music, with hints of electro, reggae and postpunk (e.g. Wire) sniggling in and around the mid-tempo beats. Some of my favorite tracks are Wolfgang Voigt (as Studio 1) doing robot Bob Marley on "Lila," the 60-second moogasm of CIM's "RNA," and the Mike-Ratledge-on-Angel-Dust keyboards of Pile's "World Record Holder." On the Bug CD, I like the rave-up ending of Hakan Libdo's "Kiki de Montparnasse" fading into the pulse of Antonelli Electr.'s "Nachtclub Pavement," the cheerfully out-of-phase wah-wah of SWAG's "The Soundworks," and have even grown to like Marshall Jefferson's spoken-word account of playing "tongue hockey" with an unknown female while on 'shrooms. On the Mayer comp, A Rocket in Dub's "Rocket No. 3" (that's Antonelli under another name) flanges along nicely, and John Selway's "Flying Far" is ecstatic and poignant without getting corny. The only track I DO NOT like is Phantom/Ghost's "Perfect Lovers (Unperfect Love Mix)": "Ve are 2 perfect lovers/besides zuh fect dat ve're not there..." UGGGH. One more techno CD (not a comp) that should be mentioned in passing: Bolz Bolz's Human Race is a complete hoot. The spirit of Krautrock thrives in these chugging analog loops and goofy samples ("take a walk/take a bath/take pains/to take an exam"), but this is nevertheless not what I would play if I was trying to turn someone on to recent electronic music. It's pretty close to metal.
On the Nu-Kozmigroov tip (my own coinage?) I recommend Cardiology, by Carl Craig protege Recloose (Planet E), AtJazz's Labfunk (Mantis Recordings), and every volume of Michael Reinboth's ongoing series The Future Sounds of Jazz (be sure it's on Compost, not the other label doing a series with the same name). This is music to make street-purist Simon Reynolds curl up in the fetal position, but f*ck it, I'm older than he is, I collected a lot of Kozmigroov the first time around, and I'm really excited it's back and being done so well. A fundamental, keystone work for these recordings, IMHO, is Herbie Hancock's Thrust, augmented by new loops-and-breaks technology, so if you're into that Rhodes/Clavinet/Bass-synthesizer vibe, and wonder, like I do, how jazz kept taking wrong turns after the '70s (first fuzak, then the formaldehyde classicism of Wynton Marsalis, et al), you'll be glad to know that there's a new crew breathing life, energy, and science into the form.

- tom moody 6-19-2002 8:50 am [link] [12 comments]


---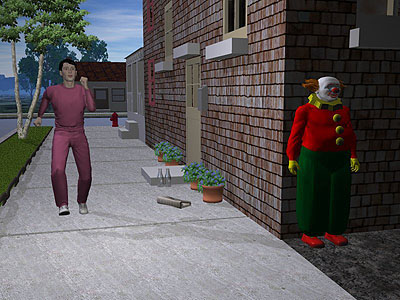 "Creepy Clown" and New Media
I just received a brochure in the mail from Thundergulch, "the new media arts initiative of of the Lower Manhattan Cultural Council." Here are some of the depressing topics from their Spring/Summer 2002 lecture series:
Database Cultures in Collaboration: Panelists discuss the challenges of using databases as the generative engines behind their art work, creating alternative systems that reveal the poetic, metaphoric, critical, and community-building possibilities of manipulating and reconstituting data.

Race in Digital Space: [Panelists] discuss how digital media influences and changes social ideas about race and ethnicity.

Curating New Media--Inside and Outside the Institution: [Panelists] discuss the challenges of organizing, displaying, and distributing new media art...
Fortunately, art gets made and trends emerge at the grassroots level (that is, on the Internet) despite these numbing discussion topics. In this post I discuss two such trends. One is DIY Curating (speaking of databases), and the other is The Stalker Collage.
As William Gibson has said, "We are all curators, in the post-modern world, whether we want to be or not" (for post-modern read "wired"); and anyone with a big enough server can have a library straight out of Borges. As I've mentioned elsewhere, there are bottomless databases of specialized interests, such as this site devoted to "furries," fantasy creatures combining human and animal attributes. Every week of the world, kids and adults upload hundreds of strange, anthropomorphic, sometimes frankly sexual drawings to this site, giving themselves a forum (and perhaps feeding some addictive need on the part of the host?).
Artist Bill Schwarz acts as a curator of curators: his web page, although randomly organized, is a trove of amateur and professional online collections: snowflake photographs, Dymaxion designs, snapshots of trailer homes, audio files of hillbilly "hollers," architect pages, facts about music synthesizers, and more links about shipping containers than anyone would ever need.
The internet fosters other types of collaboration, not in the organized, top-down, intellectual way envisioned by Thundergulch but through the efforts of everyday artists taking an idea and running variations on it. One such genre is what I'm calling the "Stalker Collage." In this "new art form," a character is inserted into all kinds of stock situations using rudimentary paint or imaging programs. One of the funniest is "Creepy Clown" (website).This digitized cousin of John Wayne Gacy lurks behind joggers, picnickers, scuba divers, and young lovers on holiday, usually just standing there like a statue without the other characters being aware of his presence. He is extremely creepy, but also laugh-out-loud funny, and the peculiar genius of the idea is that anyone with a 3-D program can make a successful "Creepy." Just download the character, pick your clip art scenario, and let your own "inner Creepy" guide you to something truly stomach-chilling.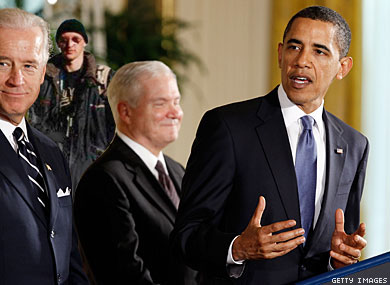 The Tourist Guy (photo added to post in 2010 - the link below is dead)
Another variation of the collective pastiche is the Tourist Guy. This is already pretty dated, but the documentation's worth checking out. The entire project sprang up spontaneously in the aftermath of the World Trade Center disaster, when the image passed from email to email of a tourist posing on the North Tower, oblivious to the airplane zooming in behind him. The image was quickly debunked as a cut-and-pasted fraud, but then people started copying the bland, knit-capped figure of the "Tourist Guy" and dropping him into every imaginable scene, from the assassination of Lincoln to a rooftop in The Matrix. Like Creepy Clown, the Tourist Guy is usually a silent, passive witness to some activity, and the chemistry between his cigar store Indian placidity and rambunctious scenes of murder and violence is often hilarious. And once again, anyone with Photoshop could make a "Tourist Guy" masterpiece. This is real New Media art: "creating alternative systems that reveal the poetic, metaphoric, critical, and community-building possibilities of manipulating and reconstituting data." You aren't likely to hear about Creepy Clown on those panels, though.
UPDATE: More on Creepy here.

UPDATE 2010: Some tourist guys here.

- tom moody 6-06-2002 8:14 am [link] [1 comment]


---
The following is some historical info on early paint programs, from Dan Rose's
DOS® Abandonware
site
page: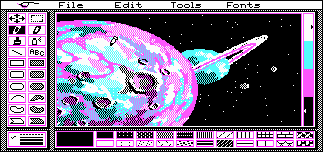 PC Paint - © 1984 Mouse Systems Corp.
This may be the original DOS "paint" program. It is also one of the earliest mouse-driven graphics apps. CGA was the main video format of this time and color graphics were a premium luxury. Using 4-color CGA, this app can make both color and monochrome graphics. It saves files in PIC format and comes with 15 fonts. This version was released on two 360K floppies. Total installed size: 453K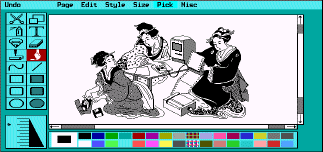 Microsoft Paintbrush 2.0 - © 1987 Microsoft Corp.
Before Paintbrush became a standard feature in Windows 3.x a company called ZSoft Corp. owned the program which was called PC Paintbrush. Microsoft later bought Paintbrush from ZSoft and called it, what else? Microsoft Paintbrush. They soon ported the DOS program to their Windows GUI and later changed the name to Paint when it was ported to 32-bit Windows. This version was released on two 360K floppies. Total installed size: 564K

UPDATE: Link was out. Fixed now. And fixed again.

UPDATE 2: And fixed again. The guy keeps changing his URLs. And screenshots.

- tom moody 6-02-2002 1:20 am [link] [7 comments]


---
My friend David Szafranski sent this link for a minimal-music movement (or rather, "loose grouping") called
lowercase sound
. Dave notes: "Interesting web design based on the Mac System 6 operating system circa 1989, the one that fits entirely on a single floppy disk."
---
Carl Fudge's new work at Ronald Feldman gallery in New York was good (the show ended last week). Fudge has a system where he grids a picture, then flips selected squares, creating hundreds of mirror-images of lines and patterns going this way and that within a single image. (He once used a photocopier to make the grids; now he uses a computer.) The effect is that the image--in this case a Transformer robot--looks like it's vibrating in a wormhole; turning into pure iterative mathematics before your eyes. It's interesting to see such a rigorous formal system applied to throwaway pop culture; yet there's actually more sci-fi resonance between system and image here than in his earlier work, which did the same type of "deconstructing" with classic Japanese ukiyo-e woodblock images. The Transformers are even preferable to the
Sailor Moon
series he did two years ago: possibly because he doesn't coyly hide the robots in abstraction the way he did the female faces. (Also because most are on canvas rather than silkscreen paper.) As usual, his craftsmanship--a combination of silkscreening and masking tape stencilling--is faultless. The new paintings are both elegant and intelligent.
---
Yesterday a friend and I drove down to Philadelphia to see the Barnett Newman retrospective, the Duchamp collection (my first time), and the real, lowbrow impetus for the trip: a rare screening of Dario Argento's 1980 slasher masterpiece
Inferno.
Here's my Amazon review of the film, from 3 years ago:
Although the acting is fairly poor, the dialogue stilted, and the plot non-existent, this movie--as the Re/Search book Incredibly Strange Films notes--is about as close as one gets to the flow and feel of a dream. I would attribute the mood to the bravura visuals--classically composed still shots a la Peter Greenaway; planes of saturated color winking on and off as characters move through a outrageous deco sets; swooping lens movements worthy of Sam Raimi's "wraithCam"--working in tandem with the gorgeous, occasionally incongruous prog-rock stylings of ELP keyboard whiz Keith Emerson. Scenes of great formal beauty are intermittently jarred by stabbings, immolations, strangulations, eyeball-gougings, and rodent attacks, all fairly gratuitous (just like in real life!), and Emerson's synthesizer flailings are equally prone to erupt without warning--often to miraculous effect. The music that accompanies one woman's taxi ride through the rainswept streets of Rome is wild and offbeat and sticks with you, and the Gregorian finale--the repeated incantation "Suspiriorum, Lachrymarum, Tenebrarum," referring to the "mothers" (all of them witches) who cause the film's mayhem--sounds like a rock opera version of Orff's "Carmina Burana" (it's hokey, but trust me, it works!). I have also seen Suspiria, but prefer this film on the level of pure, macabre experience.
Seeing the film on the big screen for the first time was fun and terrifying, especially in the company of a couple hundred Argentophiles, laughing and screaming in all the right places. The print left something to be desired--the glorious, saturated colors had sadly faded, and the sound was all in the squawky midrange--but that was more than made up for by all the extra detail you just can't see on the video: ghoulish carvings on the walls of Mater Tenebrarum's New York digs, the extent of the decrepitude and ruin in the "hidden" parts of the house, the fleshy reality of Mater Lachrymarum's beautiful, frightening face. Also, seeing the film with a large group made me realize how carefully paced and audience-friendly it is (for a non-linear film depicting bizarre senseless murders). Like Hitchcock, Argento follows super-traumatic scenes with tension-relieving laughs: usually non-sequitur lines or strange behavior from his Euro-weirdo actors. For the record, the strongest audience reaction came in the scene where housecats viciously attack Daria Nicolodi: several moments of utter, primal mayhem as the felines jump on her head and tear at her skin and clothing, accompanied by huge close-ups of claws and teeth and hellish animal screaming on the soundtrack. Why would anyone want to see something like this? To be ready when it happens to you, of course!