tom moody
---
View current page
...more recent posts
---
Regarding the elections:
So, America came to its senses 6 years late.
All it took was untold carnage in foreign wars, the loss of a major city, the hemorraghing of the Treasury to epic corruption, and mounting fear of religious nuts making people's personal and family decisions.
Some of us have been saying the leadership was bad since '00. But it's great folks finally came around.
It would have been ideal if the traitor Lieberman had gone down in Connecticut. But as has been pointed out, the money the
Republicans
(hello, the opposition party?) spent to save his hash probably cost them the Senate. Also, the Lamont primary win gave people hope that these bastards could be beaten.
Clearly the internet and bloggers had a major role in this seismic shift. I believe they'll continue to act as a corrective to corrupt government and media complicity with same.
Who knew all these people existed around the country whose talents the system wasn't recognizing?
---
"Kay Whole Again" [mp3 removed]
Update: extended the length about 30 seconds, made minor edits throughout. The idea here was to explore one e-drum sample kit--adding pitch to some of the drums and seeing what happened with a tempo change. The Sidstation parts added for melodic interest kind of took over, as usual. I wrote the rhythms using overlayed fragments from a MIDI demo track.
Update 2: I added a bass line (d'oh, I always forget those) and some other changes to make it more "house-y."
---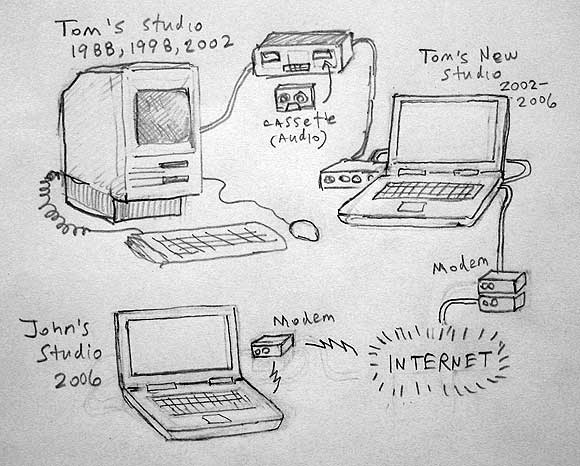 "Streetsong (Beat Up Remix)" [
6.1 MB .mp3
]
John Parker's mix of my Mac SE tune "Streetsong," and my mix of his mix. Incorporating a famous drum lock groove.
The chart doesn't really apply to this song, because there's very little Mac SE in it. But it describes the working method for most of the other tunes we're doing.
---
Via
attaturk
, posting on the Eschaton blog:
And now a special message from the Republican National Committee:

Attention Montana Election Officials:

Cheney is nearby and he's armed.

Just something to think about.
Re: the election generally: yay us, boo them. Now that we're getting the idea that the netroots works better than Rove's fear machine, we need to keep pressure and sunlight on these bastards as they inevitably get all clubby again with crooks and munitions lobbyists on the cocktail circuit of that stupid hick town DC (apologies to friends and loved ones there for the crack).
Update: Montana now has a Democratic Senator. Still waiting to find out whether Virginia will reject its current racist and sadist--sounds like it will be a while.
---
At the blog of new media artist duo MTAA you can listen to an .mp3 file of artist Marisa Olson "
kicking the ass
" of MTAA-er T.Whid (as he phrases it). This is the eighth and next-to-last in a series of MTAA's "live at the art opening" online field recordings. It's very entertaining and informative.
In the recording, Olson, who also
blogs
and makes new media art, coolly, efficiently, and amusingly dispatches T.Whid's
leading questions
such as:
--Is the 8 Bit movement evolving, since Cory Arcangel is the leader of the movement and his most recent show contained nothing 8 Bit in it?
--Is it a problem that artwork requiring specialized knowledge to appreciate (i.e., Net Art) is on the Web where anyone can consume it in a mass media way?
--Is Net Art devolving into something that can be judged very easily and quickly and rated according to its hit count?
--Isn't it getting harder and harder for Net artists to work in the context of the other Web culture (i.e., popular, amateur) that is steadily growing?
(The above are my paraphrases of the questions. I believe the drift is accurate.)
Update: I characterized the questions as "leading" (stating arguments rather than open-endedly eliciting information) but they are actually more in the nature of "when did you stop beating your wife?" questions (containing more than one assumption the questionee is being asked to assent to or not). Here, for example, are all the assumptions packed into the first query: (a) that an 8-bit art movement exists; (b) that it has a leader; (c) that Cory Arcangel is the leader; and (d) that his switch from hacking Nintendo cartridges to a computer-assisted critique of films, TV, and pop music necessarily constitutes evolution. For what it's worth my answers to T.Whid's questions would be Yes, No, No, and No.
---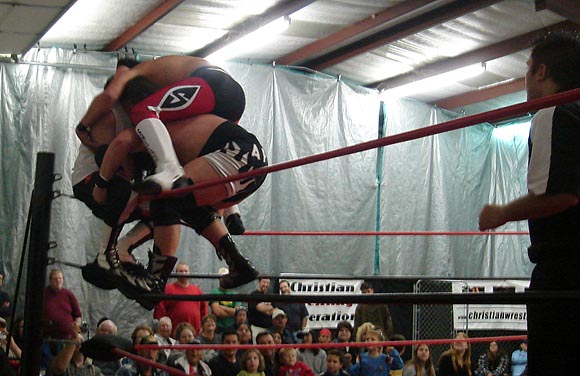 Thor Johnson, photo of Christian Wrestling Federation event in Rockwall County, Texas (near Dallas).
More photos documenting the match
. One funny thing about Johnson's photos is he seems to be invisible. He is obviously all over the room, yet none of the locals are reacting to his presence. You'd think they'd have better radar for Satanic, I mean, sardonic intent.
---
My collaboration with John Parker, documented
here
, is continuing. We are working on a CD of his remixes/mashups of chiptune songs I wrote (some during the '80s).
The original tunes were somewhat out of step with the "8 Bit movement" we've been discussing lately. The
Mac SE
I used included a four-voice, 8-bit sound chip but it wasn't one of the game computers such as the Atari or the Commodore. But it is digital signal processing and I was conscious at the time of using the chip "to the limit" of the sound it was capable of. A piece called "Monster Scales" (written around '98) is a four note chord that goes up and down the scale from the lowest note the machine could play to the highest. The chip couldn't "keep up" with the requirement to produce pure tones so you got rhythmic "artifacts" that lagged behind the sound. These were quite beautiful--like gamelan or thumb piano plinks.
John's remix takes advantage of the time stretching features of Ableton (basically a DJ or live mix tool--with sequencing functions) to slow down and speed up the already fragmented scales. Tones and artifacts alike are heightened and "drawn out" during this process--slowing it down, say, makes audible many textures you couldn't otherwise hear.
I'll be plugging the CD more here as it gets finalized: it's not some damn cult of nostalgia, nor a paean to "state of the art" digital consumer products, but rather a present-tense hybrid of the unique sound textures made by older gear and skeptical types of things you can do with current instruments. Plus it's fun.
---
The White House's press secretary Tony Snow has denied that the U.S. had any role in the timing of the Saddam death-by-hanging verdict two days before US elections. "The idea is preposterous," he said, according to the AP, "that somehow we've been scheming and plotting with the Iraqis."
That's right up there with
Ari Fleischer's
"But think about the implications of what you're saying. You're saying that the leaders of other nations are buyable. And that is not an acceptable proposition. (Laughter from press corps.)"