---
View current page
...more recent posts
---
Sunday Devotionals
Run for your life besieged secular humanists, there's only two positions: my utter religious faithlessness or Pat Robertson, and you must choose! (United Church ladies have no standing, and Buddhists no longer get a free pass if they want to be artists, unless of course they stick with the Tibetan sand mandelas. But then they still don't get to be part of the discouse) Interesting
interview
with James Elkins about the
Re-Enchantment Roundtable
(thanks to
simpleposie
for pointing this out) Not enough discussions of this kind, but I found at times a smarmy tone of defensive pompousness and a narrowness that was enough to send me rushing into the arms of
Charles Taylor
.
This conversation with myself is going nowhere fast. So take an ecstasy break and listen to the art of The Barrett Sisters. (footage from the stellar 1982 documentary "Say Amen Somebody")
Below is the original trailer for the film that was set at a gospel conference in Houston:
---
The brilliant Lyla Rye is also opening tonight, Friday the 13th, but closing Sunday, such restraint. (I'll be posting a bigger selection of her work sometime in the next few weeks):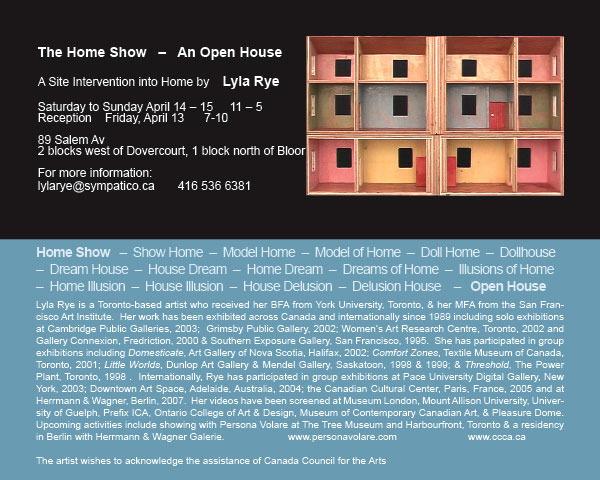 ---
R.I.P. Kurt Vonnegut
from the NYT obituary:
Like Mark Twain, Mr. Vonnegut used humor to tackle the basic questions of human existence: Why are we in this world? Is there a presiding figure to make sense of all this, a god who in the end, despite making people suffer, wishes them well?

He also shared with Twain a profound pessimism. "Mark Twain," Mr. Vonnegut wrote in his 1991 book, "Fates Worse Than Death: An Autobiographical Collage," "finally stopped laughing at his own agony and that of those around him. He denounced life on this planet as a crock. He died."
---

Work by Lorna Mills
curated by Cheryl Sourkes
at akau inc. 1186 Queen Street West, Toronto, Canada
April 13, 2007 - June 9, 2007
Opening party: Friday April 13, 7:00 PM.
---
I also think the Ukrainians invented this: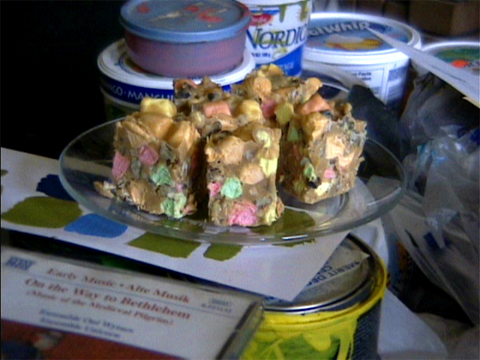 Popular at church socials and funerals. And, eat three of them and riot in the streets over falsified election results & drag queens with accordions.
I fear them and you should fear them too. (angry Ukrainians, not the squares, you will love the squares and they will love you back, giving you super human powers)
(I am so fucking sugared up and happy)
---
Happy Easter!!!!
and as usual the Ukrainians own it. (courtesy of
Anthony Easton
)
The Eurovision entry from the Ukraine was Verka Serdyuchka, precipitating street protests by angry Ukrainian nationalists and pro-Russians. From
Macleans
:
[pro-Russians] took to the streets on Sunday to protest against the choice of Serdyuchka, [...] saying she will embarrass Ukraine on the world stage and demanding that the country withdraw from the Eurovision contest.

For Russians, the anger over Serdyuchka arises from her song, Dancing, and its apparent exhortation in the refrain for audiences to sing "Russia goodbye" (that she also performs, in part, in a German accent is seen as an attempt to tar Russians as fascists). Serdyuchka has dismissed the controversy, saying that listeners have misheard the offensive phrase, which actually means "churned butter" in Mongolian.
Sally & I made Easter eggs for you.