tom moody
---
View current page
...more recent posts
---
From Al Jazeera:
Rumsfeld Cracks Jokes, But Iraqis Aren't Laughing
If ever an Oscar was deserved for minimizing catastrophic reports coming out of Iraq with jocular "henny penny" disbelief, then Rumsfeld has a date with Hollywood.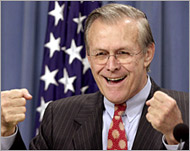 "Television is merely running the same footage of the same man stealing a vase over and over," he joked, adding he didn't think there were that many vases in Iraq. [Need to confirm--did he actually say "There can't be that many vases in Iraq"?] The US may be the strongest nation in the world, but their history is incomparable to that of Iraq – a region that has been described as the cradle of civilization.
Flippant remarks cannot replace priceless artefacts that have disappeared from the National Museum in Baghdad, or the books of the University of Mosul – one of the oldest and best universities in the whole of the Middle East.
The NY Times report on the gutting of the National Museum is just unbelievable. Why wasn't this immediately secured by "coalition" forces--if for no other reason than to protect a multimillion dollar asset? Is it farfetched to imagine that professional art thieves participated in the "looting"? This really goes beyond Bush and Co being a bunch of art-hating philistines. It was gross negligence.

- tom moody 4-13-2003 9:35 am [link] [6 comments]