tom moody
---
View current page
...more recent posts
---
Last night I went to hear
Discoteca Flaming Star
at the BQE Lounge in Brooklyn. It's a duo from Berlin that plays with musicians assembled on the spot in whatever area the pair happens to be touring. Practice sessions can be as brief as an afternoon, so we're talking some real Portsmouth Sinfonia potential here. I was invited by artist
Tom Früchtl
, visiting from Munich, who has also played guitar in German punk bands over the years. Früchtl was part of the backup ensemble, which included another guitar player and a drummer playing a laptop keypad. The music was nothing as chaotic as I expected--a lot of it was quite soulful and melodic. Very strange mix of krautrock, electro, AC/AC, Abba, and karaoke, with anti-charismatic singer Wolfgang Mayer dressed like a goth chick in arm stockings and black crocheted cap (his face has some of the cragginess of Klaus Kinski's, even with 2-inch false eyelashes). His bass-playing partner Cristina Gómez Barrio, a sultry brunette from Spain, also did the gender-confusion thing, with an emphatic song about the size and potency of her balls. Highlights included a duet in Spanish, a rad cover of the Stooges' "We Will Fall," and a plaintive riff on "Sexual Healing."
Before the concert, Früchtl introduced me to Nathan Abbott, who makes electro tracks under the name Freezie Freekie. Later I checked out a couple of samples on the Satamile label (a quite interesting New York imprint specializing in electro since the mid-'90s) and liked them a lot, particularly the dreamy filter-swirl of "Slow Decay." In the middle of the concert Abbott suddenly pointed out that Discoteca Flaming Star reminded him of Tuxedomoon (an art punk band from San Francisco that moved to Belgium around 1980)--the electronic percussion, the noize, the art vibe was certainly all there; the main difference being guitars (Tuxedomoon was bass, beatbox, violin, sax, and keyboards). Anyway, interesting comment; it made me listen to the music in a different way, imagining how it might have been to hear TM doing the punk cabaret of their early years (documented on the 1987 record Pinheads on the Move).

- tom moody 4-25-2003 5:04 am [link] [add a comment]


---

---
20X6 vs. 1936 The Unauthorized Script
SCENE: A futuristic landscape, with green manicured park and rounded modern buildings in the background. STINKOMAN, a masked, blue-haired Japanese animation character who looks suspiciously like STRONG BAD, is training. He boxes the air and makes martial arts yells. Videogame music (NES' Rad Racer) plays underneath.

HOMESTAR RUNNER enters from right. This is "old timey" Homestar, a cartoon figure straight out of a black and white 1930s one-reeler, complete with celluloid scratches and hair caught in the projector. Like a hologram, he doesn't appear to inhabit the same spacetime continuum as STINKOMAN, yet the characters interact. He is kicking a crumpled can, which bumps STINKOMAN's foot.

STINKOMAN: Wha-? Who are you? (NOTE: All STINKOMAN's lines are delivered in an exaggerated, shouting voice, as in a bad English anime translation.)

HOMESTAR (with nasal, "country" accent) : I'm-a Homestar Runner.

STINKOMAN: That name is dumb. It sounds like it's so dumb.

[SLIGHT PAUSE, as if STINKOMAN'S words are delayed in tachyon transfer between dimensions.]

HOMESTAR (in CLOSEUP): Well, what's your moniker?

STINKOMAN: I go by Stinkoman. That's the name of talented fighter (sic) if ever there was one!

HOMESTAR: Okay. If you say so. Would you care for some dry meal? (Bag labeled "DRY MEAL" appears out of nowhere and hits ground with a loud wheeze)

STINKOMAN: No way. I'm training for fighting. Or maybe a challenge. So what's that thing you're kicking around?

HOMESTAR: Oh, that's just an old can of water soup. (CLOSEUP of HOMESTAR looking sad) I kick it around ever since my dog washed away in the storm of '28.

STINKOMAN: You seem like you might not be from around here. Do you have any special powers?

HOMESTAR: I can play a mean washboard. (Washboard materializes. As HOMESTAR scratches it rhythmically, STINKOMAN begins bobbing up and down involuntarily.)

STINKOMAN: What is that? What is that? Some kind of robot?

HOMESTAR (another slight pause): What's a robut?

STINKOMAN: You don't know what a robot is? (Pointing) HA HA HA HA! You are so dumb. (CLOSEUP of STINKOMAN laughing with cartoon steampuffs coming out from his head) HA HA HA HA! Dumb!

HOMESTAR (while STINKOMAN is laughing): Oh, go soak your fat head.

STINKOMAN: Are you asking me for a cha-a-a-LLENGE? (Begins powering up, Dragonball Z style, a halo of energy growing around his body)

HOMESTAR (while STINKOMAN is powering up): Yes sir. Yes sir, I am.
[STINKOMAN's energy aura reaches full power and with a cry of "Double Deuce!" he leaps into the sky. As he begins plummeting downward, HOMESTAR aims a peashooter at him and fires with an audible "ptui."
LOW ANGLE SHOT looking up at the rapidly descending STINKOMAN. HOMESTAR's spitball hits STINKOMAN's eye just as he is about to land on HOMESTAR.]
STINKOMAN (back on ground, howling with pain): My eye! It's like my eye! It hurts so bad!
HOMESTAR (as STINKOMAN jumps in pain): Well, folks, you know what that means. Now I'll do a dance.
[HOMESTAR launches into a comical dance, splaying his feet and twisting his head to inane electric piano music. STINKOMAN stops wailing when he sees what HOMESTAR is doing.]
STINKOMAN (pointing at HOMESTAR): HA HA HA. That dance cracks me up. You gotta teach me.
HOMESTAR: Just kind of...shimmy and shake.
STINKOMAN (imitating HOMESTAR's dance): Yeah! Now I've got it.
[The two dance jerkily, several feet apart, calling out each other's dates of origin.]
HOMESTAR: 20X6 (pronounced "Twenty Exty-six").
STINKOMAN: 1936!
HOMESTAR: 20X6.
STINKOMAN: 1936!
HOMESTAR: 20X6.
STINKOMAN: 1936... [The call-and-response continues as picture FADES TO BLACK]




---

Was Ernie Bushmiller's "Nancy," a cartoon strip that ran in the daily papers for decades, any good? I googled "Ernie Bushmiller Nancy" and came up with mostly positive comments from hip cartoonists. The strip made Matt Groening's list of Top 100 Things; Zippy the Pinhead creator Bill Griffith likes it; somewhere Art Spiegelman said he liked it. The praise is always curiously mixed, though. Griffith says "I think that most people who claim to love [the strip] do so...in a slightly condescending way," before proceeding to bestow his own condescension on Bushmiller: "[He] was like a primitive artist, a kind of naive genius, who had a lot more depth then even he or his audience understood." Griffith calls the strip "zen." Curiously, even Nancy's detractors talk about it in a kind of zen way, as exemplified by Wally Wood's quip "It takes less time to read Nancy that it does to decide not to read it." This supposedly delphic, near-mystical quality is no doubt what endears the comic to the art world: Andy Warhol, Joe Brainard, and Ray Johnson all referenced it, and Nayland Blake included some Bushmiller panels in a Matthew Marks group show he curated a couple of summers back.
I found a great essay recently that eschews the zen party line and argues that the strip is in fact a tightly-constructed gag machine. Where others find slippery mysticism these authors, Mark Newgarden and Paul Karasik, see cold hard mathematics:
Ernie Bushmiller had the hand of an architect, the mind of a silent film comedian, and the soul of an accountant. His formulaic approach to humor beautifully revealed the essence of what a gag is all about - balance, symmetry, economy. His gags have the abstract feel of math and Nance was, in fact, a mini-algebra equation masquerading as a comic strip for close to 50 years.
The authors do a close analysis of several panels to show how focused Bushmiller's thematic and design strategies were. This step by step exegesis, explaining how the eye moves through a sequence of subtly different panels, largely undercuts the thesis of
another web page
, much linked to by bloggers, which says Bushmiller's images are so generic and interchangeable you can play a card game where players "create their own Nancys." What many commentators call "zen" Karasik and Newgarden call "incongruity," which was just one of the many comic devices Bushmiller used (in addition to puns, inversions, misunderstandings, and slapstick). Yet even these authors stop short of completely endorsing Nancy: "To ask whether Nancy is really funny is again to miss the point. No matter how far Bushmiller reached to excite that 'gag reflex' he could never gag it down all the way. Humor is subjective and a true common denominator cannot exist. Ernie Bushmiller, however, probably came closer than anyone in his one-man crusade to find it."
Based on the strips on the pages I've linked to (and this page, from an online "history of Nancy"), I'd say the sound of one hand clapping isn't the driving force behind Bushmiller's cartoons, but rather that they're straightforward, ha ha funny. I just ordered a pre-owned copy of The Best of Ernie Bushmiller's Nancy, though, and I'll give an update after I finish it.




---
More
Hayao Miyazaki stills
: These are from
Kiki's Delivery Service,
a film that could turn the most hardened cynic into a blubbering puddle of goo (at least at did this one). Honestly, the movie's so lovely it almost has no place in our world. Miyazaki based the settings on an imagined "perfect Europe" where no wars had ever been fought--one critic described the urban setting as "Stockholm located on the Mediterranean." It's not Disney treacle, though; in fact it's kind of subversive in that it depicts a girl leaving home at age 13 and overcoming obstacles to start a successful flying-broomstick delivery business (she's a "good-witch-in-training"). The perils of the small biz capitalist making her way in a strange town provide some surprisingly gripping moments. Oh, yeah--the drawing of the crow is by an artist Kiki meets on the job--another of Miyazake's many independent female characters.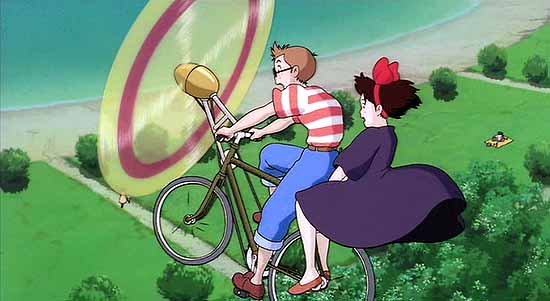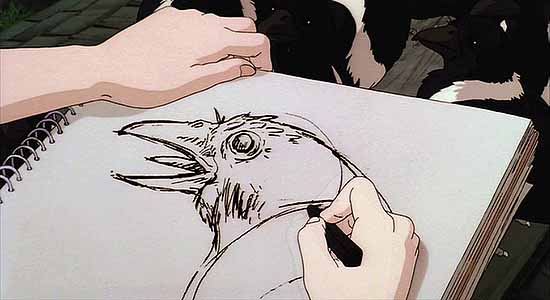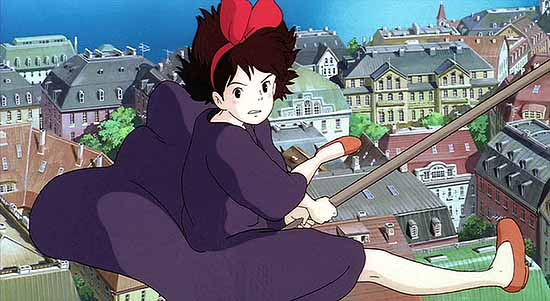 ---
Before
Spirited Away
, Hayao Miyazake made some kickass adventure films; Disney owns the rights and they're gradually coming out on DVD.
Castle in the Sky
(1986), also known as
Laputa
, is
available
this month (no more links to amazon since they
censored me
). This is non-stop excitement and breathtaking art! The designs are straight out of Jules Verne and the scenery is based on Welsh mining country, where Miyazake took his animators for a sketching trip. In the scenes below (top to bottom), (1) a military airship docks at a castle before a fateful journey to the cloud city Laputa, (2) a gang of air pirates rides dragonfly-winged vehicles to rescue Princess Sheeta from the castle, (3) Sheeta awakens a dormant, damaged Laputan robot, and (4) discovers the crystal she's carried since childhood bonds her to it.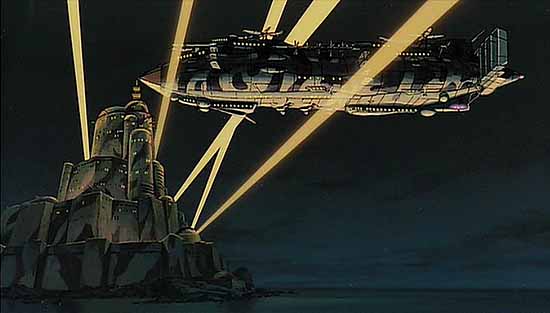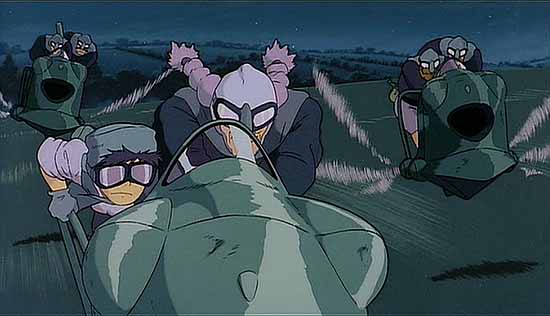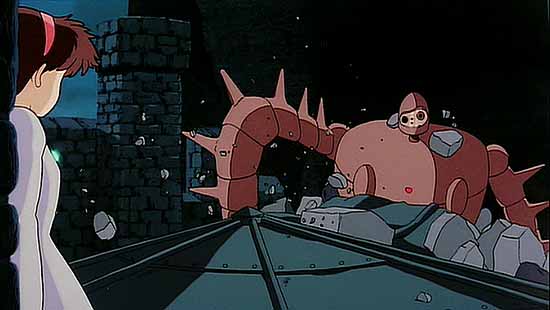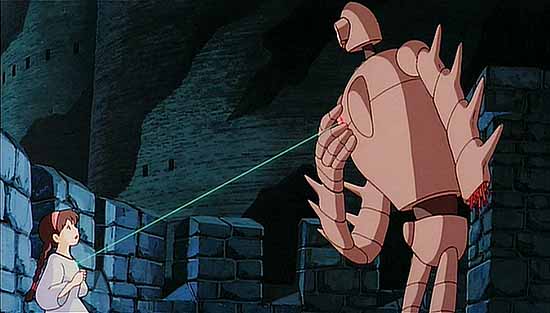 ---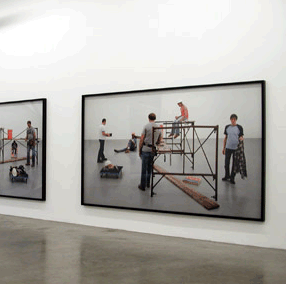 Here's an amusing essay by Choire Sicha called
The Complicated Art of Chelsea
(thanks, Linda), wherein he describes a recent gallery crawl with a non-art-appreciator who turns him from loving the neighborhood to hating it in one afternoon. I made the the rounds the same week, also with a non-fan of much of the art, but I didn't start out enthusiastic so I didn't have as far to fall. Sicha's too kind to mention most of the art he's criticizing by name, but I'm not, so let me say the "rather Harmony Korine-esque mockery of people with Down's syndrome" he mentions is a group of photos by Sharon Lockhart, at Barbara Gladstone, depicting museum preparators installing Duane Hanson sculptures. The people he thought had Downs turn out to be Hanson's slightly waxy but lifelike figures--I knew the sculptures but still had to look closely to make sure they weren't reenactors.
An essay needs to be written about the tendency of artists who hit the big time to suddenly start riffing on art history (think Lichtenstein's and Sean Landers' Picassos, Jim Dine's Greek statues, etc etc). Lockhart's '90s photos of kids kissing or leaning on car hoods were nice but hardly theoretical. Now she seems to be straining to be conceptualist, doing art-world-behind-the-scenes shots a la Louise Lawler and Tina Barney combined with the ever-popular perceptual brain teaser. Duane Hanson is one of those "iffy" artists with just enough critical support to keep him out Madame Tussaud's, but still a crowd pleaser, so in a sense Lockhart is getting a free ride on the fun technical prowess of his sculptures. Anyway, I agree with Sicha that "these photographs [a]ren't good."




---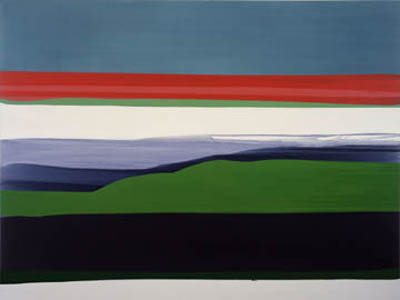 Dorota Kolodziejczyk at Joseph Helman, March 7 - May 3, 2003.
Painters Monique Prieto and Laura Owens, of "return to color field" fame, essentially just goofed on the Washington Color School. It's easy to do: stretch up a big expanse of cotton duck, pour paint in cartoony shapes, add fake seagulls or bunny ears, and Voila!--critic Lane Relyea pronounces it a movement. More interesting (and courageous) is what Dorota Kolodziejczyk is doing: chucking the irony and tackling "post-painterly abstraction"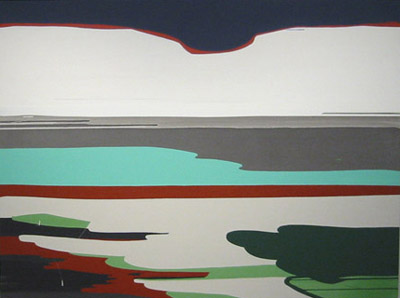 as a serious project, with problems (remember those?) still to be solved. Her show at Joseph Helman actually puts the painterly back in post-painterly, in that the canvases aren't merely stained, but involve an intricate play with layers--thick over thin, hard-over soft--not visible in reproduction. Already I'm sensing the pomo types drumming their fingers and saying "but that's just formal." AAAGH. Yes, that's how we talk about this type of work. Yet Kolodziejczyk's intentions stray pretty far from the wishy-washy pastorale of say, Helen Frankenstein, I mean -thaler (I swear I typed that inadvertently): this is Mountains and Sea seen from the window of a speeding car. Or the pinstriping on the side of the car. Or the topographical readout from the Global Positioning software on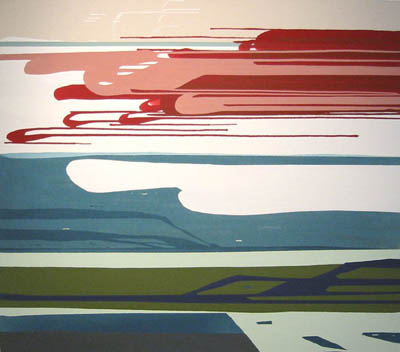 the dash of the car. Or the artfully banally-colored electroclash graphics on the CD cover lying on the front seat of the car. Or...you're hopefully getting the idea. Most of the canvases employ a fairly straightforward method: the paint is poured vertically, then the canvas is rotated 90 degrees so the stripes run horizontally. Quite a bit of over-and-underpainting and brushing and other manipulation goes on, too: the work is not as methodologically pure as say, Morris Louis's. Each canvas employs the pours to a slightly different end, creating its own unique content-vector; I'm reproducing several pieces on the page so you can see a range. You'll get a lot more out of the work in person, though, so go see the show.